THE NEED FOR A CONVENTIONAL CONFLICT DOCTRINE CHANGE TO ONE FOR PEACEFUL TIMES: THE CASES OF CHILE AND ECUADOR
Keywords:
Armed Forces, Defense, Chile, Ecuador, Doctrine.
Abstract
Defense notions in South America have traditionally been linked to the protection of border areas as a means of guaranteeing territorial integrity. However, States have established the boundaries of their borders by peaceful means, so the Armed Forces must necessarily reform both their doctrine and their own capabilities. That is why, taking as cases of study the realities of Chile and Ecuador, it is possible to determine which are the main points on which the armed bodies have been adapted, the changes of doctrine, such as the problems that are generated, both at institutional and social level, with these changes. It is concluded that although there are resistance and problems in the implementation of changes, also its visualize in the countries the acceptance of a regional context that implies changes in the Armed Forces, especially for peacetime.
Downloads
Download data is not yet available.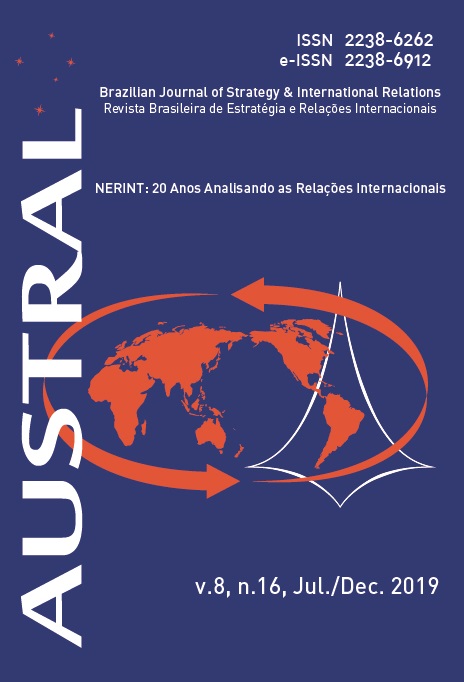 Downloads
How to Cite
Cabrera, L. M. (2019). THE NEED FOR A CONVENTIONAL CONFLICT DOCTRINE CHANGE TO ONE FOR PEACEFUL TIMES: THE CASES OF CHILE AND ECUADOR. AUSTRAL: Brazilian Journal of Strategy &Amp; International Relations, 8(16). https://doi.org/10.22456/2238-6912.76344