THE BIRTH OF INTERNATIONAL RELATIONS AS A SOCIAL SCIENCE: A COMPARED ANALYSIS OF THE ANGLO AMERICAN WORLD AND CONTINENTAL EUROPE
Keywords:
Birth of the discipline of International Relations, American School of International Relations, European Schools of International Relations.
Abstract
This article provides a contextualization of the invention of International Relations (IR) in the Anglo-American world and Continental Europe. It presents a historiographic synthesis of the main institutional and scientific landmarks of the American, English, Nordic, French and German cases. It begins by presenting the main contexts and political-academic frameworks of the birth and formation of the discipline, with an emphasis on the USA. Secondly, it addresses the European developments of the IR discipline, highlighting the English and Nordic schools. Finally, it presents a brief contextualization of the rediscovery and affirmation of IR in Continental Europe, identifying the main institutional and scientific milestones of the French and German schools.
Downloads
Download data is not yet available.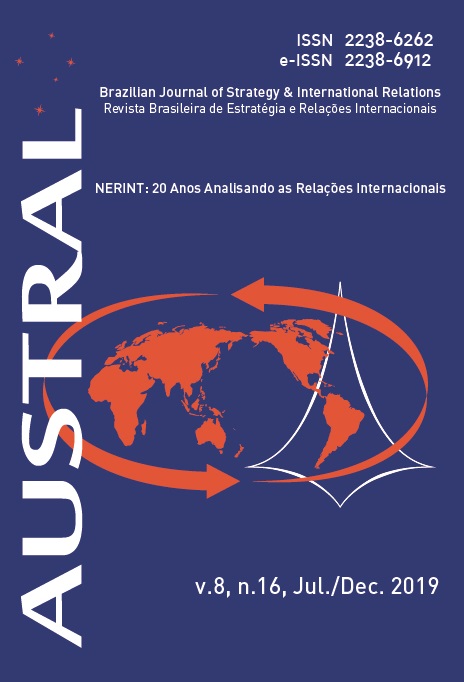 Downloads
How to Cite
Mendes, P. E. (2022). THE BIRTH OF INTERNATIONAL RELATIONS AS A SOCIAL SCIENCE: A COMPARED ANALYSIS OF THE ANGLO AMERICAN WORLD AND CONTINENTAL EUROPE. AUSTRAL: Brazilian Journal of Strategy & International Relations, 8(16). https://doi.org/10.22456/2238-6912.89031