Programa de necessidades, projeto e avaliação de escolas: uma parceria comunidade-universidade
Palavras-chave:
Escolas, Programa de necessidades, Avaliação pós-ocupação
Resumo
For decades, educational leaders discussed the components of a successful educational program, yet they have regarded the physical setting as an institutional backdrop receiving scant attention. Widespread misconceptions reinforce the view that the quality of school building has no impact on academic performance. Consequently, a gap exists between the educators' view of improving quality and the process of planning schools. School buildings ought to be an expression of the fact that exploration and discovery are important parts of obtaining knowledge. Current learning styles and teaching methods suggest the need for a new form of learning environment characterized by different activity settings and small-group activities. This middle school reflects recent efforts to promote small schools. It is the result of a lengthy collaborative process between the county public school system and a university to develop a 600-student school that includes three academic houses, each of which functions independently but under the same principal. Although school construction was completed in 2000, this case study focuses on the stages prior to design development and after building construction. A key factor in this study is the creation of a building program that responds to a curriculum featuring integrative, active, real world learning that involves significant contact with adults. Another important factor in the development of this case study is the assessment of the completed building from the students' and teachers' viewpoint after one year of occupancy.
Downloads
Não há dados estatísticos.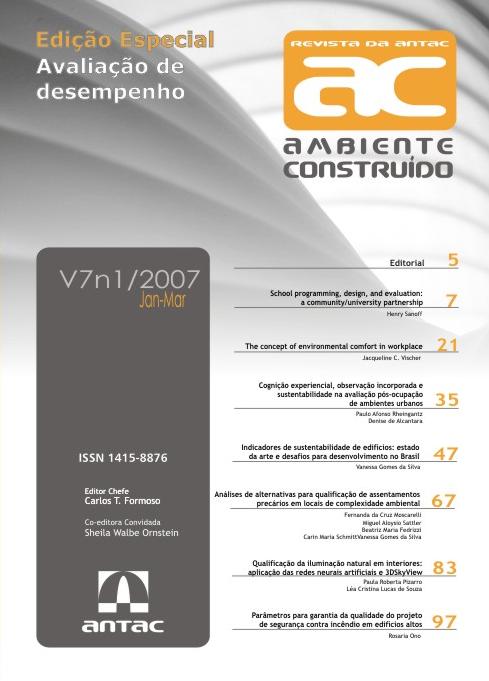 Downloads
Licença
Direito autoral (Copyright)
A Revista se reserva o direito de efetuar, nos originais, alterações de ordem normativa, ortográfica e gramatical, com vistas a manter o padrão culto da língua, respeitando porém, o estilo dos autores. As provas finais serão enviadas aos autores. Os trabalhos publicados passam a ser propriedade da revista Ambiente Construído. As opiniões emitidas pelos autores dos artigos são de sua exclusiva responsabilidade.