Notícias digitais como formas de conhecimento: um novo capítulo na Sociologia do Conhecimento
Palavras-chave:
Jornalismo, Jornalismo digital, Notícia, Sociologia do Conhecimento, Robert Park
Resumo
Este texto, publicado originalmente como capítulo de livro, discute as formas de conhecimento geradas pelas notícias digitais e é uma atualização do que Robert Park propõe no artigo A notícia como forma de conhecimento (News as a form of knowledge), de 1940. Park (1940) situou o jornalismo informativo em algum lugar do continuum entre a familiaridade com e o conhecimento sobre, e esta pesquisa avança ao oferecer três tipos ideais que caracterizam as notícias produzidas e consumidas em ambientes digitais: notícias-como-impressões, notícias-como-itens e notícias-sobre-relações. Essas categorias são propostas e utilizadas para descrever e compreender o caráter mais efêmero ou mais contextual da notícia. O texto defende, por fim, que as notícias digitais não geram apenas uma forma, mas formas de conhecimento.
Downloads
Não há dados estatísticos.
Referências
BARNHURST, Kevin G.; MUTZ, Diana. American Journalism and the Decline in Event-Centered Reporting. Journal of Communication, [s.l.] v. 47, n. 4, 1997, p. 27–53. doi:10.1111/j.1460-2466.1997.tb02724.x.
BARNOUW, Erik. The Golden Web: A History of Broadcasting in the United States - 1933 to 1953. New York: Oxford University Press, 1968. v. 2.
BELL, Emily. Silicon Valley and Journalism: Make up or Break Up? Presented at the Reuters Memorial Lecture 2015, Reuters Institute for the Study of Journalism, Oxford, 21 nov. 2014.
BENNETT, W. Lance; IYENGAR, Shanto. A New Era of Minimal Effects? The Changing Foundations of Political Communication. Journal of Communication, [s.l.], v. 58, n. 4, 2008, p. 707–31.
BOCZKOWSKI, Pablo J.; MITCHELSTEIN. Eugenia. Is There a Gap between the News Choices of Journalists and Consumers? A Relational and Dynamic Approach. The International Journal of Press/Politics, [s.l.], v. 15, n. 4, 2010, p. 420–40. doi:10.1177/1940161210374646.
CRAIG, Douglas B. Fireside Politics: Radio and Political Culture in the United States, 1920-1940. Baltimor: Johns Hopkins University Press, 2000.
DIJCK, José van. The Culture of Connectivity: A Critical History of Social Media. Oxford: Oxford University Press, 2013.
ESHBAUGH-SOHA, Matthew; PEAKE, Jeffrey S. Breaking through the Noise: Presidential Leadership, Public Opinion, and the News Media. Stanford: Stanford University Press, 2011.
ETTEMA, James S.; GLASSER, Theodore Lewis. Custodians of Conscience: Investigative Journalism and Public Virtue. New York: Columbia University Press, 1998.
FALLOWS, James. Learning to love the (shallow, divisive, unreliable) new media. The Atlantic, [S.l.], 2011. Disponível em: https://www.theatlantic.com/magazine/archive/2011/04/learning-to-love-the-shallow-divisive-unreliable-new-media/308415/. Acesso em: 15 ago. 2020.
FEDERAL COMMUNICATIONS COMMISSION. Broadcast station totals as of december 31, 2014. Washington D.C.: FCC, 2015. Disponível em: https://docs.fcc.gov/public/attachments/DOC-331381A1.pdf. Acesso em: 15 ago. 2020.
FENTON, Natalie (org.). New Media, Old News: Journalism & Democracy in the Digital Age. London: Sage, 2010.
FINK, Katherine; SCHUDSON, Michael. The Rise of Contextual Journalism, 1950s–2000s. Journalism, London, v. 15, n. 1, 2014, p. 3–20. doi:10.1177/1464884913479015.
GANS, Herbert J. Popular Culture and High Culture: An Analysis and Evaluation of Taste. New York: Basic Books, 1974.
GITLIN, Todd. Media Unlimited: How the Torrent of Images and Sounds Overwhelms Our Lives. New York: Metropolitan Books, 2001.
GRAVES, Lucas. Deciding What's True: The Fact-Checking Movement in American Journalism. New York: Columbia University Press, 2016.
GREENBERG, Susan. Slow journalism: why doesn't Britain have a culture of serious non-fiction journalism like the US? Prospect, [s.l.], 25 feb. 2007. Disponível em: https://www.prospectmagazine.co.uk/magazine/slowjournalism. Acesso em: 14 ago. 2019.
HERMIDA, Alfred. Twittering the News. Journalism Practice, London, v. 4, n. 3, 2010, p. 297–308. doi:10.1080/17512781003640703.
JAMES, William. The Principles of Psychology. New York: Henry Holt, 1890.
LONGHI, Raquel Ritter; WINQUES, Kérley. O lugar do longform no jornalismo online: qualidade versus quantidade e algumas considerações sobre o consusmo. Brazilian Journalism Research, V. 1, N. 1, p. 110-127, 2015.
MADRIGAL, Alexis C. 2013: The Year "the Stream" Crested: the stream is fun and fast, but don't you miss the sense of an ending?. The Atlantic, [s.l.], 12 Dec. 2013.
MANOVICH, Lev. The Language of New Media. Cambridge: MIT Press, 2001.
MANOVICH, Lev. New Media: A User's Guide. Manovich, [s.l.], 1999.
MIELNICZUK, Luciana. Jornalismo na Web: uma contribuição para o estudo do formato da notícia na escrita hipertextual. Tese (Doutorado em Comunicação e Cultura Contemporâneas), Faculdade de Comunicação, Universidade Federal da Bahia, Salvador, 2003.
MITCHELL, Amy; PAGE, Dana. The growth in digital reporting: what it means for journalism and news consumers. Washington D.C.: Pew Research Center, 2014. Disponível em: https://www.journalism.org/wp-content/uploads/sites/8/2014/03/Shifts-in-Reporting_For-uploading.pdf. Acesso em: 15 ago. 2020.
NEUMAN, W. Russell; PARK, Yong Jin; PANEK, Elliot. Tracking the Flow of Information into the Home: An Empirical Assessment of the Digital Revolution in the U.S. from 1960–2005. International Journal of Communication, Los Angeles, n. 6, 2012, p. 1022–41.
NEWMAN, Nic. Media, journalism and technology predictions 2015. Oxford: Reuters Institute for the Study of Journalism, 2015. Disponível em: https://reutersinstitute.politics.ox.ac.uk/risj-review/media-journalism-and-technology-predictions-2015. Acesso em: 15 ago 2020.
NEWS MEDIA ALLIANCE. Website. Arlington: News Media Alliance, 2020. Disponível em: https://www.newsmediaalliance.org/. Acesso em 10 ago. 2020.
NIELSEN SOCIAL. 31.7 million viewers tune in to watch pres. Obama's state of the union address. [S.l.], 2015. Disponível em: https://www.nielsen.com/us/en/insights/article/2015/31-7-million-viewers-tune-in-to-watch-pres-obamas-state-of-the-union-adress/. Acesso em: 15 ago. 2020.
OBAMA, Barack. Remarks by the President at a "Moving America Forward" Town Hall. The Office of the Press Secretary. Washington D.C.: The White House, 2010. Disponível em: https://obamawhitehouse.archives.gov/the-press-office/2010/10/12/remarks-president-a-moving-america-forward-town-hall. Acesso em: 15 ago. 2020.
PARK, Robert E. News as a Form of Knowledge: A Chapter in the Sociology of Knowledge. American Journal of Sociology, Chicago, v. 45, n. 5, 1940, p. 669–686.
PRIOR, Markus. Post-Broadcast Democracy: How Media Choice Increases Inequality in Political Involvement and Polarizes Elections. New York: Cambridge University Press, 2007.
PRIEST, Dana; ARKIN, William M. Top secret America: the rise of the new american security state. New York: Little, Brown and Company, 2011.
SCHONFELD, Erick. Jump into the Stream. [S.l]: Techcrunch, 2009. Disponível em: http://techcrunch.com/2009/05/17/jump-into-the-stream/. Acesso em 15 ago. 2020.
SHIBUTANI, Tamotsu. Improvised News: A Sociological Study of Rumor. Indianapolis: Bobbs-Merrill, 1966.
SLOAN, Robin. Stack and flow. [S.l.], Snarkmarket, 2010. Disponível em: http://snarkmarket.com/2010/4890. Acesso em 15 ago. 2020.
THOMPSON, Derek. The Unbearable Lightness of Tweeting'. The Atlantic, [s.l.], 16 Feb. 2015.
TUCHMAN, Gaye. Making News: A Study in the Construction of Reality. New York: Free Press, 1978.
WEBSTER, James G. The Marketplace of Attention: How Audiences Take Shape in a Digital Age. Cambridge: The MIT Press, 2014.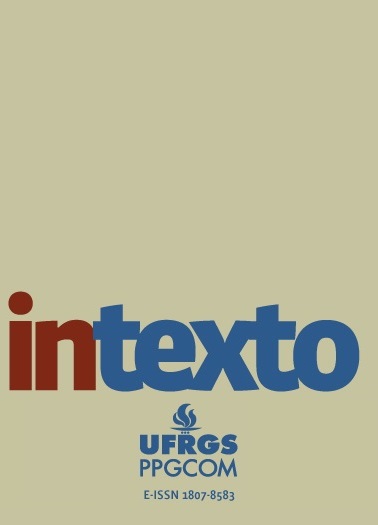 Downloads
Como Citar
Nielsen, R. K. "Notícias Digitais Como Formas De Conhecimento: Um Novo capítulo Na Sociologia Do Conhecimento". Intexto, nº 52, março de 2021, p. 96916, doi:10.19132/1807-8583202152.96916.
Licença
Copyright (c) 2021 Rasmus Klein Nielsen
Este trabalho está licenciado sob uma licença Creative Commons Attribution-NonCommercial 4.0 International License.
Os Direitos Autorais dos artigos publicados neste periódico pertencem aos autores, e os direitos da primeira publicação são garantidos à revista. Por serem publicados em uma revista de acesso livre, os artigos são de uso gratuito, com atribuições próprias, em atividades educacionais e não-comerciais.
A revista utiliza a Licença de Atribuição Creative Commons (CC BY-NC), que permite o compartilhamento de trabalhos com reconhecimento de autoria.