O RELACIONAMENTO CIVIL-MILITAR: DA TEORIA À PRÁTICA NA MISSÃO DAS NAÇÕES UNIDAS NO SUDÃO DO SUL (UNMISS)
Palavras-chave:
Sudão do Sul, ONU, CIMIC, UN-Coord, CMI
Resumo
As teorias internacionais que abordam as relações civis-militares têm sido cada vez mais alvo de novas abordagens. O cenário onde estas se desenvolvem ganha nuances específicas e campos prioritários na discussão sobre a efetividade do trabalho conjunto e os limites de cada um destes grupos. O presente artigo debate como o relacionamento civil-militar vem sendo construído no contexto da UNMISS. Com base na construção teórica das relações civis-militares, mais especificamente as aplicadas ao contexto das operações de paz e sua prática, discute-se a efetividade da relação entre os componentes militares e os componentes civis em toda sua multiplicidade. Colocamos em confronto a eficiência da resposta integrada que é buscada através do aprofundamento das relações entre civis e militares. A questão central abordada, especificamente, busca compreender os principais problemas na sinergia entre civis e militares no Sudão do Sul e o que pode ser feito para mitigar esta situação. Como resultado, realizamos o mapeamento dos principais problemas apresentados por ambos os componentes e confrontados posteriormente através de entrevistas realizadas com militares e civis em cargos de chefia a confrontação teórica com os principais conceitos da Escola de Copenhague e discutimos o processo, projetando neste trabalho algumas perspectivas que possam auxiliar na mitigação dos problemas mapeados.
Downloads
Não há dados estatísticos.
Referências
Aguilar, S. L. C. 2016. A coordenação civil ‑ militar nas operações de paz e o Brasil: algumas considerações. Revista Brasileira de Estudos de Defesa, Vol 3, Nr 2, p. 25–39.
Balcik, B. et al. 2010. Coordination in humanitarian relief chains: Practices, challenges and opportunities. International Journal of Production Economics, v. 126, n. 1, p. 22–34, 2010.
Boileau, J.; Garon, R. 2005. Who is in charge? The need for a comprehensive model of civil-military cooperation. [s.l: s.n.].
Bollen, M. T. I. B.; Rietjens, S. J. H. 2008. Introduction to Approaching Civil -Military Cooperation. In: Managing Civil -Military Cooperation - A 24/7 Joint Effort for Stability. [s.l: s.n.].
Bui, Y. 2014. "How to Write a Master's Thesis." Thousand Oaks: SAGE Publications.
Colona, S. 2018. Humanitarian Principles: A Bridge and a Compass for Civil-Military Coordination. In: A Civil-Military Response to Hybrid Threats. [s.l: s.n.]. p. 123–143.
CEU. 2009. EU Concept for Civil-Military Co-operation (CIMIC) for EU-led Military Operations.
Da Cruz, M. V. 2010. A preparação do contingente para integrar Força Internacional de Paz: uma proposta de preparo do contingente do Exército Brasileiro, em missões de paz sob a égide da ONU, com enfoque na Coordenação Civil-Militar (CIMIC). Tese, ECEME.
De Coning, C. 2007. Civil­Military Coordination Practices And Approaches Within United Nations Peace Operations Journal of Military and Strategic Studies, Fall 2007, Vol. 10, Issue 1, p. 1–35.
De Coning, C.; Da Costa, D. F. 2015. United Nations Mission in the Republic of South Sudan (UNMISS). The Oxford Handbook of United Nations Peacekeeping Operation, n. September 2018, p. 1–14.
Franke, V. 2016. The Peacebulding dilemma: Civil- Military Cooperation in Stability Operations. International Journal of Peace Studies, v. 11, n. 2, p. 5–25.
Gonzalo, E. F. 2015. Ayuda humanitaria y cooperación cívico- militar. Dissertação. Universidad D Salamanca.
Heaslip, G.; Barber, E. 2014. Using the military in disaster relief: systemising challenges and opportunities. Journal of Humanitarian Logistics and Supply Chain Management, v. 4, n. 1, p. 60–81.
Heaslip, G.; Sharif, A. M.; Althonayan, A. 2012. Employing a systems-based perspective to the identification of inter-relationships within humanitarian logistics. International Journal of Production Economics, v. 139, n. 2, p. 377–392.
IASC. 2013. IASC Non-Binding Guidelines on the Use of Armed Escorts for Humanitarian Convoys.
IGAD. 2018. Revitalised Agreement on the Resolution of the Conflict in the Republic of South Sudan.
Jackson, A.; Haysom, S. 2013. The search for common ground, Civil-military relations in Afghanistan, 2002-13. HPG Policy Brief 51, n. April.
Johnson, H. F. 2016. South Sudan The Untold Story. From Independence to Civil War. New York, London: I. B. Tauris & Co Ltd.
Melo, R. 2010. Direitos Humanos e as Operações de Paz Multidimensionais: Um Estudo de Caso da MONUC. Carta Internacional, p. 78–96.
Mische, P.; Harris, I. 2008. Environmental Peacemaking, Peacekeeping and Peacebuilding. In: Encyclopedia of Peace Education. [s.l: s.n.]. p. 1–9.
Oliveira, L. K.; Silva, I. C. 2011. Sudão do Sul: novo país, enormes desafios. Meridiano 47, v. 12, n. nov-dez, p. 24–33.
NATO. 2018. Allied Joint Doctrine for Civil-Military Cooperation. Ajp-3.19, v. Edition A, n. November.
Pettersson, T.; Högbladh, S.; Berg, M. O. 2019. Special Data Feature and peace agreements. Journal of Peace Research, v. 56, n. 4, p. 589–603.
Rietjens, S. J. H.; Voordijk, H.; De Boer, S. J. 2007. Co-ordinating humanitarian operations in peace support missions. Disaster Prevention and Management: An International Journal, v. 16, n. 1, p. 56–69.
Rutner, S. M.; Aviles, M.; Cox, S. 2012. Logistics evolution: A comparison of military and commercial logistics thought. International Journal of Logistics Management, v. 23, n. 1, p. 96–118.
Salman, S. M. A. 2011. The new state of South Sudan and the hydro-politics of the Nile Basi. Water International, v. 36, n. 2, p. 154–166.
Shetler-Jones, P. 2008. Intelligence in Integrated UN Peacekeeping Missions: The Joint Mission Analysis Centre. International Peacekeeping, v. 15, n. 4, p. 517–527.
UN. 1945. Carta das Nações Unidas.
UNDPKO. 2006. Joint Operations Centres and Joint Mission Analysis Centres.
UNDPKO 2008. United Nations Peacekeeping Operations: Principles and Guidelines.
UNDPKO. 2010. Policy Civil-Military Coordination in UN Integrated Peacekeeping Missions (UN-CIMIC).
UNDPKO. 2014. Guidelines for Joint Operations Center (JOC).
UNDPKO. 2016. Policy of Joint Operations Centres (JOC).
UNDPKO. 2017a. Guidelines for Joint Mission Analysis Centres (JMAC).
UNDPKO. 2017b. Policy of Joint Mission Analysis Centres (JMAC).
UNGA. Resolution 46/23, 2021. Disponível em: < https://undocs.org/A/HRC/RES/46/23>
UNGSC. 2019. Civilian Pre-deployment Training. [s.l: s.n.].
UNHCR. 2019. Emergency information management. In: UNHCR Emergency Handbook. 4. ed. [s.l: s.n.]. p. 1–9.
UNMISS. 2018a. Pre-Deployment Information Package.
UNMISS. 2018b. UNMISS UN-CIMIC: Tatics, Techniques and Procedures (TTPs).
UNMISS CMAG. 2012. Results of CMAG Survey Internal document. Juba: [s.n.].
UNMISS CMAG; UNMISS HCT. 2013. Guidelines for the Coordination between Humanitarian Actors and the United Nations Mission in South Sudan.
UNOCHA. 2003. Guidelines On The Use of Military and Civil Defence Assets To Support United Nations Humanitarian Activities in Complex Emergencies.
UNOCHA. 2018. UN-CMCoord Field Handbook, 2018.
UNSC. Resolution 1996, 2011. Disponível em: <http://unscr.com/en/resolutions/1996>
UNSC. Resolution 2132, 2013. Disponível em: <http://unscr.com/en/resolutions/2132>
Yin, Robert K. 2018. "Case Study Research and Design." Sage Publications, 352
Zartsdahl, P. H.; Đokić, K. 2018. EU-CIVCAP Preventing and Responding to Conflict: Developing EU CIVilian CAPabilities for a Sustainable Peace Report on Civil-Military Synergies on the Ground.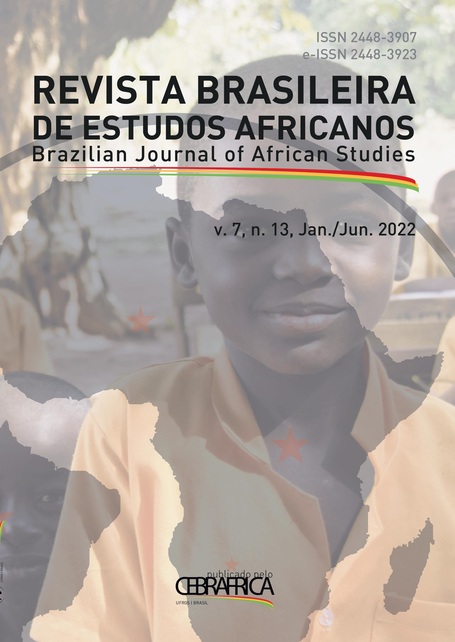 Downloads
Como Citar
Grigoli, G. de A. (2022). O RELACIONAMENTO CIVIL-MILITAR: DA TEORIA À PRÁTICA NA MISSÃO DAS NAÇÕES UNIDAS NO SUDÃO DO SUL (UNMISS). Revista Brasileira De Estudos Africanos, 7(13). https://doi.org/10.22456/2448-3923.120150
Licença
Os autores possuirão a propriedade intelectual dos artigos publicados e manterão os direitos de publicação.
Revista Brasileira de Estudos Africanos está licenciada com uma Licença Creative Commons Atribuição 4.0 Internacional.