BEHIND THE MYTH OF THE NATIONAL BOURGEOISIE: A COMPARATIVE ANALYSIS OF THE DEVELOPMENTALIST STATE IN BRAZIL AND SOUTH KOREA
Keywords:
Brazil, South Korea, Developmentalism.
Abstract
Since the 1990s, many analysts have sought to explain the differences in development paths between Brazil and South Korea, the latter often being pointed as an example of success. As a highly industrialized economy focused on international trade, the South Korean case stood out as a way of overcoming the backwardness of developing countries. However, there is a need for analysis that point to the specificities of the developmental state in South Korea, whose interventionist action was decisive in leveraging the country's industrial production in accordance with internal business groups, as well as the geopolitical context favorable to outward-oriented industrialization. The Brazilian process, in turn, due to the wealth of natural resources and the large domestic market, has made the induction of the state in industrialization more artificial, whose policy supposes an element of coercion, induction and control. This research, therefore, seeks to analyze the specific dimensions of each case, highlighting the role of the state and its relationship with the internal bourgeoisie in the construction of an industrial policy. The trajectories of rise and decline of Brazilian and South Korean developmental state will be analyzed, including the current crisis of reconfiguration of political power that both countries are going through.
Downloads
Download data is not yet available.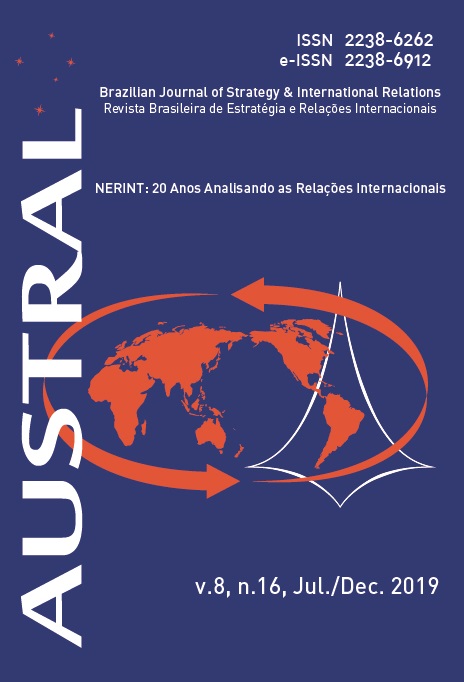 Downloads
How to Cite
Pereira Brites, P. V., & Coelho Jaeger, B. (2019). BEHIND THE MYTH OF THE NATIONAL BOURGEOISIE: A COMPARATIVE ANALYSIS OF THE DEVELOPMENTALIST STATE IN BRAZIL AND SOUTH KOREA. AUSTRAL: Brazilian Journal of Strategy &Amp; International Relations, 8(16). https://doi.org/10.22456/2238-6912.87159