AFRICA AND THE THREATS TO ITS SECURITY
Keywords:
Africa, Threats, Security, Failed States, Global Subversion
Abstract
This essay begins by addressing the security context in Africa and the structural violence that is felt throughout the Continent. Later, it addresses the main threats that are manifest in such a differentiated space, emphasizing that in the current context it seems to be the fragility of the States the greatest threat, incapable of guaranteeing their inhabitants the ultimate ends - security, justice and well-being. Despite the failure of the state, people continue to live in these spaces, having various forms of social organization, which subsist and compete with other state structures, in the collection of taxes, in the use of force and also having different forms of social responsibility over the populations they control. The second threat emphasized in the essay, is one of those social structures that seek to impose itself in several geographic spaces: global subversion, which today is materialized in the two main factions of the global jihadist movement (al-Qaeda and Daesh), which seek the conquest of spaces and power also in Africa, using not only political mechanisms, but also, and when necessary, violent actions. Finally, a spectral analysis of other security threats in Africa, whether natural, such as climate change and pandemics, or man-made, such as organized crime and piracy, is presented.
Downloads
Download data is not yet available.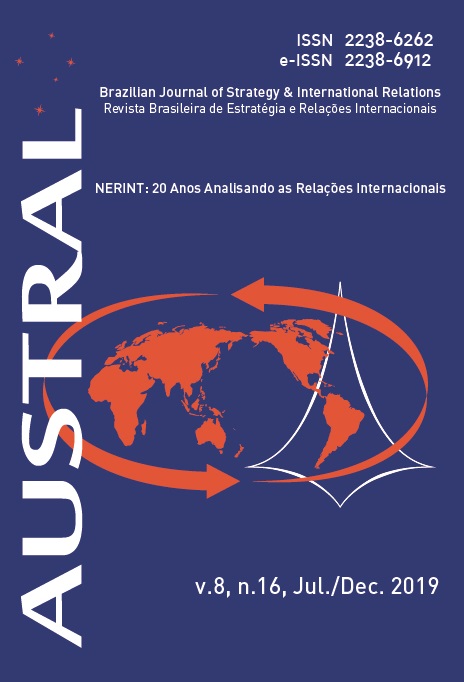 Downloads
How to Cite
Garcia, F. P. (2022). AFRICA AND THE THREATS TO ITS SECURITY. AUSTRAL: Brazilian Journal of Strategy & International Relations, 8(16). https://doi.org/10.22456/2238-6912.84807