IRAQ: YEARS OF POST-SADDAM INTERNAL AND EXTERNAL DEVELOPMENTS
Keywords:
Iraq, Reconstruction, Sectarian violence, Oil industry.
Abstract
Iraqis very important for the world community because of its strategic position at the crossroads between the Persian Gulf, theMideteraneanSeaand theRed Seaalong with huge oil and mineral wealth. Moreover, Iraqi case illustrates all aspects of the US Middle Eastern policy since the end of the Cold War. The article analyses political and economic processes in Iraq after the demise of Saddam Hussain's regime, evaluates the efficiency of post-war reconstruction of this Arab country in security and economic fields, singles out the reasons behind the civil war between Sunni and Shia followers, explains the paradox of semi-independent status of Iraqi Kurdistan as well as foreign policy of official Baghdad towards important neighbours – Turkey, Iran, Saudi Arabia and Jordan. The rise of Islamic State of Iraq andLevantcapitalizing on sectarian devide and an attempt of Iraqi leadership to neutralize this threat also has become the part of analyzis.
Downloads
Download data is not yet available.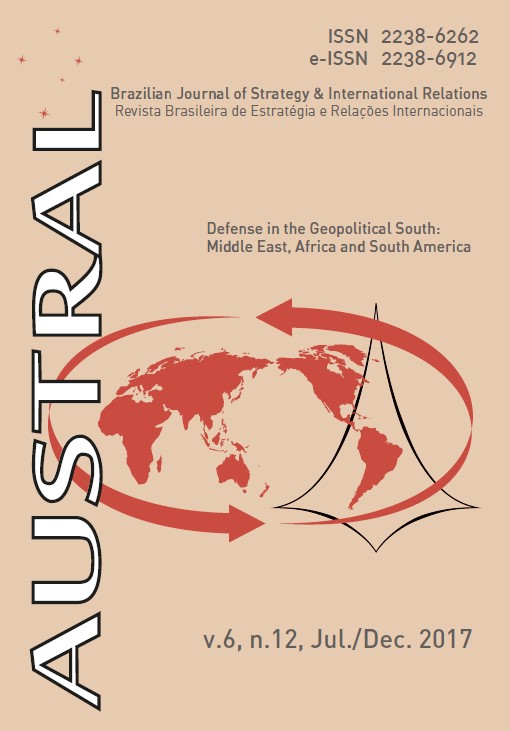 Downloads
How to Cite
Ignatiev, P. (2018). IRAQ: YEARS OF POST-SADDAM INTERNAL AND EXTERNAL DEVELOPMENTS. AUSTRAL: Brazilian Journal of Strategy &Amp; International Relations, 6(12). https://doi.org/10.22456/2238-6912.79074