BRAZIL'S FOREIGN POLICY, DEFENSE POLICY AND DEVELOPMENT MODEL: FROM THE DEVELOPMENTAL STATE TO THE LOGISTIC STATE (1930-2017)
Keywords:
Brazil, Foreign Policy, Defense Policy.
Abstract
This article presents an analysis of the relationship between Brazil's foreign policy,
defense policy and development model in a historical perspective. A paradigmatic
approach is used, trying to identify the phases of the Brazilian Grand Strategy that
cross the limits of the presidential terms, being also linked to international political,
economic and military constraints. The period covered begins in the 1930s, with
the rise of the Developmental State, addresses the 1980s turning point (Normal/
Neoliberal State), and examines the defense investment's rise and crisis of the 2000s
and 2010s (Logistic State).
Downloads
Download data is not yet available.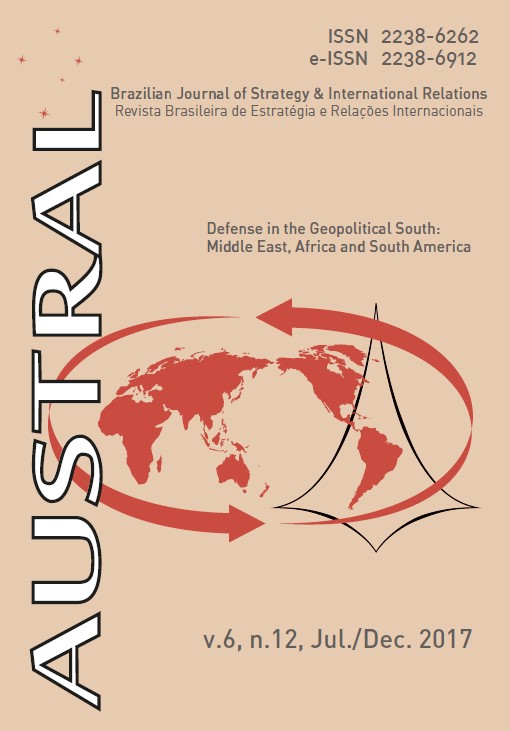 Downloads
How to Cite
Martins, J. M. Q., & Nunes, R. C. (2018). BRAZIL'S FOREIGN POLICY, DEFENSE POLICY AND DEVELOPMENT MODEL: FROM THE DEVELOPMENTAL STATE TO THE LOGISTIC STATE (1930-2017). AUSTRAL: Brazilian Journal of Strategy &Amp; International Relations, 6(12). https://doi.org/10.22456/2238-6912.78130