CHANGING ENERGY GEOPOLITICS: WHAT IS THE ROLE OF SUSTAINABILITY IN THE GLOBAL ENERGY GEOPOLITICS?
Keywords:
Geopolitics, Renewable Energy, Transition, Competitiveness, Energy Cooperation.
Abstract
The act of dominating energy resources undoubtedly permeates the conquest of territories and their respective societies. Energy and geopolitics have always walked conjointly in the process of economic and social development in which societies have been based over the time. The multiplicity of issues that geopolitics gathered helped broaden the spectrum of analysis of geopolitical turning it more complex. This paper has the main objective to contribute for a discussion about the transition from the geopolitics based on the physical space to the geopolitics based on sustainability in which renewable energy has consolidated in the international scenario.  The final considerations highlight the quest for energy security requires more than the quest for energy self-sufficiency itself. In addition, the sustainable paradigm introduced in the geopolitics of energy new challenges as the insertion of renewable energy in a context dominated by traditional sources of energy that provokes a reflection on how the challenges related to geopolitics will be dealt with. In that way, China and India appears as a global players. The choice of cooperative dialogues appears as an essential element in the balance of the energy system.
Downloads
Download data is not yet available.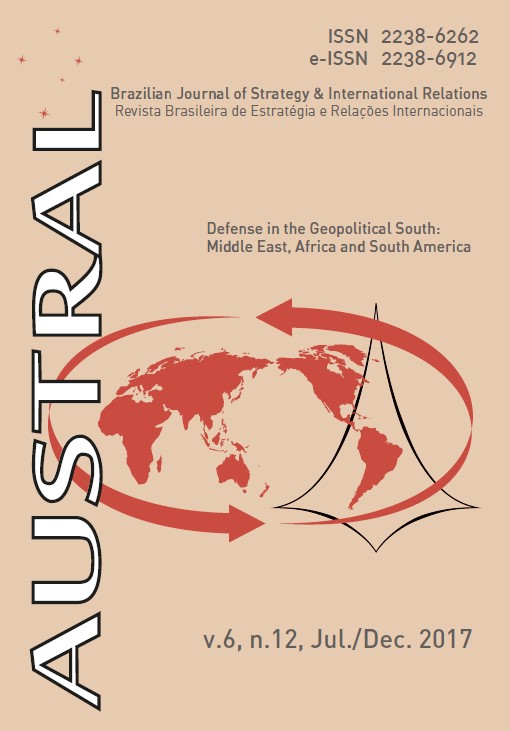 Downloads
How to Cite
Mousinho, M. C. A. de M., Torres, E. A., Vieira de Melo, S. A. B., & Kumar, N. (2018). CHANGING ENERGY GEOPOLITICS: WHAT IS THE ROLE OF SUSTAINABILITY IN THE GLOBAL ENERGY GEOPOLITICS?. AUSTRAL: Brazilian Journal of Strategy &Amp; International Relations, 6(12). https://doi.org/10.22456/2238-6912.77227