DEVELOPMENT AND SECURITY IN BRAZILIAN FOREIGN POLICY: THEORETICAL AND EMPIRICAL CONSIDERATIONS OF LULA´S AND DILMA´S GOVERNMENTS (2003-2016)
Keywords:
Brazilian Foreign Policy, Development, Human Security.
Abstract
Since the mid-twentieth century, Brazilian foreign policy has been gradually inserting
into its agenda the concept of development (alternating between an orthodox and a
heterodox view) as a fundamental motto of action. Other sub-areas of Brazilian diplomacy
have become conditional on development, especially international security. Presenting
social aspects of development and Human Security as intertwined since the
1990s in Brazil, the article analyzes theoretically and empirically the foreign policy
the governments of Lula da Silva (2003-2010) and Dilma Rousseff (2011-2016). Taking
as its main goal to verify the validity of such hypothesis, the article concludes that
this conditionality is coherent with Brazilian socioeconomic and geopolitical reality,
but that its proximity to Human Security must be taken with caution.
Downloads
Download data is not yet available.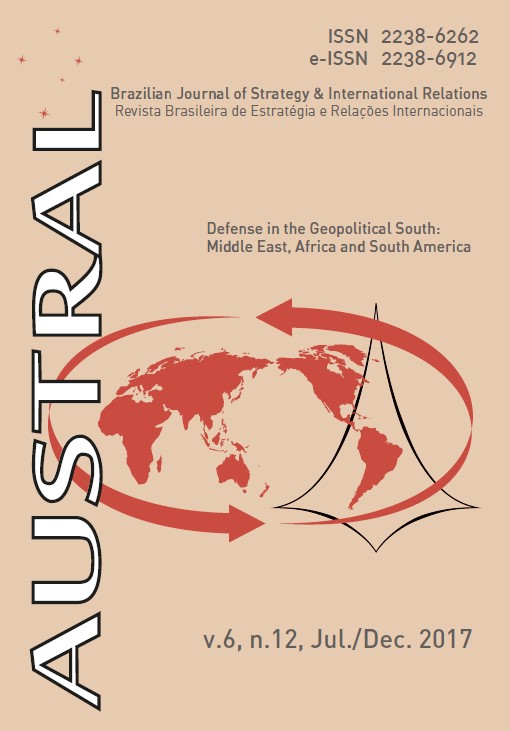 Downloads
How to Cite
Rizzi, K. R., & Antunes, D. F. (2018). DEVELOPMENT AND SECURITY IN BRAZILIAN FOREIGN POLICY: THEORETICAL AND EMPIRICAL CONSIDERATIONS OF LULA´S AND DILMA´S GOVERNMENTS (2003-2016). AUSTRAL: Brazilian Journal of Strategy &Amp; International Relations, 6(12). https://doi.org/10.22456/2238-6912.75389