THE DYNAMICS OF THE SUCCESSION OF CURRENCIES IN THE 21ST CENTURY – A CASE OF CHINESE FINANCIAL LEADERSHIP?
Keywords:
Exchange rate, China, Renminbi, International Financial System
Abstract
The global monetary system since the Industrial Revolution in two periods had two periods. First, a period with Britain as the great economic and political power and the Pound Sterling as the most important international currency and second, the United States as the leading economy and a dollar-based international scenario. The relation between goods, money, and foreign exchange markets is important to understand patterns in terms of exchange rate and currency internationalization. Therefore, the Crowther balance of payments cycles may be important to identify these patterns and to serve as a standard of reference to investigate shifts in exchange rate, and their consequences on balance of payments movements. Since 1978, China has emerged as a strong candidate to assume protagonist in the global monetary system, displaying high and stable economic growth. This paper aims to investigate the necessary conditions for China to internationalize the Renminbi, local currency, and to infer its status in that progress.
Downloads
Download data is not yet available.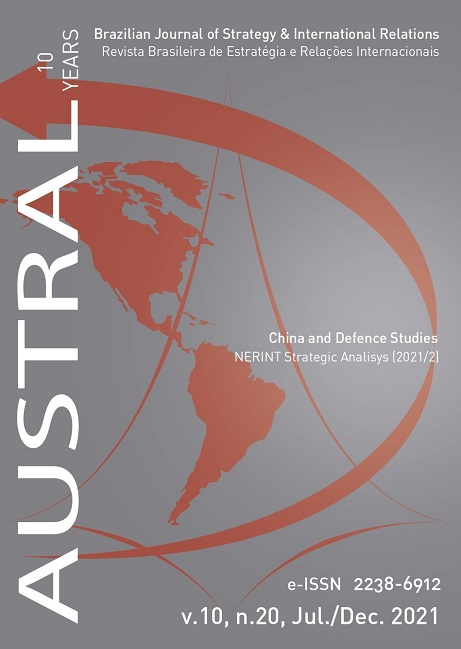 Downloads
How to Cite
de Moraes, G., & Giacomin, L. (2022). THE DYNAMICS OF THE SUCCESSION OF CURRENCIES IN THE 21ST CENTURY – A CASE OF CHINESE FINANCIAL LEADERSHIP?. AUSTRAL: Brazilian Journal of Strategy &Amp; International Relations, 10(20). https://doi.org/10.22456/2238-6912.113284