THE ENDURING RELEVANCE OF NAVAL POWER: REFLECTIONS ON DEFENCE, SECURITY AND POWER PROJECTION OF SEA FRONTIER
Keywords:
Naval power, navy, sea power, maritime, air power, military, nuclear power, space power
Abstract
The sea/maritime domain is a critical frontier of human exploration and exploitation for food production, transportation, commerce, research, communication, mining, defence, security, power projection and prestige in international system. These made it a frontier of strategic cooperation, competition and conflict. Consequently, the sea has been militarised by littoral states, which have led to the rise of naval powers, across time and space. Naval power is strategically relevant in defence, security and power projection, as evident in its roles in warfare, deterrence, policing, and diplomacy across history. This is even more pronounced during the golden age of naval power, when the roles of the navy were decisive in outcomes of war, territorial defence and conquest, empire building and maintenance, bargaining, industrialisation, commerce and global policing. However, the strategic relevance of naval power has undergone notable changes with the rise of air, nuclear and space powers. Against this background, this article examines the enduring strategic relevance of naval power over the last century, vis-à-vis its challenges and prospects among other instruments of force and frontiers of defence, security and power projection that have emerged.
Downloads
Download data is not yet available.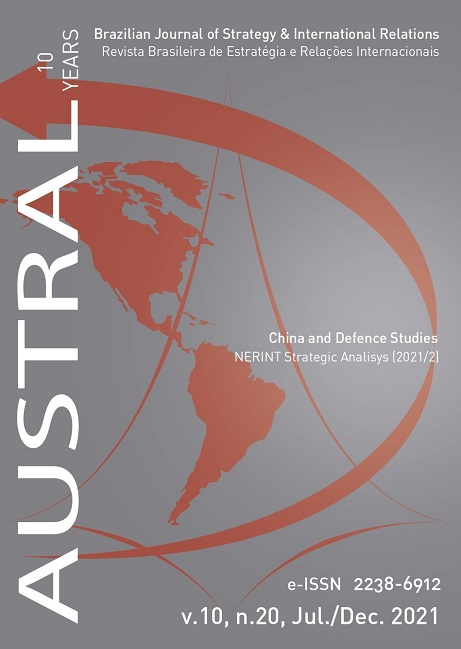 Downloads
How to Cite
Oyewole, S., & Duyile, A. (2022). THE ENDURING RELEVANCE OF NAVAL POWER: REFLECTIONS ON DEFENCE, SECURITY AND POWER PROJECTION OF SEA FRONTIER. AUSTRAL: Brazilian Journal of Strategy &Amp; International Relations, 10(20). https://doi.org/10.22456/2238-6912.113269