CHINA'S GLOBAL POWER AND DEVELOPMENT: THE MADE IN CHINA 2025 POLICY
Keywords:
China, Development, Made in China 2025
Abstract
The purpose of this article is to analyze the relationship between development and global power of China. And, more specifically, how the Made in China 2025 policy is designed to deepen China's development by driving strategic sectors of smart manufacturing and other innovations. To do so, it needs to understand how China has taken advantage of systemic changes since the 1970s to unleash a cycle of comprehensive reforms mobilizing industrial, commercial and technological (ICT) policies. That is, without state emulation there is no economic complexity or expansion of the country's presence in the world. The proposed argument is that the interweaving between the internal and international dimensions compose the key of the rise of the powers - imperative underestimated by the narratives of liberal globalization - whose epicenter remains the national development.
Downloads
Download data is not yet available.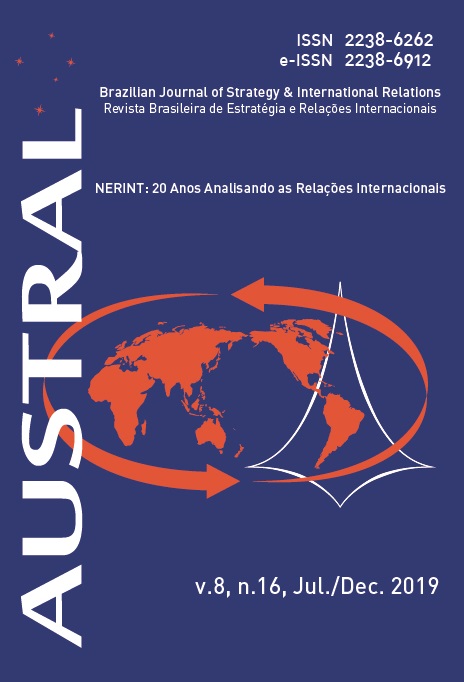 Downloads
How to Cite
Pautasso, D. (2019). CHINA'S GLOBAL POWER AND DEVELOPMENT: THE MADE IN CHINA 2025 POLICY. AUSTRAL: Brazilian Journal of Strategy &Amp; International Relations, 8(16). https://doi.org/10.22456/2238-6912.88779