THE EUROPEAN COMMUNITY CONTRADICTORY EXTERNAL BEHAVIOUR: THE PROMOTION OF INTEGRATION IN LATIN AMERICA IN THE LATE 1980s
Keywords:
Latin-American debt crisis, European Community, Discursive Institutionalism
Abstract
The necessity of a policy towards the Latin American region was being discussed within the European Community (EC) in the 1980s. Within this debate, two relevant discourses can be traced. One highlighted the relevance of a Latin American interlocutor, which led to the EC and the Rio Group meetings in 1987. The other was against the opening of an interregional dialogue on the Latin American debt. These discourses had contradictory outcomes for the Latin-American interstate cooperation. One, improved it due to the recognition of a regional group; the other, disregarded the attempt to have a common Latin-American voice.
El contradictorio comportamiento externo de la Comunidad Europea: la promoción de la integración latinoamericana a finales de los ochenta
En los ochenta, se discutía en la Comunidad Europea (CE) la necesidad de una política hacia la región latinoamericana. En ese debate, dos discursos pueden ser identificados. Uno hacía hincapié en la relevancia de un interlocutor, que llevó a las reuniones entre la CE y el Río Grupo en 1987. El otro discurso mostraba la oposición respecto a abrir un diálogo interregional sobre la deuda. Estos discursos tuvieron resultados contradictorios para la cooperación interestatal latinoamericana. Uno la mejoró debido al reconocimiento que se le dio a un grupo regional; el otro, ignoró el intento de tener una voz común latinoamericana.
Downloads
Download data is not yet available.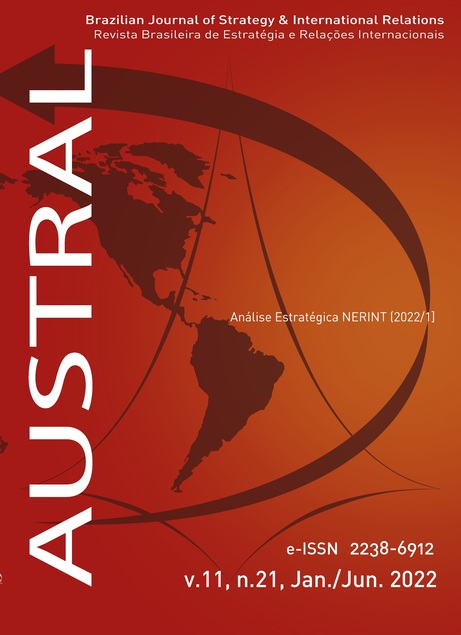 Downloads
How to Cite
Dongo Sueiro, M. A. (2022). THE EUROPEAN COMMUNITY CONTRADICTORY EXTERNAL BEHAVIOUR: THE PROMOTION OF INTEGRATION IN LATIN AMERICA IN THE LATE 1980s. AUSTRAL: Brazilian Journal of Strategy & International Relations, 11(21). https://doi.org/10.22456/2238-6912.122375