CORRUPÇÃO, SUBDESENVOLVIMENTO E AS MASSAS NA ÁFRICA
Palavras-chave:
Africa, corruption, underdevelopment, masses
Resumo
Muitos estudos contemporâneos sobre corrupção e subdesenvolvimento na África enfocam o papel da elite com pouca consideração pela interpelação e agência de cidadãos não pertencentes à elite. O artigo complementa o teor da literatura disponível. Com base em uma perspectiva dinâmica da corrupção, o artigo argumenta que as elites políticas são influenciadas em parte pelas demandas e expectativas dos cidadãos comuns. Essas demandas e expectativas são a principal motivação que alimenta e valida certas práticas amplamente consideradas corruptas. Este não é um artigo pró-elite. Em vez de um ponto de vista pró-elite, o artigo oferece uma análise matizada de como as ações e inações dos cidadãos afetam a conduta das elites governantes. Ignorar o papel das massas contribui para uma compreensão incompleta das vinhetas de corrupção e crise de desenvolvimento na África. Embora o artigo se concentre na África, os resultados são aplicáveis a outras regiões do sul global.
Downloads
Não há dados estatísticos.
Referências
Adedigba, Azizat. 2018 (12 February). JAMB Reacts to 'Money-Swallowing Snake' Report, Premium Times, Available at: https://www.premiumtimesng.com/news/top-news/258344-jamb-reacts-money-swallowing-snake-report.html Accessed 6 May 2020.
Adedeji, Wale. 2013. African Popular Culture and the Path of Consciousness: Hip Hop and the Culture of Resistance in Nigeria. Postcolonial Text, Vol. 8, No 3 & 4.
Alam, Shahid M. 1989. Anatomy of Corruption: An Approach to the Political Economy of Underdevelopment. American Journal of Economics and Sociology, 48, 1: 441-456.
Armah, Ayi Kwei. 1968. The Beautyful Ones Are Not Yet Born. Boston: Houghton, Mifflin, USA.
Bangura, I. 2018. Young People and the Search for Inclusion and Political Participation in Guinea. African Conflict & Peacebuilding Review 8, no. 1, 54–72.
…………….. 2016. We Can't Eat Peace: Youth, Sustainable Livelihood and the Peacebuilding Process in Sierra Leone. Journal for Peacebuilding and Development, 11:2,
-50.
Bergère, Clovis. 2016. Remaking Street Corners as 'Bureaux': DIY Youth Spaces and Shifting Urban Ontologies in Guinea. In DIY Utopia:
Cultural Imagination and the Remaking of the Possible, edited by Amber Day, pp. 133–54. Lanham, MD: Lexington Books.
Gberie, Lansana. 2005. A Dirty War in West Africa: The RUF and the Destruction of Sierra Leone. C. Hurst and Co. Ltd. England.
Harsch, Ernest. 1993. Accumulators and Democrats: Challenging State Corruption in Africa. Journal of Modern African Studies, 31, 1: 31-48.
Hough, Dan. 2017. Causes of Corruption. Agenda Publishing, USA.
Huntington, Samuel. 1968. Political Order in Changing Societies. New Haven, USA.
Ojudu, Babafemi. 2019 (22 November). A Nigerian Senator Issues a Caveat Lector. Available at: https://www.pmnewsnigeria.com/2019/11/22/a-nigerian-senator-issues-a-caveat-lector/ Accessed 6 May 2020.
Oshewolo, Segun and Durowaiye, Babatunde. 2013. Deciphering the Phenomenon of Elite Corruption in Africa. International Journal of Politics and Good Governance, Volume 4, No. 4.4 Quarter IV 2013: 1-17.
Pak Hung Mo. 2001.Corruption and Economic Growth/ Journal of Comparative Economics 29, 66–79. doi:10.1006/jcec.2000.1703, available online at http://www.idealibrary.com
Philipps, Joschke. 2013. Ambivalent Rage: Youth Gangs and Urban Protests in Conakry, Guinea. Paris: L'Harmattan.
Rotberg, Robert .I. 2017. The Corruption Cure: How Citizens and Leaders Can Cure Graft. Princeton University Press-pg 16-49.
Sahlins, Marshall. D. 1963. Poor Man, Rich Man, Big-Man, Chief: Political Types in Melanesia and Polynesia. Comparative Studies in Society and History 5: 285-303
Scott, James. 1969. The Analysis of Corruption in Developing Nations. In Comparative Studies in Society and History, Cambridge.
Shepler, Susan. 2010. Youth Music and Politics in Post-War Sierra Leone. The Journal of Modern African Studies 48(04):627 – 642.
Soderberg Kovacs, Mimmi and Bjarnesen, Jesper (ed.). 2018. Violence in African Elections: Between Democracy and Big Man Politics. Africa Now, ZED Books, UK.
The Africa Report. 2020 (18 March). Kenya: Study Reveals Scale of Foreign Aid Diversion Offshore. Available at: https://www.theafricareport.com/24282/%E2%80%8Akenya-study-reveals-scale-of-foreign-aid-diversion-offshore/ Accessed 8 May 2020.
Timamy, M.H Khalil, 2005. African Leaders and Corruption. Review of African Political Economy" Vol. 32, No 104/105, Oiling the Wheels of Imperialism, pp. 383-393.
Utas, Mats (ed.). 2012. African Politics and Informal Power: Big Men and Networks. London and New York NY: Zed Books.
Walton, Grant W. 2012. Is all Corruption Dysfunctional? Perceptions of Corruption and its Consequences in Papua New Guinea?. Public Administration and Development, Volume 33, Issue 3.
Weis, Brad. 2009. Street Dreams and Hip Hop Barbershops Global Fantasy in Urban Tanzania. Tracking Globalization, Indiana, USA.
Youboty, James. 1993. Liberian Civil War: A Graphic Account. Parkside Impressions Enterprises, USA.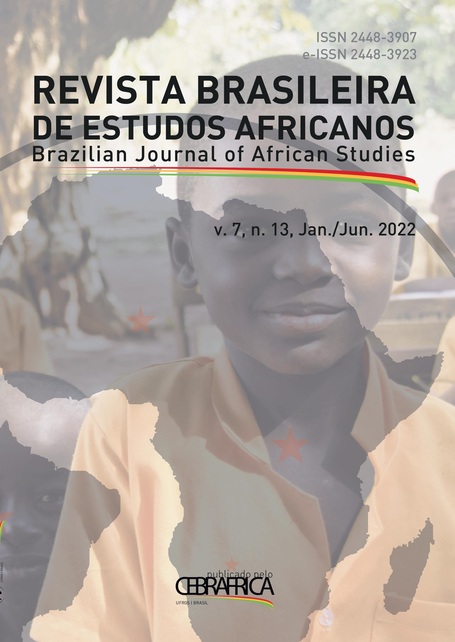 Downloads
Como Citar
Bangura, I., Oriola, T. ., & Mbawa, H. (2022). CORRUPÇÃO, SUBDESENVOLVIMENTO E AS MASSAS NA ÁFRICA. Revista Brasileira De Estudos Africanos, 7(13). https://doi.org/10.22456/2448-3923.118271
Licença
Os autores possuirão a propriedade intelectual dos artigos publicados e manterão os direitos de publicação.
Revista Brasileira de Estudos Africanos está licenciada com uma Licença Creative Commons Atribuição 4.0 Internacional.