THE SALMAN DOCTRINE IN SAUDI ARABIA'S FOREIGN POLICY: OBJECTIVES AND THE USE OF MILITARY FORCES
Keywords:
Saudi Arabia, Foreign Policy, Doctrine, Salman, Middle East
Abstract
Saudi Arabia's foreign policy is one of the central elements in the analysis of the current dynamics of the Middle East. King Salman and the crown prince, Mohammed bin Salman, are introducing significant changes in the international activities of the kingdom, through a more assertive and militaristic policy, especially to deal with the different outbreaks of the region and the Muslim sphere. This article analyzes the objectives and strategies that support the responses of the Saudi Government, as well as the use of force as a resource for foreign policy. This paper studies the main challenges and resistance to the power of the Saud House. The formulation and development of the current monarch's doctrine is determined by Saudi interpretations of possible security threats and opportunities at different levels, which may have a direct effect on the interests of the crown.
Downloads
Download data is not yet available.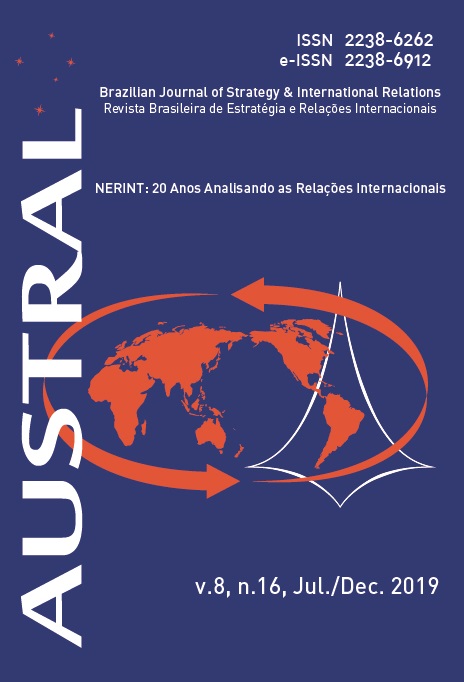 Downloads
How to Cite
González del Miño, P., & Hernández Martínez, D. (2019). THE SALMAN DOCTRINE IN SAUDI ARABIA'S FOREIGN POLICY: OBJECTIVES AND THE USE OF MILITARY FORCES. AUSTRAL: Brazilian Journal of Strategy &Amp; International Relations, 8(16). https://doi.org/10.22456/2238-6912.95424