THE AERIAL SUPERIORITY IN THE NATIONAL INTEREST OF COLOMBIA: A NEED FOR THE NATIONAL SECURITY AND DEFENSE POLICY
Keywords:
National Interest, Identity, Aerial Superiority, Colombia, Security and National Defense
Abstract
In this article, we intend to analyze the importance of the incorporation of aerial superiority as a concept and as a tool for the defense and security of national interests; the national interest can be established from the construction of national identity that should be accompanied by the formulation of public policies, especially foreign policy and security and defense policy, the latter nonexistent and the first incipient. Considering this standard, aerial superiority will be identified as the main objective of the nation's security and defense, and as a societal link in favor of welfare and development.
Downloads
Download data is not yet available.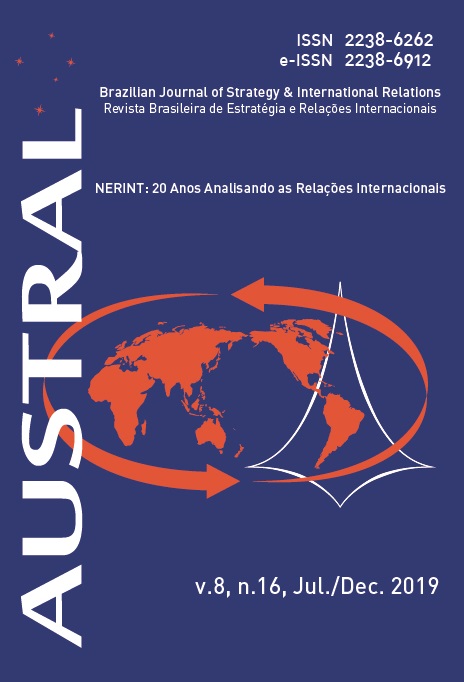 Downloads
How to Cite
González Cuenca, D. (2019). THE AERIAL SUPERIORITY IN THE NATIONAL INTEREST OF COLOMBIA: A NEED FOR THE NATIONAL SECURITY AND DEFENSE POLICY. AUSTRAL: Brazilian Journal of Strategy &Amp; International Relations, 8(16). https://doi.org/10.22456/2238-6912.88731