MARITIME SECURITY IN THE INDO-PACIFIC REGION: A VIEW FROM THE GEOSTRATEGIC POSITION OF THE MALACCA STRAIT
Keywords:
Maritime, security, Indo-Pacific, Malacca, co-coperation.
Abstract
Maritime security has been in recent times emerged as a burning issue in the fields of international relations in general and in the Indo-Pacific region in particular. With topographical tectonics, this area includes numerous "choke points" on maritime routes that are strategically important to world trade, playing an important role in the transportation of oil, gas and cargo products from the Middle East to Australia and East Asia. Therefore, maritime security issues for the lifeline of the world economy are concerned by the countries in the Indo-Pacific region, in which the important role of the sea route through Straits of Malacca is increasingly emphasized. With a geostrategic position connecting the Andaman Sea (Indian Ocean) and the South China Sea (Pacific Ocean), Straits of Malacca is the shortest route between the Middle East and Asia in general and Pacific Rim countries in particular. This is the location that accounts for a quarter of the world's marine traffic annually. Energy security and trade economy of major powerful countries in the Indo-Pacific region depend heavily on the maritime security of Straits of Malacca route. Through an analysis of the Malacca Strait's geostrategic location, this paper elucidates the Indo-Pacific region's importance in maritime security field in the first two decades of the twenty-first century.
Downloads
Download data is not yet available.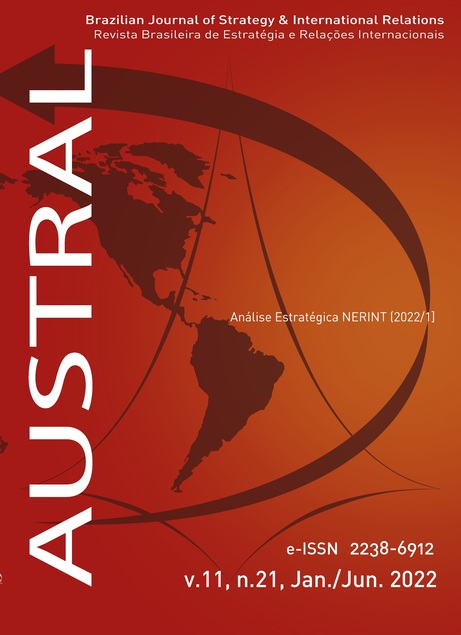 Downloads
How to Cite
Hoang Long, T. ., Xuan Hiep, T. ., & Tuan Binh, N. . (2022). MARITIME SECURITY IN THE INDO-PACIFIC REGION: A VIEW FROM THE GEOSTRATEGIC POSITION OF THE MALACCA STRAIT. AUSTRAL: Brazilian Journal of Strategy & International Relations, 11(21). https://doi.org/10.22456/2238-6912.119787