MODELS FOR SPATIALIZATION AND FORECASTING OF FLOODED AREAS IN THE SÃO SEBASTIÃO DO CAÍ URBAN ZONE, RIO GRANDE DO SUL STATE, BRAZIL
Palavras-chave:
geoprocessing, remote sensing, floods.
Resumo
The study aims at developing models for the spatialization and forecasting of floods in the urban area of São Sebastião do Caí, RS, Brazil. For the calculation of return period (RP), and in order to analyze the seasonality of floods, streamflow data from the station located in the city were used. However, for the development of a mathematical model for flood forecasting, the time series of a station upstream was also used in order to perform a regression with the quotas recorded in both seasons. For the identification of flood plains, a digital terrain model was produced based on elevation data in scales between 1:2,000 and 1:10,000. The QuickBird satellite image (spatial resolution of 0.61 m) was used only for the spatialization of the land use and land cover reached by each flood scenario. Mapping and 3D simulation of the areas affected by flooding were obtained for RP of 2, 5, 10 and 30 years. The following results are most significant: i) the river water level rises between 9.28 m and 11.98 m for RP of 2 to 30 years; ii) along the historical series, 75% of floods have occurred between June and October; iii) the mathematical model for flood forecasting showed an average error of 0.72 m, and the accuracy varies between 0.62 m and 1.84 m, according to the expected magnitude; iv) it was observed that 93 hectares of urban area in São Sebastião do Caí are hit by floods with a RP of 30 years (23% of the urban area); v) modelling of a recent flood event dated of 24/09/2007 has resulted in similar values for the simulated and observed flooded area.
Downloads
Não há dados estatísticos.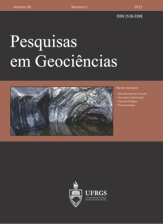 Downloads
Como Citar
de OLIVEIRA, G. G., SALDANHA, D. L., & GUASSELLI, L. A. (2011). MODELS FOR SPATIALIZATION AND FORECASTING OF FLOODED AREAS IN THE SÃO SEBASTIÃO DO CAÍ URBAN ZONE, RIO GRANDE DO SUL STATE, BRAZIL. Pesquisas Em Geociências, 38(2), 132–146. https://doi.org/10.22456/1807-9806.26379