Brazilian Carbonatites: Studies of the Fazenda Varela (SC) and Catalão I (GO) Carbonatites and their Alteration Products
Palavras-chave:
carbonatite, carbonate, rare earths.
Resumo
This paper presents some Brazilian carbonatites case studies: the Fazenda Varela (SC) and the Catalão I (Go) carbonatites. The mineralogical composition of the Fazenda Varela carbonatite is ankerite, Fe-dolomite, dolomite, synchysite and barite. Apatite and monazite are very rare accessories. The rock presents high amounts of REE, Ba, Ca, Sr, CO2 and SO3, significant Th and U, and small amounts of P, Nb and Ta. The weathering dissolves the carbonates, forms goethite and maintains barite in a saprolite facies. The laterite facies is probably related to the tertiary climate. The weathering promote Fe enrichment, followed by Mn, Th and U in the oxide phase. Ba, REE and P are fixed in the younger weathering (saprolite phase) and lost in the older weathering (laterite phase). In Catalão I Massif five hidrotermal events and the following magmatic events were identified: (1) Phoscorite and pyroxenite; (2) Banded carbonatite with alternated calcite and dolomite layers with apatite, magnetite and pyrite; (3) Magnesium carbonatite with pyrite, rare niobozirconolite and strontiamite. Catalão I carbonatites are poor in Al, Mn, Na and K. Cr, Ni, Co, Cu, Li and Zr-richer samples do occur anomalously. Nb content in carbonatitic veins is very low and suggests that these rocks are not the source for the economic concentration of this element. In both calcite and dolomite, Ba content is smaller than Sr content. Sr, Fe and Mn are mostly associated with dolomite carbonatites. The banded carbonatite is relatively REE-poor, but the magnesium carbonatite bands are REE richer than the associated calcium carbonatite bands, which are extremely poor in all REE. The REE signatures of the distinct carbonatites didn't show anomalies.
Downloads
Não há dados estatísticos.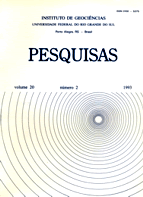 Downloads
Como Citar
FORMOSO, M. L. L., MENEGOTTO, E., & PEREIRA, V. P. (1999). Brazilian Carbonatites: Studies of the Fazenda Varela (SC) and Catalão I (GO) Carbonatites and their Alteration Products. Pesquisas Em Geociências, 26(2), 21–43. https://doi.org/10.22456/1807-9806.21122