Approaches to Evaluation of Self-Purification in Estuarine Rivers of Souhteast of Amapá State - Brazil
Palavras-chave:
Estuarine River, Water Quality, Self-purification
Resumo
There are a number of reasons that make Amazon estuary an important natural water resource. First, it is biologically productive being the spawning and nursery ground for many important aquatic biota. Second, it serves as receiving waters for wastewater discharges and for navigation use. Third, it has been demonstrating its elevated dilution and self-purification capacity for constituents of the water, principally bacteria, toxic substances, organic material and nutrients. Many cities and small ports of the State of the Amapá located on estuaries and coastal zones are ready affecting their quality through runoff, domestic and industrial wastewater. So, the present research evaluated the water quality in four rivers located close to the periurban areas of Macapá and Santana and rural area of Mazagão municipality. The main objective is to diagnostic the spatial-temporal distribution of some variables and parameters of the water quality, considering important factors as atrophic, hydrologic and climatologic effects in streams sanitation.
Downloads
Não há dados estatísticos.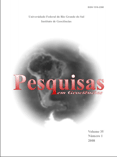 Downloads
Como Citar
DA CUNHA, A. C., DA CUNHA, H. F. A., TAKIYAMA, L. R., DA SILVA, M. S., SILVEIRA, O. F., PANTOJA, S., NAZARÉ, A. S., & DE SIQUEIRA, E. Q. (2001). Approaches to Evaluation of Self-Purification in Estuarine Rivers of Souhteast of Amapá State - Brazil. Pesquisas Em Geociências, 28(2), 487–496. https://doi.org/10.22456/1807-9806.20322