Gerenciamento Costeiro e os Estudos do Quaternário no Estado de São Paulo, Brasil
Palavras-chave:
integrated coastal zone management, environment degradation.
Resumo
The majority of worldwide coasts is experiencing a wide range of anthropogenic and natural pressures. These issues have become a major threat to economic sustainability and environmental quality, intensifying use conflicts, creating social unrest and destabilizing the national economy. Recognizing the socioeconomic importance of the coastal zone. the United Nations Conference on Environment and Development (UNCED) has prominently placed integrated coastal zone management (ICZM) in the Agenda 21. ICZM is an ecologically-based approach to environmental management and it is associated with two general objectives: (i) to restore and maintain the ecological integrity of coastal ecosystems, and (ii) to maintain important human values and uses with those resources. The above mentioned natural and anthropogenic pressures illustrate the wide range of interacting, incompletely understood issues and the difficult challenger that any strategy to attain an ICZM must address. The Brazilian ICZM could be referred as the National Plan Coastal Management, legally established in 1988. As the most developed region in Brazil, the State of São Paulo coastal zone is also undergoing numerous natural and anthropogenic pressures. Among the natural pressures are sea-level rise and global climate change. Anthropogenic pressures are consequence of rapid urbanization, population growth, tourism activities, port and harbor development, industrialization, natural resources exploitation, waste assimilation and environmental pollution. The State of São Paulo has also its own ICZM named State Plan for Coastal Management (SPCM), which is derived from the National one. This paper presents the general organization of the SPCM, including government polices, framework,  implementation strategies and actions, as well as the important role played by Quaternary studies in order to improve this plan.
Downloads
Não há dados estatísticos.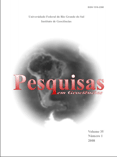 Downloads
Como Citar
FILET, M., SOUZA, R. D. G., XAVIER, A. F., BÜSCHEL, E. G., DE MORAES, M. B. R., & POLETI, A. E. (2001). Gerenciamento Costeiro e os Estudos do Quaternário no Estado de São Paulo, Brasil. Pesquisas Em Geociências, 28(2), 475–486. https://doi.org/10.22456/1807-9806.20321