Seismites: origin, criteria of identification and examples from the Quaternary record of Northeastern Brasil
Palavras-chave:
seismite, earthquake, netotectonics.
Resumo
Seismites are soft-sediment features produced by (paleo)earthquakes. They are formed after sediment deposition, before sediment compaction, and during sudden breakdown of a loosely packet, water saturated grain framework. Fundamental controls on seismite generation are exerted mainly by earthquake size, sediment properties, and water-table depth. Hydroplastic deformation, liquefaction, and fluidization are the three mechanisms related to seismite origin. The most common types of seismites are hydroplastic mixing layers, pillars, pockets, dikes, sills, and folds. Outcrop features are among the most valuable tools for deciphering seismic events in the past. Seismites have been described in many intraplate settings. In northeastern Brazil, earthquake swarms, including events up to 5.2 Mb, induced soft-sediment deformation in at least two historical cases. In this region, seismites occur in the Quaternary record of the Jaguaribe, Açu, and Potengi valleys, where a great variety of types are observed. They are particularly abundant in gravelly and sandy alluvial sediments. But they also occur in deltaic and lagoonal deposits. The study of seismites is particularly useful in areas lacking structural data. Seismite investigation is also important to extent the earthquake record far beyond the instrumental period of seismic observation.
Downloads
Não há dados estatísticos.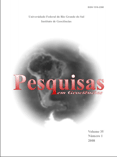 Downloads
Como Citar
BEZERRA, F. H. R., DA FONSCECA, V. P., & LIMA FILHO, F. P. (2001). Seismites: origin, criteria of identification and examples from the Quaternary record of Northeastern Brasil. Pesquisas Em Geociências, 28(2), 205–212. https://doi.org/10.22456/1807-9806.20295