Análise Geológico-Estrutural do Cinturão Sunsás na Região de Nova Brasilândia - Sudeste de Rondônia
Palavras-chave:
Amazonic Craton, Sunsás Orogeny, Metaplutonic-volcanic-sedimentary sequence.
Resumo
The present study is on structural framework of geological units exposed in the Paulo Saldanha topographic sheet situated in the Nova Brasilândia region, Rondônia State. These units outcrops in southwestern portion of Amazonic Craton formed by mobile belts of Mesoproterozoic ages, represented by 1.4 Gy Rondonian and 1.0 Gy Sunsás Orogenic Provinces. The main rocks of study area comprises, in its central portion, the Nova Brasilândia Metaplutonic-volcanic-sedimentary Sequence formed by ortho- and para-derived rocks metamorphosed in upper amphibolites facies, represented by metaturbidites with major intercalation's of amphibolites and local migmatized granitoid lenses. In southernmost portion, this sequence are dominantly formed by metagabros and amphibolites, with small granitoid bodies of Granito Rio Branco unit highly tectonized by a syn-transpressive regime (D1). At central-south portion, outcrop the Suite Intrusiva Rio Pardo formed by granodiorites syn- to post-transcurrent shear zones, emplaced through spaces generated by transtrative regime (D2) of Rio Branco Transcurrent Shear Zone. All of above units were hard tectonized during Sunsás Orogeny markink the last important period of lithospheric accretion to the southern border of the Amazonic Craton NW-SE and E-W structures strongly control the lithostratigraphic boundaries of Nova Brasilândia Sequence, and Rio Branco and Rio Pardo units, all deformed by the transpressive and transtrative tectonic regime that characterize the Sunsás Orogeny. A hard metamorphic foliation (S1) characterize the NW-SE trending lineaments highly recorded in the metaturbidites of the central Paulo Saldanha sheet. These structures were rotated by E-W trending transcurrent shear zones with sinistral relative movement, formed by Rio Branco and Alvorada shear zones situated in central-southern and northern portion, respectively; and both constituted by milonitic foliation (S2) and stretching lineations (L2) best characterizes at central-southern portions by augengranites of Rio Branco unit. Radiometric data were obtained by U-Pb, Rb-Sr and Sm-Nd methods in the units of the Nova Brasilândia Sequence and from granitoids of Suite Granítica Rio Pardo and Granito Rio Branco. These data interpretation insert the Nova Brasilândia region around 1.1 Gy Sunsás Orogenic Cycle.
Downloads
Não há dados estatísticos.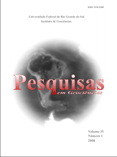 Downloads
Como Citar
LUFT JR, J. L., RIZZOTTO, G., CHEMALE JR, F., & DE LIMA, E. F. (2000). Análise Geológico-Estrutural do Cinturão Sunsás na Região de Nova Brasilândia - Sudeste de Rondônia. Pesquisas Em Geociências, 27(2), 65–78. https://doi.org/10.22456/1807-9806.20191