Variaciones Antropogenicas de las Playas del Sudeste de Buenos Aires, Argentina
Palavras-chave:
Coastal erosion, beaches, Buenos Aires, Argentina.
Resumo
The southeastern coast of Buenos Aires Province is subject to natural and critic erosion problems induced mainly by storm tracks from the south. Man tried to minimize these problems by the construction of groin fields and recently by beach-nourishment programs. Sand exploitation was very intense and was prohibited at the end of the eighties (there are still local exploitations where sand accumulation is induced at the base of the southern jetty of the Mar del Plata harbor). Comparing beach surveys carried out at different periods (1983-84, 1991-93 and 1997-2000), significant changes in beach morphodynamics have been detected. At the northern beaches of La Perla region, the prolongation of old groins have caused convex profiles and accumulation of coarser foreshores. The erosive beach of Playa Grande changed dramatically due to nourishment jobs carried out in 1998. Since that time, the beach face became composed of fine sand and has been receding at a faster rate. At the Alfar beach, the interruption of sand mining provoked the accumulation of fine-sand berms. The Chapadmalal beach recorded the more significant morphological changes within this last period (1997-2000). The beaches within the groin field of Miramar city have steep profiles during winter, recovering the berms during the rest of the year, with variations of the coastline of more than 30 m.
Downloads
Não há dados estatísticos.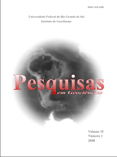 Downloads
Como Citar
ISLA, F., BERTOLA, G., FARENGA, M., & CORTIZO, L. (2001). Variaciones Antropogenicas de las Playas del Sudeste de Buenos Aires, Argentina. Pesquisas Em Geociências, 28(1), 27–35. https://doi.org/10.22456/1807-9806.20165