Textural Relations of Lamprophyric Mafic Microgranular Enclaves and Petrological Implications for the Genesis of Potassic Syenitic Magmas: the example of Piquiri Syenite, southern Brazil
Palavras-chave:
lamprophyres, mafic microgranular enclaves, syenite, mingling.
Resumo
The Neoproterozoic Piquiri Syenite exhibits a large amount of mafic microgranular enclaves (MME) with elliptical-shape and millimeter to centimeter-size dimensions. These enclaves were originated by co-mingling of minettetype lamprophyre and potassic syenite magmas, producing the typical textural features of quenched magmas. They show elongated crystals of diopside and Mg-biotite, and acicular apatite. Early crystallized phases are represented by the same minerals, which occur as phenocrysts (diopside + Mg-biotite) and euhedral smaller crystals (apatite). The textural relationship and the identification of mineral phases as K-clinopyroxene and pyrope in the MME, suggest that mingling started at mantle conditions, when lamprophyric and syenitic magmas were near crystal-free and close to liquidus temperatures. The absence of syenite xenocrysts and chilled-margins in MME, are consistent with the high temperature of co-mingling. Alkali feldspar laths that poikilitically enclose quenched phases, represent late-magmatic mineral phase. The Piquiri Syenite MME represent a quite rare example of co-mingling between lamprophyre and intermediate magmas, and represents important evidence for the genesis of potassic silica-saturated magmas at mantle conditions.
Downloads
Não há dados estatísticos.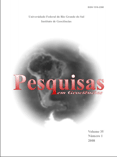 Downloads
Como Citar
CID, J. P., NARDI, L. V. S., & GISBERT, P. E. (2002). Textural Relations of Lamprophyric Mafic Microgranular Enclaves and Petrological Implications for the Genesis of Potassic Syenitic Magmas: the example of Piquiri Syenite, southern Brazil. Pesquisas Em Geociências, 29(2), 21–30. https://doi.org/10.22456/1807-9806.19602