Foram os Bivalves do Grupo Passa Dois (Exclusive Formação Rio do Rasto), Neopermiano, Invertebrados Tipicamente Dulcícolas?
Palavras-chave:
Bivalve Mollusks, Taphonomy, Functional Anatomy, Permian, Paraná Basin
Resumo
During the Late Permian Paraná Basin was a huge epeiric sea in which salinity deviated from either normal marine or freshwater, particularly in marginally environments. Sedimentological, geochemical, petrographic data and associated micro- and microflora have been used to identify such variations. Although shell morphology (paleoautoecology) and preservation (taphonomy) of bivalve mollusks could be used as an additional tool, these have been fully neglected. Previous authors based on the occurrence of charophyte oogonia in rocks of the Terezina/Corumbataí Formations (Passa Dois Group) and coeval occurrences outside the Brazilian portion of the basin, interpreted the fauna (Pinzonella illusa and Pinzonella neotropica assemblages) as typically freshwater. However, morphologic and taphonomic evidences do not corroborate this assumption: a- assimetrical sculptures and radial ornamentation found in shells of the genera Cowperesia and Ferrazia are absent in freshwater bivalve shells; b- anteriorly expanded shells (e.g., Runnegariella fragilis) are not present in mollusks that colonized freshwater environments, and c- lunule (e.g., Pinzonella, Itatamba, and Plesiocyprinella) is rare or absent in freshwater bivalves. Additionally, typical morphological features (e.g., claustrun, tubercles, shell torsion) exhibited by freshwater bivalves were not observed in the studied fauna. Assemblages including high proportion of shells with extensive solution pits concentrated in the umbonal region are common in bivalves that suffered prolonged exposures to freshwater conditions. These features have never been observed in the studied fossil record. Our data highly suggest that the reconstruction of Passa Dois Group paleosalinity must be done using a "myriad" of stratigraphic, sedimentologic, paleobiologic and taphonomic information. At this moment, we can only affirm that they were not typical freshwater mollusks. Probably, they lived in shallow water habitats, frequently affected by storms, and punctuated by episodes of intense evaporation and hypersalinity with influence of local freshwater inputs, configuring an situation of high environmental stress.
Downloads
Não há dados estatísticos.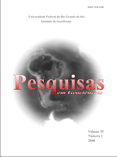 Downloads
Como Citar
GHILARDI, R. P., & SIMÕES, M. G. (2002). Foram os Bivalves do Grupo Passa Dois (Exclusive Formação Rio do Rasto), Neopermiano, Invertebrados Tipicamente Dulcícolas?. Pesquisas Em Geociências, 29(1), 83–95. https://doi.org/10.22456/1807-9806.19600