Razões Isotópicas 87Rb/86Sr, 87Sr/86Sr e 143Nd/144Nd como Traçadores de Proveniência de Rochas Sedimentares Siliciclásticas: Exemplos no Grupo Camaquã (Paleozóico inferior, RS, Brasil)
Palavras-chave:
Rb-Sr system, Sm-Nd system, provenance, Camaquã Group.
Resumo
The Rb-Sr and Sm-Nd isotopic systems are ideal in constraining the provenance of fine-grained clastic rocks. This is particularly true for continental, fluvio-lacustrine, sedimentary units deposited under semi-arid climate conditions, where mechanical desintegration of source rocks dominates the weathering processes. Three sets of red-colored, continental siltstones of the Camaquã Group (Early Paleozoic, southern Brazil) were analyzed for these isotopic systems, providing important data for the understanding of the provenance pattern of the Santa Bárbara (lower) and Guaritas (upper) formations. The results of six samples from the finer-grained portion of Sequence I of Santa Bárbara Formation (SEI samples) suggest provenance predominantly from the adjacent volcanic units (Hilário and Acampamento Velho formations), with subordinated contribution of monzonites (Arroio do Jaques) and metamorphic rocks (Cambaizinho), reflecting eastward paleoflow. Three samples from the outcrop area of the Santa Bárbara Formation east of Caçapava do Sul (SBG samples) reveal a similar provenance pattern, with a more effective contribution of felsic ignimbrites of the Acampamento Velho Formation as source rock. On the other hand, eight samples from the Guaritas Formation, obtained near Santana da Boa Vista (GUA samples), show anomalously high 87Rb/86Sr and 87Sr/86Sr ratios, suggesting more potassic source rocks. The values find correspondence mainly in the syn-transcurrent metagranites Quitéria, Arroio Francisquinho and Cordilheira (older than 600Ma), felsic lavas of the Acampamento Velho Formation (poorly exposed in the area), orogenic (Pinheiro Machado) and post-orogenic (Encruzilhada do Sul) intrusive suites. Other presently exposed units, such as the Encantadas Gneiss (older and more mafic) and the Porongos metasedimentary rocks (also older Nd signature) would have been buried or unavailable for erosion during the deposition of the Guaritas samples.
Downloads
Não há dados estatísticos.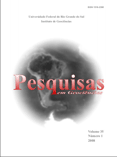 Downloads
Como Citar
DE BORBA, A. W., MIZUSAKI, A. M. P., DA SILVA, D. R. A., & KAWASHITA, K. (2003). Razões Isotópicas 87Rb/86Sr, 87Sr/86Sr e 143Nd/144Nd como Traçadores de Proveniência de Rochas Sedimentares Siliciclásticas: Exemplos no Grupo Camaquã (Paleozóico inferior, RS, Brasil). Pesquisas Em Geociências, 30(2), 39–50. https://doi.org/10.22456/1807-9806.19590