Metalogênese do Depósito de Cobre Cerro dos Martins, RS -Revisão e Geoquímica Isotópica de SR, S, O e C-
Palavras-chave:
metallogeny, sedimentary-hosted deposit, isotopes, base-metal mineralization.
Resumo
This paper presents the geology, chemical data, Pb-Pb zircon ages, sulfur, carbon, oxygen, strontium isotopes and fluid inclusions of Cerro dos Martins copper deposit. The deposit is hosted by the Neoproterozoic volcano-sedimentary sequence of the Camaquã Basin in the Rio Grande do Sul Shield, southern Brazil. The ores consist of a set of Cu-sulfide NW-trending veins and disseminations within of the Bom Jardim Group. Chalcocite and bornite are the main ore minerals, whereas carbonates, barite, quartz and hematite are the gangue. The volcanic host rocks show an alkaline affinity. An intrusive quartz-diorite body, also shown alkaline affinity, yield a 550±5 Ma zircon age (initial 87Sr/86Sr of 0,704), which is considered the minimum age of the copper mineralization. The δ34SCDT of sulfides ranges from –6.2 to +0.9‰. Hematite in the mineral paragenesis suggests oxidizing conditions, which would shift the original magmatic sulfur isotopic compositions (δ34S ~ 0‰) to negative values. Barite with δ34SCDT from +9.25 to +10.65‰ may also indicate oxidation due to mixing of a hot rising fluid with cold meteoric water. The δ13CPDB of calcite from gangue, in the range of – 1,90 to – 4,45% is interpreted as originated from mixing sources – magmatic and fluids contaminated by basement marbles. Studies on primary aqueous biphasic fluid inclusions show homogenisation temperatures with average of 215°C. Water in equilibrium with calcite from hydrothermal fluid show calculated values of δ O18 SMOW between 3 and 14‰, suggesting derivation from a magmatic source with some contributions from meteoric water. 87Sr/86Sr from these calcite show values between 0, 7068 – 0, 7087, typical from upper crust. Hence, the Cerro dos Martins copper deposit is interpreted to have had origin by a mixing between a magmatic-hydrotermal fluids related to the alkaline-shoshonitic, post-collisional magmatic event (595-550 Ma) of the Dom Feliciano Orogeny and basement rocks. Exploration models for copper deposits in this shield should consider the alkaline magmatism in the genesis of deposits.
Downloads
Não há dados estatísticos.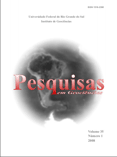 Downloads
Como Citar
TONIOLO, J. A., REMUS, M. V. D., MACAMBIRA, M. J. B., & MOURA, C. A. V. (2004). Metalogênese do Depósito de Cobre Cerro dos Martins, RS -Revisão e Geoquímica Isotópica de SR, S, O e C-. Pesquisas Em Geociências, 31(2), 41–67. https://doi.org/10.22456/1807-9806.19573