Magmatic Epidote and Amphibole from the Rio Espinharas Hybrid Complex, Northeastern Brazil
Palavras-chave:
magmatic epidote, amphibole, Neoproterozoic granite, mineral chemistry.
Resumo
The petrography and chemistry of epidote and amphibole from the Rio Espinharas hybrid complex (REHC), northeastern Brazil are reported. The Rio Espinharas complex is composed of an intimate association of diorite to shoshonitic metaluminous quartzmonzonite to slightly peraluminous syenogranite. The epidote shows four textural relationships: three are primary and one is resulting from sub-solidus reaction. Euhedral epidote is dispersed and associated mainly with biotite and amphibole. In some cases euhedral crystals of the epidote contain allanite cores, which are subhedral to anhedral and constitute in average less than 20% of the whole grain. The contact between primary epidote and plagioclase is corroded, suggesting reaction with the host-magma. Secondary anhedral epidote is rare and results from plagioclase alteration. The preservation of magmatic epidote in granitic rocks emplaced in the upper crust is attributed to rapid magma ascent, which implies fast upward transport probably by dyking associated to shear zone. The REHC occurs between two transcurrent faults that impose an elongated shape, suggesting that magma filled fractures. The time of 14 years required for dissolution zones of 0.15 mm width of epidote on porphyritic quartz monzonite, corresponds to an average ascent rate of ≥ 700 m year-1 from 7.1 to 2.9 kbar.
Downloads
Não há dados estatísticos.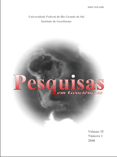 Downloads
Como Citar
CAMPOS, T., NEIVA, A. M., NARDI, L. V. S., PEREIRA, L. S., BONZANINI, L. F., PETTA, R., & MEYER, F. M. (2005). Magmatic Epidote and Amphibole from the Rio Espinharas Hybrid Complex, Northeastern Brazil. Pesquisas Em Geociências, 32(2), 41–55. https://doi.org/10.22456/1807-9806.19545