Recognition of Environmentally Vulnerable Depositional Facies in the Chacahua Lagoon, Oaxaca, Mexico
Palavras-chave:
coastal lagoon, Oaxaca, sediments, multivariate analysis, facies.
Resumo
Over the years, human activity and environmental problems have impacted the Chacahua Lagoon in the State of Oaxaca, Mexico. In an attempt to gain more insight into the current environmental conditions of this lagoon, twenty-eight bottom sediment samples were collected in August 2003. Using depth, physical properties (grain-size and texture) and biological characteristics (organic matter and CaCO3 contents) of sediments as environmental indicators, three depositional facies were identified implementing cluster analysis, each facies seems to be under the influence of different processes. In terms of environmental concern, it was determined that the central part of the lagoon presents a high potential of pollutant sorption, thus this sector should be closely monitored.
Downloads
Não há dados estatísticos.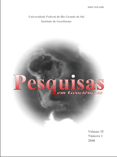 Downloads
Como Citar
RÍOS, F., SANDOVAL, G., & FRÍAS, A. (2005). Recognition of Environmentally Vulnerable Depositional Facies in the Chacahua Lagoon, Oaxaca, Mexico. Pesquisas Em Geociências, 32(2), 17–28. https://doi.org/10.22456/1807-9806.19542