Geoquímica de Minerais Detríticos em Estudos de Proveniência: Uma Revisão
Palavras-chave:
detrital mineral chemistry, provenance, mineral chemistry, sedimentary detrital minerals.
Resumo
The chemical composition of detrital minerals in sediments has become a powerful tool for provenance studies, particularly in the last decades with the improvement of analytical techniques for mineral grains. Major and trace element contents of igneous and metamorphic minerals can reveal the characteristics of their original sources, mainly with respect to their geochemical affinity, geotectonic setting and the physical parameters that controlled their crystallization. The proportions of major elements in pyroxenes and amphiboles can be used for the identification of their igneous or metamorphic origin, for the definition of their magmatic affiliation, and for the discussion of the probable tectonic setting where they were generated. Metamorphic and igneous zircons can be distinguished by REE patterns or U and Th contents. Magmatic zircons from different geotectonic settings can show different concentrations of REE, Nb, Hf and Y. Magmatic garnets from granites typically show high Mn contents, and can be distinguished from metamorphic ones or from garnets of ultramafic rocks mainly through their major element composition. Compositional zoning of garnets are indicative of their metamorphic or igneous character. Magmatic, metamorphic and hydrothermal epidotes can be distinguished by their chemical composition, as well. Several other minerals, such as apatite, tourmaline, rutile, titanite, and feldspars can indicate, through their chemical composition, the probable rock that could have produced them. The integration of geochemical data on detrital minerals with other usual tools of sedimentary petrology is certainly the most efficient approach for investigating the provenance of sediments.
Downloads
Não há dados estatísticos.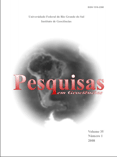 Downloads
Como Citar
DE BARROS, C. E., NARDI, L. V. S., & DILLENBURG, S. R. (2005). Geoquímica de Minerais Detríticos em Estudos de Proveniência: Uma Revisão. Pesquisas Em Geociências, 32(1), 3–15. https://doi.org/10.22456/1807-9806.19533