Sedimentologia e Estratigrafia de Rampa Arenosa - Praia Mole (SC) - e sua Correlação com Eventos Paleoclimáticos Globais
Palavras-chave:
coastal sandy ramp, stratigraphy, paleoclimatic correlation.
Resumo
The term sand ramp has been used to define a deposit constituted of eolian, fluvial, of hill-slope facies and with paleosols established in topographical obstacle. The occurrence of sand ramp is little known in the Brazilian coast. Sand ramps have been identified in the east band in Santa Catarina Island and studied in the Joaquina and Mole Beach. The present study focuses on facies, paleosols genesis, classification and correlation with global paleoclimatic events. There are still some doubts whether the interpretations can be taken as common properties of sand ramps in the eastern band of Santa Catarina Island. The present article shows the stratigraphy of sand ramp in Mole Beach. It argues if dissipation facies predominate and if there are colluvial paleosols. We established the chronology from the stratigraphic record using the luminiscence method and the correlation of the layers and paleosols with global paleoclimatic events. We have verified the deposit of the sand ramp in Mole Beach shows aeolian, of dissipation beds and paleosols. The aeolian beds are predominant and thicker than the dissipation beds. The paleoclimatic meaning of the dissipation beds is little understood. A paleolatosol and two paleoargisols constituted by fines generated by the alteration of heavy minerals of aeolian beds were individualized. The first should have been developed during the interstadial period (marine isotope stage 5c), while the other two were formed from the beginning to the middle of the current interglacial (marine isotope stage 1). The stratigraphic record of the area showed that the deposit of the sand ramp developed 124,000 yr B.P., between the two maximum last transgressions in the Brazilian coast, being much more recent than once thougth and corresponds with known data of the coastal evolution of the Santa Catarina Island.
Downloads
Não há dados estatísticos.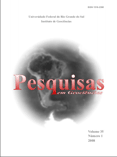 Downloads
Como Citar
PAISANI, J. C. (2006). Sedimentologia e Estratigrafia de Rampa Arenosa - Praia Mole (SC) - e sua Correlação com Eventos Paleoclimáticos Globais. Pesquisas Em Geociências, 33(2), 87–99. https://doi.org/10.22456/1807-9806.19517