Atypical Fibroepithelial Polyp in the Cornea of a Lhasa Apso Dog
Abstract
Background: Fibroepithelial polyps are benign tumors of mesenchymal and ectodermal origin. Regarding the localization related to the cutaneous region, they may affect the eyelid and periocular area. In veterinary medicine, polyps located in the urethra of dogs and monkeys, vagina of bitches and on the skin have been described.  Fibroepithelial polyps may present as single to multiple nodules, exophytic to pedunculated, usually arising on a smooth surface of a common base. The aim of this paper is to describe the ocular and histopathological changes of a corneal fibroepithelial polyp of recurrent character in a dog.
Case: A 20-year-old Lhasa Apso dog, with a history of progressive corneal neoformation in the right eye for 4 months. Patient was submitted to routine ophthalmic evaluation. At biomicroscopy, a discrete mucopurulent discharge was observed in the nasal corner, a nodule in the lower eyelid (± 3 mm), moderate conjunctival hyperemia, vascularization and corneal edema between 12 and 5 h, presence of a pinkish proliferative mass in 3 h, affecting the anterior stroma and opacity of the lens, Schirmer's Tear Test (STT) 20 mm/min and intraocular pressure (IOP) 10 mm/Hg.  In the left eye, the STT and IOP were within normal range (17 mm/min and 11 mg/Hg, respectively) and at biomicroscopy only lens opacity was observed. Given the presence of the neoformation in the cornea, the patient underwent lamellar keratectomy to excise the mass and third eyelid flap. The tissue was then submitted to histopathology. The histopathological examination showed a proliferation of fibrous component with areas presenting reactive fibroblasts, with acidophilic cytoplasm and with little volume and slight neovascularization, presence of hyperplasia of the lining epithelium and cells with round to oval nuclei, with inconspicuous nucleoli, compatible with fibroepithelial polyp, without evidence of malignancy. After 18 months, the patient presented recurrence of the condition with a history of slow evolution (about ten months). The ophthalmic evaluation showed lesions very similar to the initial one, describing a recurrence of the lesion.
Discussion: Corneal neoplasms are uncommon in dogs. The clinical findings in patients with ocular neoplasms include irregular to nodular masses, gray to reddish in color, and typically associated with a vascular supply. These features are related to the type of tumor and its degree of evolution. There are reports in the literature of ocular neoplasms such as squamous cell carcinoma, papilloma, melanocytoma, fibrosarcoma, hemangiosarcoma, melanoma, lymphoma. Related to fibroepithelial polyp with ocular involvement, there are rare reports in human literature and none in veterinary medicine. There is a human description of the presence of a polyp affecting the cornea associated with a corneal dermoid and e other cases of polyps of conjunctival origin.  As far as treatment is concerned, the polyp should be surgically removed because of the possibility of recurrence, tissue metaplasia, or even transformation into a malignant tumor, as seen in the case reported here, in which even with surgical removal there was recurrence and metaplasia of the cells. Based on the histopathological findings, it can be concluded that this is a fibroepithelial polyp with a recidivating characteristic, not well described in the veterinary literature, with an atypical presentation affecting the cornea.
Keywords: tumor, corneal, neoformation, canine.
Título: Pólipo Fibroepitlial atípico em córnea de um cão Lhasa Apso
Descritores: tumor, cornea, neoformação, cão.
Downloads
Download data is not yet available.
References
Agir H., Sen C. & Cek D. 2005. Squamous cell carcinoma arising from a fibroepithelial polyp. Annals of Plastic Surgery. 55(6): 687-688.
Ballard D.H., Rove K.O., Coplen D.E., Chen T.Y. & Bowling R.L.H. 2018. Fibroepithelial polyp causing urethral obstruction: Diagnosis by cystourethrogram. Clinical imaging. 51: 164-167.
Bauer B., Leis M.L. & Sayi S. 2015. Primary corneal melanocytoma in a collie. Veterinary ophthalmology. 18(5): 429-432.
Bidaut A.P., Gross T.L., Noli C., Welle M. & Suter M.M. 2003. Acrochordonous plaques in two Bulldogs and a Pug dog. Veterinary Dermatology. 14(3): 177-179.
Brown P.J., Evans H.K., Deen S. & Whitbread T.J. 2012. Fibroepithelial polyps of the vagina in bitches: a histological and immunohistochemical study. Journal of Comparative Pathology. 147(2-3): 181-185.
Chikweto A., McNeil P., Bhaiyat M.I., Stone D. & Sharma R.N. 2011. Neoplastic and nonneoplastic cutaneous tumors of dogs in Grenada, West Indies. International Scholarly Research Notices. 2011(November): 1-6.
Cho W.K., Park J.H., Paik J.S., Jung S.K. & Yang S.W. 2013. A case of congenital orbital fibroepithelial polyp. Ophthalmic Plastic & Reconstructive Surgery. 29(4): 107-108.
De Paula L.V., Amaral A.V.C., Saturnino K.C. & Souza Ramos D.G. 2021. Canine Primary Corneal Fibrosarcoma–Case Report. Topics in Companion Animal Medicine. 42: 100494.
Del Mar L.M.M., Aloma M. F., David V., Elena M. & Joaquín O. 2019. Highly invasive and poorly differentiated corneal squamous cell carcinoma in a dog. BMC Veterinary Research. 15(1): 1-5.
Donaldson D., Sansom J., Scase T., Adams V. & Mellersh C. 2005. Canine limbal melanoma: 30 cases (1992–2004). Part 1. Signalment, clinical and histological features and pedigree analysis. Veterinary Ophthalmology. 9(2): 115-119.
Dreyfus J., Schobert C.S. & Dubielzig R.R. 2011. Superficial corneal squamous cell carcinoma occurring in dogs with chronic keratitis. Veterinary Ophthalmology. 14(3): 161-168.
Etzioni A.L., Raskin R.E., Van Alstine W.G. & Yu J. 2020. The cytologic and histologic diagnosis of ureteral fibroepithelial polyp in a dog. Veterinary Clinical Pathology. 49(4): 646-651.
Farrell M., Philbey A.W. & Ramsey I. 2006. Ureteral fibroepithelial polyp in a dog. Journal of Small Animal Practice. 47(7): 409-412.
Ferreira A.A., Friesen R., Oliveir J.K., Teixeira W.T., Sillas T., Werner J. & Dornbusch P.T. 2019. Acrochordonous plaque in a Doberman Pinscher dog. Open Veterinary Journal. 9(2): 106-108,
Formánek M., Zeleník K., Židlík V. & Komínek P. 2022. Fibroepithelial polyp of the external auditory canal in a 2-year-old child. Ear, Nose & Throat Journal. 101(1): NP10-NP12.
Gollow J.R., Robertson P. & Cunningham B. 2019. Large pedunculated vulval fibroepithelial polyp. BMJ Case Reports. 12(7): 1-2.
Gozalo A.S., Hoffmann V.J. & Lambert L.E. 2006. Ureteral fibroepithelial polyp in an owl monkey (Aotus nancymae). Veterinary Pathology. 43(4): 573-575.
Grant D.C. & Troy G.C. 2014. Recurrent Urethral Fibroepithelial Polyps in a Golden Retriever. Journal of the American Animal Hospital Association. 50(5): 361-365.
Haeussler Jr D J., Rodríguez L.M., Wilkie D.A. & Premanandan C. 2011. Primary central corneal hemangiosarcoma in a dog. Veterinary Ophthalmology. 14(2): 133-136.
Kim M.S., Kweon D.H., Yi N.Y., Lee J.M., Jeong M.B., Kang M.S. & Seo K.M. 2005. Corneal papilloma in a dog. The Veterinary Record. 156(14): 454-454.
Labelle A.L. & Labelle P. 2015. Canine ocular neoplasia: a review. Veterinary Ophthalmology. 16(1): 3-14.
Montiani‐Ferreira F., Kiupel M., Muzolon P. & Truppel J. 2008. Corneal squamous cell carcinoma in a dog: a case report. Veterinary Ophthalmology. 11(4): 269-272.
Murakami Y., Oki M., Saka H. & Ise Y. 2015. Tracheal fibroepithelial polyp. Journal of Bronchology & Interventional Pulmonology. 22(1): 52-54.
Paul S., Vo D.T. & Silkiss R.Z. 2011. Malignant and benign eyelid lesions in San Francisco: study of a diverse urban population. American Journal of Computational Mathematics. 8(1): 40-46.
Reichle J.K., Peterson R.A., Mahaffey M.B., Schelling C.G. & Barthez P.Y. 2003. Ureteral fibroepithelial polyps in four dogs. Veterinary Radiology & Ultrasound. 44(4): 433-437.
Seymenoğlu G., Başer E., Tansuğ N. & Demireli P. 2013. An unusual association of Goldenhar syndrome. International Ophthalmology. 33(1): 91-94.
Vatansever M., Dinç E., Dursun Ö., Oktay Ö.Ö. & Arpaci R. 2019. Atypical presentation of fibroepithelial polyp: a report of two cases. Arquivos Brasileiros de Oftalmologia. 82: 239-241.
Whitley R.D. & Hamor R.E. 2021. Diseases and Surgery of the Canine Cornea and Sclera In: Gelatt K.N., Ben-Shlomo G., Gilger B.C., Hendrix D.V.H., Kern T.J. & Plummer C.E. (Eds). Veterinary Ophthalmology. 6th edn. Hoboken: John Wiley & Sons, pp.1148-1153.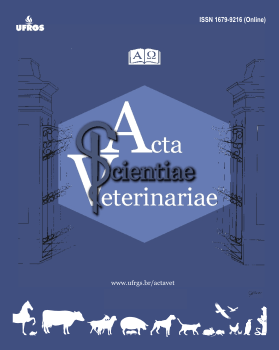 Additional Files
How to Cite
Carvalho, R. L., Voitena, J. N., da Cunha, O., Campagnoli Marinho, T. O. ., Mota, E. F. F. ., & Brito, F. L. da C. (2022). Atypical Fibroepithelial Polyp in the Cornea of a Lhasa Apso Dog . Acta Scientiae Veterinariae, 50. https://doi.org/10.22456/1679-9216.123926
License
Copyright (c) 2022 Renato Luis Carvalho, Jéssica Naiara Voitena, Olicies da Cunha, Tatiane Ozorio Campagnoli Marinho, Emerson Flávio Freitas Mota, Fabio Luiz da Cunha Brito
This work is licensed under a Creative Commons Attribution 4.0 International License.
This journal provides open access to all of its content on the principle that making research freely available to the public supports a greater global exchange of knowledge. Such access is associated with increased readership and increased citation of an author's work. For more information on this approach, see the Public Knowledge Project and Directory of Open Access Journals.
We define open access journals as journals that use a funding model that does not charge readers or their institutions for access. From the BOAI definition of "open access" we take the right of users to "read, download, copy, distribute, print, search, or link to the full texts of these articles" as mandatory for a journal to be included in the directory.
La Red y Portal Iberoamericano de Revistas Científicas de Veterinaria de Libre Acceso reúne a las principales publicaciones científicas editadas en España, Portugal, Latino América y otros países del ámbito latino