Hemangiosarcoma in a Cat's Tongue
Abstract
Background: Hemangiosarcoma is a primary malignant neoplasm of vascular endothelial cells, common in dogs and uncommon in cats. It is characterized by being aggressive and presenting high metastatic behavior. It corresponds to 0.5% to 2% of all feline neoplasms, with more reports in shorthaired cats aged between 8 and 12.2 years old, with no predisposition for sex or breed. Among the diagnostic methods, histopathological and immunohistochemical exams stand out because they are more accurate, since the result of fine-needle aspiration biopsy is usually hidden by blood contamination. This report aims to describe a case of a hemangiosarcoma in a cat's tongue.
Case: A 9-year-old, female, shorthair cat with a history of weight loss, lethargy, chewing difficulty with the evolution of three months and two-day oral bleeding was attended. Physical examination revealed blood in the oral cavity, enlargement, and darkening of the tongue surface, normalized oral and ocular mucous membranes, estimated dehydration of 7%, a rectal temperature of 38,8°C, and pulmonary and cardiac auscultation without changes. The cat was hospitalized, and euthanasia was elected. Cytological and histopathological exams of the tongue were requested, which revealed a neoplastic proliferation of endothelial cells expanding and replacing the muscular layer of the tongue, forming primitive vascular structures filled with a large number of red blood cells and supported by a delicate fibrovascular stroma. There were moderate anisocytosis and anisocariosis and rare figures of mitosis. Immunohistochemical examination showed the expression of von Willebrand factor, smooth muscle vimentin, and actin in the cytoplasm of neoplastic cells, and negative staining for pancitokeratin.
Discussion: According to the results of cytological, histopathological and immunohistochemical examinations, the cat was diagnosed with tongue hemangiosarcoma. The involvement of the tongue in cases of feline hemangiosarcoma is not commonly reported, as the oral cavity is an uncommon site of neoplasm in cats and hemangiossarcoma neoplasm is considered rare in this species. The cytological examination of the patient's tongue was useful to suggest the diagnosis of sarcoma due to a large number of neoplastic cells present in the sample, and later, because it is more specific, the histopathological examination was performed to find out the origin of the tissue. The definitive diagnosis of hemangiosarcoma could be confirmed by the alterations found in the histopathological and immunohistochemical exams. The appearance of erythrocytes within tumor vascular channels, the rapid mass development, moderate anisocytosis, anisocariosis, and irregularity of vascular channels, along with the expression of smooth muscle action, excluded the differential diagnosis of hemangioma and lymphangiosarcoma. Due to the ability of the hemangiosarcoma to be a primary or metastatic tumor and the performance of the necropsy examination was not authorized, we could not determinate the primary origin of the tumor. However, we suggest in the present study that the neoplasm is primary of the tongue because there are no skin lesions or alterations in other organs, besides the tongue is not a common site of metastasis. In conclusion, hemangiosarcoma should be included as a differential diagnosis in cases of tongue neoplasia, although uncommon in felines, and that histopathological and immunohistochemical examinations are indispensable to define an accurate diagnosis.
Downloads
Download data is not yet available.
References
Bertazzolo W., Dell'Orco M., Bonfanti U., Ghisleni G., Caniatti M., Masserdotti C., Antoniazzi E., Crippa L. & Roccabianca P. 2015. Canine angiosarcoma: cytologic, histologic, and immunohistochemical correlations. Veterinary Clinical Pathology. 34(1): 28-34.
Burton J.H., Powers B.E. & Biller B.J. 2012. Clinical outcome in 20 cases of lingual hemangiosarcoma in dogs: 1996-2011. Veterinary and Comparative Oncology. 12(3): 198-204.
Carloni A., Terragni R., Morselli-Labate A.M., Paninarova M., Graham J., Valenti P., Alberti M., Albarello G., Millanta G. & Vignoli M. 2019. Prevalence, distribution, and clinical characteristics of hemangiosarcoma-associated skeletal muscle metastases in 61 dogs: A whole body computed tomographic study. Journal of Veterinary Internal Medicine. 33(2): 812-819.
Choi E.W. 2019. Deep dermal and subcutaneous canine hemangiosarcoma in the perianal area: diagnosis of perianal mass in a dog. BMC Veterinary Research. 15(1): 115.
Curran K.M., Halsey C.H. & Worley D.R. 2016. Lymphangiosarcoma in 12 dogs: a case series (1998-2013). Veterinary and Comparative Oncology. 14(2): 181-190.
Currao R.L., Buote N.J., Flory A.B. & Liu S.M. 2011. Mesenteric vascular thrombosis associated with disseminated abdominal visceral hemangiosarcoma in a cat. Journal of American Animal Hospistal Association. 47(6): 68-72.
Ferraz J.R.D.S., Roza M.R., Caetano Júnior J. & Costa A.C. 2008. Hemangiossarcoma canino: revisão de literatura. Jornal Brasileiro de Ciência Animal. 1(1): 35-48.
Piegols H.J., Takada M., Parys M., Dexheimer T. & Yuzbasiyan-Gurkan V. 2018. Investigation of novel chemotherapeutics for feline oral squamous cell carcinoma. Oncotarget. 9(69): 33098-33109.
Pinn T.L., Cushing T., Valentino L.M. & Koch S.A. 2011. Corneal invasion by hemangiosarcoma in a horse. Veterinary Ophthalmology. 14(3): 200-204.
Roof-Wages E., Spangler T., Spangler W.L. & Siedlecki C.T. 2015. Histology and clinical outcome of benign and malignant vascular lesions primary to feline cervical lymph nodes. Veterinary Pathology. 52(2): 331-337.
Sabattini S. & Bettini G. 2009. An immunohistochemical analysis of canine haemangioma and haemangiosarcoma. Journal of Comparative Pathology. 140(2-3): 158-68.
Smith A.N. 2003. Hemangiosarcoma in dogs and cats. The Veterinary Clinics of North America Small Animal Practice. 33(3): 533-552.
Sugiyama A., Takeuchi T., Morita T., Okamura Y., Minami S., Tsuka T., Tabuchi T. & Okamoto Y. 2007. Lymphangiosarcoma in a cat. Journal of Comparative Pathology. 137(2-3): 174-178.
Thongtharb A., Chambers J.K., Uchida K., Watanabe K., Takahashi A., Mochizuki M., Nishimura R. & Nakayama H. 2015. Lymphangiosarcoma with systemic metastases in a Japanese domestic cat. The Journal of Veterinary Medicine Science. 77(3): 371-374.
Yee-Ka Cheng K., Krockenberger M. & Bennett P. 2018. Use of metronomic chemotherapy in the management of a cat with abdominal haemangiosarcoma. JFMS Open Reports. 4(2): 1-5.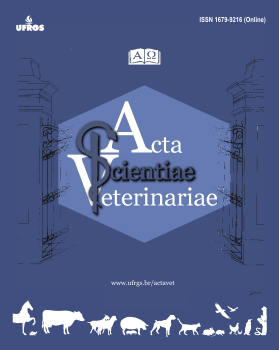 How to Cite
Gnoatto, C. B., Lichmann, T. R., Grings, G. F., Cony, F. G., Temper, R. T., Pavarini, S. P., & Contesini, E. A. (2020). Hemangiosarcoma in a Cat's Tongue. Acta Scientiae Veterinariae, 48. https://doi.org/10.22456/1679-9216.98197
License
This journal provides open access to all of its content on the principle that making research freely available to the public supports a greater global exchange of knowledge. Such access is associated with increased readership and increased citation of an author's work. For more information on this approach, see the Public Knowledge Project and Directory of Open Access Journals.
We define open access journals as journals that use a funding model that does not charge readers or their institutions for access. From the BOAI definition of "open access" we take the right of users to "read, download, copy, distribute, print, search, or link to the full texts of these articles" as mandatory for a journal to be included in the directory.
La Red y Portal Iberoamericano de Revistas Científicas de Veterinaria de Libre Acceso reúne a las principales publicaciones científicas editadas en España, Portugal, Latino América y otros países del ámbito latino