Metastatic Vulvar Squamous Cell Carcinoma in a Mare
Abstract
Background: Squamous cell carcinoma (SCC) is a common cutaneous neoplasm in horses, which mainly affects the external genitalia, oral cavity, and periocular region. The development of SCC metastases is rare in these animals, and the most common occurrence is a marked local infiltration. Exposure to ultraviolet rays and skin depigmentation are the main etiological factors of SCC. Definitive diagnosis of the neoplasm is performed through histological examination of lesions. The present report describes the clinical, anatomopathological, and immunohistochemical (IHC) aspects of a case of metastatic SCC, with the vulva as the primary site in a mare.
Case: A 17-year-old mare, mixed breed, was referred to the Veterinary Hospital of the Universidade de Passo Fundo (UPF), with history of areas of depigmented skin (pinto coat), and  clinical history of anorexia, frequent episodes of colic, and recumbency. During clinical evaluation, heart rate (68 bpm), rectal temperature (38.4ºC), and respiratory rate (48 mpm) were elevated, and the oral mucosa was pale. The mare also had an ulcerated tumor mass involving the vulva, which extended to the inguinal region and involved the mammary gland. A cytological aspirate of the vulvar tumor was performed, in which no neoplastic cells were found. Next, a biopsy of 2 distinct areas of the vulva was performed. The material was sent for anatomopathological examination, which showed markedly pleomorphic malignant squamous cells, with individual keratinization and high mitotic index, organized in trabeculae with rare keratin pearl-like formations. The exam allowed the diagnosis of SCC Grade II. Due to the poor prognosis and high cost of treatment, the owner consented to euthanasia and necropsy examination. During necropsy, the vulvar tumor mass was grayish, firm to hard, infiltrative, and had friable areas. Tumor foci suggestive of metastasis were also observed in inguinal, mesenteric, mediastinal and renal lymph nodes, adrenal glands, lung, pericardium, medullary canal, intercostal muscles, right 15th rib, and tissue surrounding the azygos vein. Samples from all organs were collected for anatomopathological examination. Diagnosis of metastatic vulvar SCC was confirmed through histological and IHC studies, which evaluated the expression of cytokeratins (AE1/AE3), as well as the proliferative activity of neoplastic cells through the PCNA marker.
Discussion: The diagnosis of metastatic SCC was obtained through the observed clinical, necroscopic, histological, and IHC characteristics. This neoplasm usually appears in depigmented regions exposed to ultraviolet light, and older animals are more likely to be affected. The mare in the present case had areas of depigmented skin (pinto coat). The animal was kept in a paddock outdoor and exposed to constant solar radiation. Although rare in horses, manifestation of anorexia, progressive weight loss, and frequent colic episodes and recumbency may be closely related to the multiple sites of metastasis in the present case. The main histological findings of the neoplasm were the dense proliferation of malignant squamous cells with individual keratinization, arranged in a trabecular pattern and with rare formations of keratin pearls, in line with previous studies. During IHC evaluation, the neoplastic cells showed expression of cytokeratins (AE1/AE3), as well as high proliferative activity evidenced by the PCNA marker. Given this background, the present report describes the clinical, anatomopathological, and IHC aspects of a case of metastatic SCC with a primary site in the vulva of a mare.
Keywords: equine, genital neoplasm, tumor embolism, squamous cell carcinoma, metastasis, immunohistochemistry.
Downloads
Download data is not yet available.
References
Agnew D.W & MacLachlan N.J. 2017. Tumors of the Genital Systems. In: Meuten D.J. (Ed). Tumors in Domestic Animals. 5th edn. Ames: John Wiley & Sons Inc, pp.689-722.
Chaux A., Torres J., Pfannl R., Barreto J., Rodriguez I., Velazquez E.F. & Cubila A.L. 2009. Histologic grade in penile squamous cell carcinoma: visual estimation versus digital measurement of proportions of grades, adverse prognosis with any proportion of grade 3 and correlation to a Gleason-like system with nodal metastasis. The American Journal of Surgical Pathology. 33(7): 1042-1048.
Dixon P.M. & Head K.W. 1999. Equine nasal paranasal sinus tumours: Part 2: A contribution of 28 cases reports. The Veterinary Journal. 157(3): 279:294.
East L.M., Savage C.J. & Traub-Darg J.L. 1999. Weight loss in the horse: a focus on abdominal neoplasia. Equine Veterinary Education. 11(4): 174-178.
Fortier L.A. & Mac Hag M.A. 1994. Topical use of 5-fluorouracil for treatment of squamous cell carcinoma of the external genitalia of horses: 11 cases (1988-1992). Journal of the American Veterinary Medical Association. 205(8): 1183-1185.
Foy J.M., Rashmir-Raven A.M. & Brashier M.K. 2002. Common Equine Skin Tumors. Compendium on Continuing Education for the Practicing Veterinary. 24(3): 242-254.
Frank C.B., Hammer J.D. & Miller M.A. 2010. Pathology in practice. Journal of the American Veterinary Medical Association. 237(6): 637-639.
Günzl H.J., Horn H., Schücke R. & Donath K. 1993. Prognostic value of PCNA and cytokeratins for radiation therapy of oral squamous cell carcinoma. European Journal of Cancer Part B: Oral Oncology. 29(2): 141-145.
Johnson P.J. 1998. Dermatologic tumors (excluding sarcoids). Veterinary Clinics of North America: Equine Practice. 14(3): 625-658.
Mair T.S., Walmsley J.P. & Phillips T.J. 2000. Surgical treatment of 45 horses affected by squamous cell carcinoma of the penis and prepuce. Equine Veterinary Journal. 32(5): 406-410.
May K.A., Moll H.D. & Lucroy M.D. 2002. Recognizing tumors of the equine external genitalia. Compendium on Continuing Education for the Practicing Veterinary. 24(12): 970-976.
McCue P.M. 1998. Neoplasia of the female reproductive tract. Veterinary Clinics of North America: Equine Practice. 14(3): 505-515.
Monteiro S., Lemberger K., Gangl M. 2009. Mandibular squamous cell carcinoma in a young horse. Equine Veterinary Education. 21(8): 406-410.
Perrier M., Schwarz T., Gonzales O. & Brounts S. 2010. Squamous cell carcinoma invading the right temporomandibular joint in a Belgian mare. The Canadian Veterinary Journal. 51(8): 885-887.
Pizzigatti D., Batista F.A., Martins C.F., Ribeiro O.C., Nunes M.M. & Muller T.R. 2011. Cholangiocarcinoma and Squamous Cell Carcinoma of the Stratified Epithelial Portion of the Stomach in a Horse: A Case Report. Journal of Equine Veterinary Science. 31(1): 3-7.
Pratt S.M., Stacy B.A., Whitcomv M.B., Vidal J.D., De Cock E.V. & Wilson W.D. 2003. Malignant Sertoli cell tumor in the retained abdominal testis of a unilaterally cryptorchid horse. Journal of the American Veterinary Medical Association. 222(4): 486-490.
Rabelo R.E., Vulcani V.A.S., Santos T.C., Oliveira Lima C.R., Batista J.F., Costa M.M. & Miguel M.P. 2014. Carcinoma de células escamosas metastático em um equino. Acta Scientiae Veterinariae. 42(Suppl 1): 62. 5p.
Ramos A.T., Norte D.M., Elias F. & Fernandes C.G. 2007. Squamous cell carcinoma in cattle, sheep and horse: study of 50 cases in south of Rio Grande do Sul. Brazilian Journal of Veterinary Research and Animal Science. 44: 5-13.
Smith M.A., Levine D.G., Getman L.M., Parente E.J. & Engiles J.B. 2009. Vulvar squamous cell carcinoma in situ with viral papillomas in an aged Quarter Horse mare. Equine Veterinary Education. 21(1): 11-16.
Tamazali Y. 2006. Chronic weight loss syndrome in the horse: a 60 case retrospective study. Equine Veterinary Education. 18(6): 289-296.
Valentine B.A. 2006. Survey of equine cutaneous neoplasia in the Pacific Northwest. Journal of Veterinary Diagnostic Investigation. 18(1): 123-126.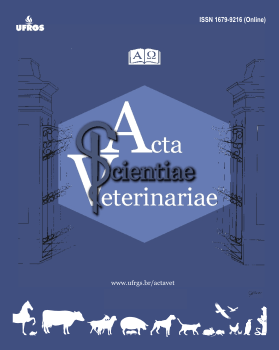 Additional Files
How to Cite
Santos, E. D. dos ., Leite Dau, S., Policarpo Machado, T. ., Setim, D. H. ., Porto Alves, L. ., da Silva Leite, J. ., Reis Ferreira , A. M. ., & Costa da Motta, A. . (2022). Metastatic Vulvar Squamous Cell Carcinoma in a Mare . Acta Scientiae Veterinariae, 50. https://doi.org/10.22456/1679-9216.125291
License
Copyright (c) 2022 Ezequiel Davi dos Santos, Stefano Leite Dau, Tanise Policarpo Machado, Diorges Henrique Setim, Leonardo Porto Alves, Juliana da Silva Leite, Ana Maria Reis Ferreira , Adriana Costa da Motta
This work is licensed under a Creative Commons Attribution 4.0 International License.
This journal provides open access to all of its content on the principle that making research freely available to the public supports a greater global exchange of knowledge. Such access is associated with increased readership and increased citation of an author's work. For more information on this approach, see the Public Knowledge Project and Directory of Open Access Journals.
We define open access journals as journals that use a funding model that does not charge readers or their institutions for access. From the BOAI definition of "open access" we take the right of users to "read, download, copy, distribute, print, search, or link to the full texts of these articles" as mandatory for a journal to be included in the directory.
La Red y Portal Iberoamericano de Revistas Científicas de Veterinaria de Libre Acceso reúne a las principales publicaciones científicas editadas en España, Portugal, Latino América y otros países del ámbito latino