Laryngeal Paralysis in a Great Dane Dog - Treatment by Unilateralization of the Arytenoid Cartilage
Abstract
Background: Laryngeal paralysis is a disorder that affects the movement of the arytenoid cartilages, creating an obstacle to the passage of air during inspiration. The disease is progressive and clinical signs are associated with upper airway obstruction. Diagnosis occurs through observation of laryngeal movements, and it is important to rule out concomitant diseases. In severely affected animals, surgery is recommended to alleviate clinical signs and improve quality of life. The aim of this report is to report a case of idiopathic laryngeal paralysis in a dog submitted to arytenoid unilateralization to clear the upper airways and evaluate the effectiveness of the technique.
Case: A 5-year-old male Great Dane dog was referred to the Hospital de Clínicas Veterinárias (HCV) of the Federal University of Rio Grande do Sul (UFRGS) with severe respiratory distress and respiratory stridor. The animal was taken directly to the emergency room, where it was promptly submitted to oxygen therapy with the aid of a mask, was medicated with nalbuphine hydrochloride 0.3 mg/kg intramuscularly and venous access was performed. After stabilization, complete blood count, biochemical profile, blood gas analysis and chest X-ray were requested. In the anamnesis, the tutor reported that the dog showed signs of fatigue with exercise intolerance, coughing similar to choking, breathing difficulties and noisy breathing, especially on hotter days and in situations of exertion, stress or euphoria. He mentioned that the signs were progressive, having started 2 months ago and that they were more frequent and lasting. The patient was diagnosed with laryngeal paralysis through transoral laryngoscopy and referred to surgery. The improvement in the breathing pattern and the absence of post-surgical complications resulted in the patient being discharged 6 days after hospitalization.
Discussion: When the origin of laryngeal paralysis  (LP) is undefined, the acquired form may be a consequence of generalized polyneuropathy, polymyopathy, neoplasia, endocrinopathy, iatrogenic or idiopathic injury. The patient under study did not present clinical signs or history of disease, therefore, the case was classified as idiopathic in origin. Laryngeal paralysis of unknown cause is the most common and affects mainly middle-aged to elderly males, large or giant breeds. The disease is often described in Labrador Retriever dogs, but it can affect other breeds such as Great Dane. This information corroborates the profile of the patient in this study. Although oral laryngoscopy is the recommended method for confirming the diagnosis in dogs with characteristic signs of LP, the diagnosis can also be obtained by transnasal laryngoscopy or echolaryngography, however, previous studies have shown that the sensitivity and specificity of diagnosis through echoaryngography is inferior to transnasal laryngoscopy, suggesting that direct visualization of the larynx is better to indirect visualization. Dogs with signs of moderate to severe respiratory distress or whose quality of life is affected as a result of LP are candidates for surgical treatment, as in this case, in which the patient had exercise intolerance and severe respiratory distress. The arytenoid unilateralization procedure proved to be effective in improving the quality of life of the patient under study, achieving excellent postoperative results and approval by the tutor. In this case, transoral laryngoscopy was essential to determine the diagnosis and establish the treatment. Although the goal of improving quality of life has been achieved without major complications, the animal must receive long-term follow-up due to a possible correlation with generalized polyneuropathy and long-term complications.
Keywords: aspiration pneumonia, laryngoscopy, stridor, upper airway obstruction.
Título: Paralisia de laringe em cão Dogue Alemão - tratamento com unilateralização da cartilagem aritenoide
Descritores: estridor, laringoscopia, obstrução das vias aéreas superiores, pneumonia aspirativa.
Downloads
Download data is not yet available.
References
Burbidge H.M. 1995. A review of laryngeal paralysis in dogs. British Veterinary Journal. 151(1): 71-82.
Burbidge H.M., Goulden B.E. & Jones B.R. 1993. Laryngeal paralysis in dogs: An evaluation of the bilateral arytenoid lateralization procedure. Journal of Small Animal Practice. 34(10): 515-519.
Hammel S.P., Hottinger H.A. & Novo R.E. 2006. Postoperative results of unilateral arytenoid lateralization for treatment of idiopathic laryngeal paralysis in dogs: 39 cases (1996-2002). Journal of the American Veterinary Medical Association. 228(8): 1215-1220.
Hawkins E.C. 2015. Distúrbios da laringe e faringe. In: Nelson R.W. & Couto C.G. (Eds). Medicina Interna de Pequenos Animais. 5.ed. Rio de Janeiro: Elsevier, pp.253-257.
Jeffery N.D., Talbot C.E., Smith P.M. & Bacon N.J. 2006. Acquired idiopathic laryngeal paralysis as a prominent feature of generalized neuromuscular disease in 39 dogs. Veterinary Record. 158(1): 17-21.
Kitshoff A.M., Goethem B.V., Stegen L., Vandekerckhov P. & Rooster H. 2013. Laryngeal paralysis in dogs: An update on recent knowledge. Journal of the South African Veterinary Association. 84(1): 1-9.
Macphail C.M. 2014. Cirurgia do sistema respiratório superior. In: Fossum T.W. (Ed). Cirurgia de Pequenos Animais. 4.ed. Rio de Janeiro: Elsevier, pp.906-957.
Macphail C.M. 2014. Laryngeal disease in dogs and cats. Journal of the American Animal Hospital Association. 44(1): 19-31.
Macphail C.M. & Monnet E. 2001. Outcome of and postoperative complications in dogs undergoing surgical treatment of laryngeal paralysis: 140 cases (1985-1998). Journal of the American Veterinary Medical Association. 218(12): 1949-1956.
Millard R.P. & Tobias K.M. 2009. Laryngeal paralysis in dogs. Compendium: continuing education for veterinarians. 31(5): 212-219.
Monnet E. 2016. Surgical treatment of laryngeal paralysis. Veterinary Clinics of North America - Small Animal Practice. 46(4): 709-717.
Radlinsky M.G., Williams J., Frank P.M. & Cooper T.C. 2009. Comparison of three clinical techniques for the diagnosis of laryngeal paralysis in dogs. Veterinary Surgery. 38(4): 434-438.
Smith M.M. 2000. Diagnosing laryngeal paralysis. Journal of the American Animal Hospital Association. 26(5): 383-384.
Snelling S.R. & Edwards G.A. 2003. A retrospective study of unilateral arytenoid lateralization in the treatment of laryngeal paralysis in 100 dogs (1992-2000). Australian Veterinary Journal. 81(8): 464-468.
Stanley B.J., Hauptman J.G., Fritz M.C., Rosenstein D.S. & Kinns J. 2010. Esophageal dysfunction in dogs with idiopathic laryngeal paralysis: A controlled cohort study. Veterinary Surgery. 39(2): 139-149.
Thieman K.M., Krahwinkel D.J., Sims M.H. & Shelton G.D. 2010. Histopathological confirmation of polyneuropathy in 11 dogs with laryngeal paralysis. Journal of the American Animal Hospital Association. 46(3): 161-167.
Tobias K.M., Jackson A.M. & Harvey R.C. 2004. Effects of doxapram HCl on a laryngeal function of normal dogs and dogs with naturally occurring laryngeal paralysis. Veterinary Anaesthesia and Analgesia. 31(4): 258-263.
Wilson D. & Monnet E. 2016. Risk factors for the development of aspiration pneumonia after unilateral arytenoid lateralization in dogs with laryngeal paralysis: 232 cases (1987-2012). Journal of the American Veterinary Medical Association. 248(2): 188-194.
Zikes C. & Mccarthy T. 2012. Bilateral ventriculocordectomy via ventral laryngotomy for idiopathic laryngeal paralysis in 88 dogs. Journal of the American Animal Hospital Association. 48(4): 234-244.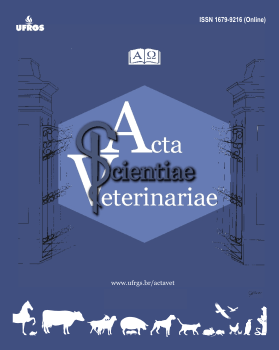 Additional Files
How to Cite
Gomes de Souza, R., Demeulemeester, S. C. ., Gomes, C., Kassab, S., & de Castro Beck, C. A. (2022). Laryngeal Paralysis in a Great Dane Dog - Treatment by Unilateralization of the Arytenoid Cartilage. Acta Scientiae Veterinariae, 50. https://doi.org/10.22456/1679-9216.124986
License
Copyright (c) 2022 Rodrigo de Souza, Stéphanie Christine Demeulemeester, Cristiano Gomes, Siham Kassab, Carlos Afonso de Castro Beck
This work is licensed under a Creative Commons Attribution 4.0 International License.
This journal provides open access to all of its content on the principle that making research freely available to the public supports a greater global exchange of knowledge. Such access is associated with increased readership and increased citation of an author's work. For more information on this approach, see the Public Knowledge Project and Directory of Open Access Journals.
We define open access journals as journals that use a funding model that does not charge readers or their institutions for access. From the BOAI definition of "open access" we take the right of users to "read, download, copy, distribute, print, search, or link to the full texts of these articles" as mandatory for a journal to be included in the directory.
La Red y Portal Iberoamericano de Revistas Científicas de Veterinaria de Libre Acceso reúne a las principales publicaciones científicas editadas en España, Portugal, Latino América y otros países del ámbito latino