Congenital Cutaneous Hemangioma in a Newborn Lamb
Abstract
Background: Hemangioma is a benign dermal or subcutaneous endothelial cell tumor composed of vascular spaces of varying sizes filled with erythrocytes and lined with a single layer of uniform endothelial cells. Although the pathogenesis is not well defined, these tumors are considered to result from an imbalance in angiogenesis, leading to uncontrolled proliferation of vascular elements. To the best of our knowledge, there are no reports of congenital cutaneous hemangioma in sheep. This report describes the clinical, laboratory, and pathological findings of a case of congenital hemangioma affecting a newborn lamb.
Case: A 5-day-old crossbred (Dorper x Santa Inês) lamb presenting with an ear nodule that expanded in the right ear was necropsied. An expansive subcutaneous nodule was observed macroscopically; it occupied approximately 90% of the right ear and had a crusty, irregular surface. The cut surface had multiple cavitations delimited by firm fibrous tissue and a light yellow-to-translucent content. Microscopically, it showed focally extensive subcutaneous neoplastic proliferation and moderate cellularity; it was formed of vascular beds of varied sizes and supported by moderate fibrocollagenous stroma. Suppurative inflammation was observed in the neoplastic vascular beds with large amounts of free basophilic coccoid bacteria inside macrophages. Immunohistochemistry analysis was performed to confirm the diagnosis. Strong cytoplasmic labeling was observed in neoplastic endothelial cells for CD31 and factor VIII. The Ki67 proliferation marker was positive in approximately 5% of neoplastic cells. The cells did not express smooth muscle actin (1A4) or pan-cytokeratin (AE1AE3). Histological characteristics and immunohistochemistry findings were consistent with those of congenital cutaneous hemangioma, a rare neoplasm in sheep.
Discussion: The association of clinical, anatomopathological, and immunohistochemical data enabled the diagnosis of congenital cutaneous hemangioma in the 5-day-old lamb. Reports of vascular tumors in sheep are not frequent in literature and usually involve adult animals with no anatomical site predilection. In sheep, the occurrence of nasotracheal hemangioma in a 2-year-old ewe and gingival hemangioma in a 5-year-old sheep have already been described. A cutaneous extra-neural hemangioblastoma was diagnosed in the ear of a 1-month-old lamb. IHC was also used to confirm the diagnosis of hemangioblastoma. Macroscopically, hemangiomas can present as well-delimited and encapsulated masses that when cut, show a reticulated pattern similar to honeycombs that separate the blood-filled cavities. The present case showed a similar conformation but without enough erythrocytes to result in a bloody appearance. Tumor drainage and the predominance of blood serum in the content possibly made it macroscopically translucent. Microscopically, the hemangioma was classified as cavernous. This morphological variation forms large channels separated by fibrous connective tissue stroma, which may contain inflammatory cells. IHC confirmed the endothelial lining of the cystic cavities and was crucial in excluding differential diagnoses. Thus, factor VIII-related antigen was used as a marker for normal and neoplastic cells, as well as for tumoral and reactive neovascularization, in which neoplastic cells were immuno-expressed for CD31 and Factor VIII. In domestic animals, the association between CD31 and Factor VIII is considered more specific for vascular endothelial cells, differentiating them from cells of lymphatic origin. Congenital cutaneous hemangioma occurs in sheep, and its diagnosis and differentiation can be based on histopathology associated with conventional immunohistochemical panels for vascular neoformation.
Keywords: sheep, mesenchymal neoplasm, vascular tumour, small ruminant, histopathology, immunohistochemistry.
Downloads
Download data is not yet available.
References
Badylak S.F. 1983. Congenital multifocal hemangiosarcoma in a stillborn calf. Veterinary Pathology. 20(2): 245-247. DOI:10.1177/030098588302000213
Bildfell R.J., Valentine B.A. & Whitney K.M. 2002. Cutaneous vasoproliferative lesions in goats. Veterinary Pathology. 39(2): 273-277. DOI: 10.1354/vp.39-2-273
Carlos M.M.L., Leite J.H.G.M., Chaves D.F., Vale A.M., Façanha D.A.E., Melo M.M. & Soto-Blanco B. 2015. Blood parameters in the Morada Nova sheep: influence of age, sex, and body condition score. Journal of Animal and Plant Sciences. 25(4): 950-955.
Cruz R.E.S., Rocha F.M., Sena C.V., Noleto P.G., Guimarães E.C., Galo J.A. & Mundim A.V. 2017. Effects of age and sex on blood biochemistry of Dorper lambs. Semina Ciências Agrárias. 38(5): 3085-3093. DOI: : 10.5433/1679-0359.2017v38n5p3085
Head K.W., Else R.W. & Dubielzing R.R. 2017. Tumors and tumour like lesions of vascular tissue. In: Meuten D.J. (Ed). Tumors in Domestic Animals. 5th edn. Ames: John Wiley & Sons Inc., pp.434-435.
Hendrick M.J. 2017. Mesenchymal tumors of the skin and soft tissues. In: Meuten D.J. (Ed). Tumors in Domestic Animals. 5th edn. Ames: John Wiley & Sons Inc., pp.142-162.
Kwak-Kim J., Yang K.M. & Gilman-Sachs A. 2009. Recurrent pregnancy loss: a disease of inflammation and coagulation. Journal of Obstetrics and Gynaecology Research. 35(4): 609-622. DOI:10.1111/j.1447-0756.2009.01079.x
Marchuk D.A. 2001. Pathogenesis of hemangioma. Journal of Clinical Investigation. 107(6): 665-666. DOI:10.1172/JCI12470.
Mauldin E.A. & Peters-Kennedy J. 2016. Integumentary System. In: Maxie M.G. (Ed). Jubb, Kennedy, and Palmer's Pathology of Domestic Animals. St. Louis: Elsevier, pp.576-726.
Morais R., Maurique A.P., Villela J., Sonne L. & Anjos B. 2020. Cutaneous vascular hamartoma in a lamb. Veterinární Medicína. 65(1): 36-40. DOI:10.17221/111/2019-VETMED
Priestnall S.L., De Bellis F., Bond R., Alony-Gilboa Y. & Summers B.A. 2010. Spontaneous regression of congenital cutaneous hemangiomas in a calf. Veterinary Pathology. 47(2): 343-345. DOI:10.1177/0300985809358429
Sabattini S. & Bettini G. 2009. An immunohistochemical analysis of canine haemangioma and haemangiosarcoma. Journal of Comparative Pathology. 140(2-3): 158-68. DOI: 10.1016/j.jcpa.2008.10.006
Sartin E.A. & Hodge T.G. 1982. Congenital dermal hemangioendothelioma in two foals. Veterinary Pathology. 19(5): 569-571. DOI:10.1177/030098588201900517
Souza D.F., Reijers T.S.S.S., Gilaverte S., Cruz T.A., Hentz F., Castilhos B.Q., Dittrich R.L. & Monteiro A.L.G. 2018. Dynamics of hematological parameters in female lambs during the first four months of life. Semina Ciências Agrárias. 39: e20190167. DOI: 10.5433/1679-0359.2018v39n6p2465
Uihlein L.C., Liang M.G. & Mulliken J.B. 2012. Pathogenesis of infantile hemangiomas. Pediatric Annals. 41(8): 1-6. DOI:10.3928/00904481-20120727-08
Van der Gaag I., Vos J.H. & Goedegebuure S.A. 1988. Lobular capillary haemangiomas in two calves. Journal of Comparative Pathology. 99(3): 353-356. DOI:10.1016/0021-9975(88)90057-6
Yaman T., Karasu A., Uyar A., Kuşçu Y. & Keleş Ö.F. 2019. Congenital extraneural hemangioblastoma in a lamb. Journal of Veterinary Diagnostic Investigation. 31(2): 263-266. DOI: 10.1177/1040638719830464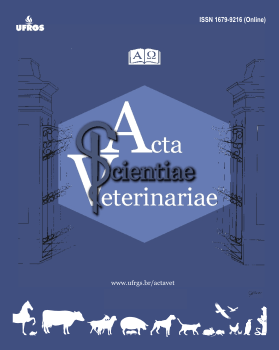 Additional Files
How to Cite
Alvarenga Nascimento, K., Alves Ferreira Júnior, J., Lourença de Souza, V. ., Soto-Blanco, B. ., Lopes Câmara, A. C. ., Targino Silva Almeida e Macêdo, J., & Pedroso, P. M. O. (2022). Congenital Cutaneous Hemangioma in a Newborn Lamb. Acta Scientiae Veterinariae, 50. https://doi.org/10.22456/1679-9216.124541
License
Copyright (c) 2022 Karla Alvarenga Nascimento, Jair Alves Ferreira Júnior, Verônica Lourença de Souza, Benito Soto-Blanco, Antônio Carlos Lopes Câmara, Juliana Targino Silva Almeida e Macêdo, Pedro Miguel Ocampos Pedroso
This work is licensed under a Creative Commons Attribution 4.0 International License.
This journal provides open access to all of its content on the principle that making research freely available to the public supports a greater global exchange of knowledge. Such access is associated with increased readership and increased citation of an author's work. For more information on this approach, see the Public Knowledge Project and Directory of Open Access Journals.
We define open access journals as journals that use a funding model that does not charge readers or their institutions for access. From the BOAI definition of "open access" we take the right of users to "read, download, copy, distribute, print, search, or link to the full texts of these articles" as mandatory for a journal to be included in the directory.
La Red y Portal Iberoamericano de Revistas Científicas de Veterinaria de Libre Acceso reúne a las principales publicaciones científicas editadas en España, Portugal, Latino América y otros países del ámbito latino