Atypical Cutaneous Fibroma in a Cow
Abstract
Background: Cutaneous fibroma is a benign neoplasm affecting the fibroblasts and collagen matrix that develops in the dermis or subcutaneous tissue. This neoplasm is uncommon in cattle, and few reports have described the treatment and resolution of this neoplasm. Despite its benign character, a veterinarian should consider cutaneous fibroma in the differential diagnosis of skin tumorshis report aims to describe a rare case of large fibroma in the scapular region in a cow, with emphasis on the clinical-surgical and anatomopathological aspects of the condition.
Case: A 3-year-old Girolando 3/4 cow was attended to at a rural property in Lagamar-MG, Brazil. According to the owner, the animal presented with a small mass in the right scapular region that grew progressively over 1 year and 6 months. Clinical examination revealed an exuberant and painless increase in volume on palpation in the proximal region of the right thoracic limb, which, in its vertical axis, extended from the proximal end of the scapula to near the olecranon tuberosity, and, in its horizontal axis, extended from the 6th intercostal space to the scapulohumeral joint, reaching the dimensions 66 cm and 62 cm, respectively. It presented with multiple nodules that were firm in consistency with extensive areas of ulceration. Neoplasia was suspected, and surgical excision was decided upon. The cow was sedated and restrained in the left lateral decubitus position. Trichotomy and antisepsis of the operative field were performed followed by an infiltrative anesthetic block around the tumor. The tumor was excised maintaining a safety margin of 1 cm. Dermorrhaphy was not possible, and healing by secondary intention was awaited. In the postoperative period, antibiotic therapy with benzathine penicillin, analgesia with meloxicam and dipyrone and daily dressing of the wound were performed. There were no postoperative complications and complete healing occurred approximately 100 days after surgery. One year after the surgical procedure, the owner reported that the cow did not present with recurrence of the neoplasm. The resected tumor weighed 11.2 kg, and, when cut, presented with solid conformation and whitish coloration. Tumor fragments were harvested, fixed in 10% formalin, and sent for histopathological examination, which revealed neoproliferation of remarkable cellular density composed of dense, well vascularized fibrocollagenous connective tissue arranged in multidirectional bundles and undulating pattern. Mild cellular pleomorphism was identified, and no mitosis figures were observed. Alcian blue staining was negative for mucopolysaccharides, differing from Masson's trichrome staining, which widely stained the fibrocollagenous tissue blue. In view of these findings, the diagnosis of cutaneous fibroma was confirmed.
Discussion: Cutaneous fibromas are benign neoplasms of fibrous tissue, and they are uncommon in cattle and may be associated with bovine papillomavirus and/or trauma. Although the origin of cutaneous fibroma is not clear, the present report stands out due to the large size of the tumor mass. The complete healing of the surgical wound, the absence of recurrence one year after surgery and the return of the animal to dairy production demonstrate that the surgical treatment was adequate. The macro- and microscopic characteristics of the cutaneous fibroma in this case corroborate with other cases reported in the literature. Large cutaneous fibroma is uncommon in bovines, and may hinder surgical excision and prolong healing time, as well as the complete recovery of the animal. Moreover, the differential diagnosis with other neoplasms of fibroblastic origin is relevant, especially for those with malignant biological behavior, such as fibrosarcoma and myxosarcoma.
Keywords: bovine, cutaneous tumor, fibroblasts, fibroblastic neoplasm, surgery.
Título: Fibromacutâneo atípico em uma vaca
Descritores: bovino, cirurgia, fibroblastos, neoplasia fibroblástica, tumor cutâneo.
Downloads
Download data is not yet available.
References
Carvalho F.K.L., Dantas A.F.M., Riet-Correa F., Andrade R.L.F.S., Nóbrega Neto P.I., Miranda Neto E.G., Simões S.V.D. & Azevedo S.S. 2014. Estudo retrospectivo das neoplasias em ruminantes e equídeos no semiárido do nordeste brasileiro. Pesquisa Veterinária Brasileira. 34(3): 211-216.
Carvalho R.F., Sakata S.T., Giovanni D.N.S., Mori E., Brandão P.E., Richtzenhain L.J., Pozzi C.R., Arcaro J.R.P., Miranda M.S., Mazzuchelli J., Melo T.C., Comenale G., Assaf S.L.M.R., Beçak W. & Stocco R.C. 2013. Bovine papillomavirus in Brazil: detection of coinfection of unusual types by a PCR-RFLP method. BioMed Research International. 2013: 1-7.
Claus M.P., Lunardi M., Alfieri A.F., Ferracin L.M., Fungaro M.H.P. & Alfieri. A.A. 2008. Identification of unreported putative new bovine papillomavirus types in Brazilian cattle herds. Veterinary Microbiology. 132(3-4): 396-401.
Ford T., Ross M., Acland H.M. & Madison J.B. 1989. Primary teat neoplasia in two yearling heifers. Journal of the American Veterinary Medical Association. 195(2): 238-239.
Ginn P., Mansell J. & Rakich P. 2007. Skin and appendages. In: Maxie M.G. (Ed). Jubb, Kennedy, and Palmer's Pathology of Domestic Animals. 5th edn. St. Louis: Elsevier, pp.553-781.
Gross T., Ihrke P., Walder E. & Affolter V. 2005. Fibrous tumors. In: Skin Diseases of the Dog and Cat: Clinical and Histopathologic Diagnosis. 2nd edn. Oxford: Blackwell Publishing, pp.710-734.
Hendrick M.J. 2017. Mesenchymal tumors of the skin and soft tissues. In: Meuten D.J. (Ed). Tumors in Domestic Animals. 5th edn. Ames: Wiley Blackwell, pp.142-175.
Jang J.S., Kim J.H., Shin T.K., Cho G.J. & Kwon O.D. 2008. A case of cutaneous fibroma in a Korean indigenous cattle. Journal of Veterinary Clinics. 25(3): 200-201.
Johnstone A.C., Hughes P.L. & Haines D.M. 1994. Papillomavirus-induced dermatofibroma in cattle following tuberculin testing. New Zealand Veterinary Journal. 42(6): 233-235.
Knottenbelt D.C., Patterson-Kane J.C. & Snalune K. 2015. Tumours of the skin. In: Clinical Equine Oncology. New York: Elsevier, pp.544-584.
Maeda Y., Shibahara T., Wada Y., Kadota K., Kanno T., Uchida I. & Hatama S. 2007. An outbreak of teat papillomatosis in cattle caused by bovine papilloma virus (BPV) type 6 and unclassified BPVs. Veterinary Microbiology. 121(3-4): 242-248.
Movassaghi A.R. & Mohammadi G.H. 2009. An unusual cutaneous fibroma in a heifer. Comparative Clinical Pathology. 18: 207-208.
Parratt M.T, Donaldson J.R., Flanagan A.M., Saifuddin A., Pollock R.C., Skinner J.A., Cannon S.R. & Briggs T.W.R. 2010. Elastofibroma dorsi: management, outcome and review of the literature. Journal of Bone and Joint Surgery. British Volume. 92(2): 262-266.
Ramos A.T., Souza A.B., Norte D.M., Ferreira J.L.M. & Fernandes C.G. 2008. Tumores em animais de produção: aspectos comparativos. Ciência Rural. 38(1): 148-154.
Rodríguez I.M., Tenería F.A.M., Hernández M.G., Castellanos A.Y.M. & del Socorro H.A.L.E. 2021. Histopathology and PCR detection of bovine fibropapillomatosis in cattle in San Luis Potosí, Mexico. Revista Mexicana de Ciencias Pecuarias. 12(1): 286-297.
Santos T.S., Martins Filho P.R.S., Piva M.R. & Andrade E.S.S. 2014. Focal fibrous hyperplasia: a review of 193 cases. Journal of Oral and Maxillofacial Pathology. 18(Suppl 1): 86-89.
Scott D.W. 2007. Section 1: Bovine. Neoplastic and non-neoplastic growths. In: Color Atlas of Farm Animal Dermatology. Ames: Blackwell Publishing, pp.91-100.
Vani G., Saibaba M. & Dhana Lakshmi N. 2016. Surgical management of hard fibroma in a cross bred cow. International Journal of Scientific and Technical Advancements. 2(1): 255-256.
Vijayakumar S., Lakkawar A.W., Kumar R., Alphonse R.M.D. & Nair M.G. 2020. Pathomorphological studies on mesenchymal and melanocytic neoplasms of cattle. Veterinary Medicine and Public Health Journal. 1(3): 102-107.
Yeruham I. & Perl S. 2001. Case report: fibroma on the end of the tail of a cow. Berliner und Munchener Tierarztliche Wochenschrift. 114(3-4): 142-143.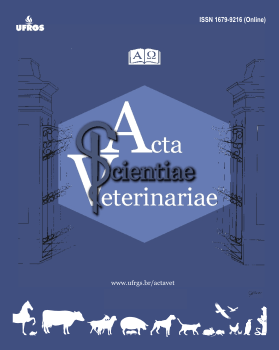 Additional Files
How to Cite
Queiroz, P. J. B., Caixeta, P. C. ., Silva, L. Q., Nascente, E. de P., Moura, V. M. B. D. de ., Rabelo, R. E., & Silva, L. A. F. da . (2022). Atypical Cutaneous Fibroma in a Cow. Acta Scientiae Veterinariae, 50. https://doi.org/10.22456/1679-9216.124533
License
Copyright (c) 2022 Paulo José Bastos Queiroz, Paulo Cesar Caixeta, Luanna Queiroz Silva, Eduardo de Paula Nascente, Veridiana Maria Brianezi Dignani de Moura, Rogério Elias Rabelo, Luiz Antônio Fraco da Silva
This work is licensed under a Creative Commons Attribution 4.0 International License.
This journal provides open access to all of its content on the principle that making research freely available to the public supports a greater global exchange of knowledge. Such access is associated with increased readership and increased citation of an author's work. For more information on this approach, see the Public Knowledge Project and Directory of Open Access Journals.
We define open access journals as journals that use a funding model that does not charge readers or their institutions for access. From the BOAI definition of "open access" we take the right of users to "read, download, copy, distribute, print, search, or link to the full texts of these articles" as mandatory for a journal to be included in the directory.
La Red y Portal Iberoamericano de Revistas Científicas de Veterinaria de Libre Acceso reúne a las principales publicaciones científicas editadas en España, Portugal, Latino América y otros países del ámbito latino