Anasarca Associated with Restrictive Cardiomyopathy in Cats
Abstract
Background: Cardiomyopathies are a primary heart disorder and are one of the most causes of heart failure and sudden death in cats. Restrictive cardiomyopathy is a diastolic dysfunction resulting from endomyocardial fibrosis, with filling restriction and ventricular distention. In these cases, a poor outcome is expected. Anasarca in animals is often associated with dystocia secondary to congenital changes. In adults, this is a rare condition, since subcutaneous edema in animals with congestive heart failure is an uncommon finding. Therefore, this report describes clinical and pathological findings in an unusual presentation of anasarca in two adult cats with restrictive cardiomyopathy.
Cases: A 12-year-old female mixed breed cat (case 1) and a 6-year-old male mixed-breed cat (case 2) were present on an emergent basis at the veterinary hospital with a history of respiratory distress. Case 1 showed on physical examination intense restrictive mixed dyspnea and lethargy, with muffled heart sounds and respiratory noises in cardiorespiratory auscultation. The cat exhibited abdominal distension resulting from ascites. Generalized subcutaneous edema was evident mainly in the abdominal and submandibular areas and the thoracic and pelvic limbs. In these regions, a positive Godet signal was observed. Thoracic radiography revealed pleural effusion, and the cat underwent fluid drainage on both sides of the thoracic cavity. Drainage material was sent to the laboratory for clinical analysis, which indicated that it was a modified transudate. The clinical signs worsened, and the cat was euthanized. In case 2, physical examination showed severe restrictive mixed dyspnea, lethargy, and low body temperature (< 32°C). Abdominal distension resulting from ascites and generalized edema in the subcutaneous tissue with a positive Godet sign was observed. On cardiorespiratory auscultation, cardiac sounds and breathing noises were muffled. Thoracic radiography revealed pleural effusion. The cat was immediately placed in an incubator for clinical stabilization with oxygen therapy and warm-up. After 2 h of hospitalization, thoracentesis and drainage of cavity fluids were performed, which were classified as modified transudate. The patient remained in critical condition during hospitalization, evolving to death. The two cats were referred for a complete post mortem examination. Grossly, both cats showed distension of the abdomen and marked edema of subcutaneous tissue, mainly in the abdominal, ventral cervical, and thoracic and pelvic members. In the abdominal and thoracic cavities, a moderate amount of serous-free liquid, slightly reddish was observed. The heart of both cats was enlarged, with a globose appearance and a slightly whitish epicardium. The left ventricular endocardium was mild and diffusely thick and whitish, in addition to moderate dilation of the left atrium. Histological analyses of the heart showed in both cats moderate and diffuse proliferation of fibrous connective tissue in the endocardial region.
Discussion: Restrictive cardiomyopathy has major importance in feline medicine due to its severity and poor outcome. Pleural effusion, pulmonary edema, and ascites are common findings in cats with congestive heart failure; however, generalized subcutaneous edema is uncommon. To the author's knowledge, there are no published cases in the literature of anasarca in adult cats with restrictive cardiomyopathy. In human cardiology, this presentation is commonly related to congestive heart failure, and it is reported under several conditions, such as restrictive cardiomyopathy and constrictive pericarditis. The present study suggests that anasarca should be included in the list of associated clinical signs suggestive of severe congestive heart failure, mainly related to restrictive cardiomyopathy.
Keywords: cardiomyopathy, endomyocardial fibrosis, feline, generalized edema.
Downloads
Download data is not yet available.
References
Allen W.E., England G.C.W. & White K.B. 1989. Hydrops fetalis diagnosed by real-time ultrasonography in a bichon frise bitch. Journal of Small Animal Practice. 30(8): 465-467.
Artz G. & Wynne J. 2000. Restrictive cardiomyopathy. Current Treatment Options in Cardiovascular Medicine. 2: 431-438.
Biasato I., Francescone L., La Rosa G. & Tursi M. 2015. Anatomopathological staging of feline hypertrophic cardiomyopathy through quantitative evaluation based on morphometric and histopathological data. Research in Veterinary Science. 102: 136-141. DOI: 10.1016/j.rvsc.2015.08.004
Cesta M.F., Baty C.J., Keene B.W., Smoak I.W. & Malarkey D.E. 2005. Pathology of end-stage remodeling in a family of cats with hypertrophic cardiomyopathy. Veterinary Pathology. 42(4): 458-467. DOI: 10.1354/vp.42-4-458
Chetboul V., Passavin P., Trehiou-Sechi E., Gouni V., Poissonnier C., Pouchelon J.L. & Desquilbet L. 2019. Clinical, epidemiological and echocardiographic features and prognostic factors in cats with restrictive cardiomyopathy: A retrospective study of 92 cases (2001-2015). Journal of Veterinary Internal Medicine. 33(3): 1222-1231. DOI: 10.1111/jvim.15464
Donovan T.A., Balakrishnan N., Barbosa I.C., McCoy T., Breitschwerdt E.B. & Fox P.R. 2018. Bartonella spp. as a possible cause or cofactor of feline endomyocarditis–left ventricular endocardial fibrosis complex. Journal of Comparative Pathology. 162: 29-42. DOI: 10.1016/j.jcpa.2018.05.002
Ellis S.L., Rodan I., Carney H.C., Heath S., Rochlitz I., Shearburn L.D., Sundahl E. & Westropp J.L. 2013. AAFP and ISFM feline environmental needs guidelines. Journal of Feline Medicine and Surgery. 15(3): 219-230. DOI: 10.1177/1098612X13477537
Ferasin L. 2009. Feline myocardial disease: 1: classification, pathophysiology and clinical presentation. Journal of Feline Medicine and Surgery. 11(1): 3-13. DOI: 10.1016/j.jfms.2008.11.008
Ferasin L. 2009. Feline Myocardial Disease: 2: diagnosis, prognosis and clinical management. Journal of Small Animal Practice. 11(3): 183-194. DOI: 10.1016/j.jfms.2009.01.002.
Ferasin L., Sturgess C.P., Cannon M.J., Caney S.M.A., Gruffydd-Jones T.J. & Wotton P.R. 2003. Feline idiopathic cardiomyopathy: a retrospective study of 106 cats (1994–2001). Journal of Feline Medicine and Surgery. 5(3): 151-159. DOI: 10.1016/S1098-612X(02)00133-X
Fox P.R. 2003. Hypertrophic cardiomyopathy. Clinical and pathologic correlates. Journal of Veterinary Cardiology. 5(2): 39-45. DOI: 10.1016/S1760-2734(06)70051-0
Fox P.R. 2004. Endomyocardial fibrosis and restrictive cardiomyopathy: pathologic and clinical features. Journal of Veterinary Cardiology. 6(1): 25-31. DOI: 10.1016/S1760-2734(06)70061-3
Fox P.R., Basso C., Thiene G. & Maron B.J. 2014. Spontaneously occurring restrictive nonhypertrophied cardiomyopathy in domestic cats: a new animal model of human disease. Cardiovascular Pathology. 23(1): 28-34. DOI: 10.1016/j.carpath.2013.08.001
Forney S. 2010. Dyspnea and tachypnea. In: Ettinger S.J. & Feldman E.C. (Eds). Textbook of Veterinary Internal Medicine: Disease of the Dog and the Cat. 7th edn. St. Louis: Elsevier, pp.253-255.
Kimura Y., Karakama S., Hirakawa A., Tsuchiaka S., Kobayashi M. & Machida N. 2016. Pathological features and pathogenesis of the endomyocardial form of restrictive cardiomyopathy in cats. Journal of Comparative Pathology. 155(2-3): 190-198. DOI: 10.1016/j.jcpa.2016.06.003
Konishi S., Kotera T., Koga M. & Ueda M. 2018. Spontaneous hypertrophic cardiomyopathy in a cynomolgus macaque (Macaca fascicularis). Journal of Toxicologic Pathology. 31(1): 49-54. DOI: 10.1293/tox.2017-0027
Locatelli C., Pradelli D., Campo G., Spalla I., Savarese A., Brambilla P.G. & Bussadori C. 2018. Survival and prognostic factors in cats with restrictive cardiomyopathy: a review of 90 cases. Journal of Feline Medicine and Surgery. 20(12): 1138-1143. DOI: 10.1177/1098612X18755955
McEndaffer L., Molesan A., Erb H. & Kelly K. 2017. Feline panleukopenia virus is not associated with myocarditis or endomyocardial restrictive cardiomyopathy in cats. Veterinary Pathology. 54(4): 669-675. DOI: 10.1177/0300985817695516
Robinson W.F. & Robinson N.A. Cardiovascular system. In: Maxie M.G. (Ed). Jubb, Kennedy, and Palmer's Pathology of Domestic Animals.6th edn. St. Louis: Elsevier, pp.46-48.
Saxon B., Hendrick M. & Waddle J.R. 1991. Restrictive cardiomyopathy in a cat with hypereosinophilic syndrome. The Canadian Veterinary Journal. 32(6): 367-369.
Spalla I., Locatelli C., Riscazzi G., Santagostino S., Cremaschi E. & Brambilla P. 2016. Survival in cats with primary and secondary cardiomyopathies. Journal of Feline Medicine and Surgery. 18(6): 501-509. DOI: 10.1177/1098612X15588797
Ware WA. 2011. Subcutaneous edema. In: Ware W.A. (Ed). Cardiovascular Disease in Small Animal Medicine. 3rd edn. London: Manson Publishing, pp.127-130.
Zwas D.R., Gotsman I., Admon D. & Keren A. 2012. Advances in the differentiation of constrictive pericarditis and restrictive cardiomyopathy. Herz. 37(6): 664-674.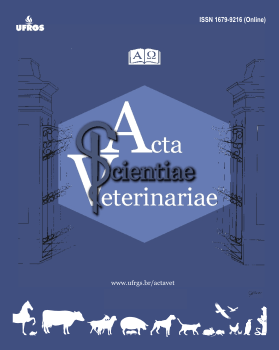 Additional Files
How to Cite
Froner Argenta , F., Vielmo, A., Slaviero, M., Castilhos da Silva, C., Viana Rufino, S., Vieira Amorim da Costa, F., Kenji Masuda , E., & Sonne, L. (2022). Anasarca Associated with Restrictive Cardiomyopathy in Cats. Acta Scientiae Veterinariae, 50. https://doi.org/10.22456/1679-9216.124337
License
Copyright (c) 2022 Fernando Froner Argenta , Andréia Vielmo, Mônica Slaviero, Carolina Castilhos da Silva, Samara Viana Rufino, Fernanda Vieira Amorim da Costa, Eduardo Kenji Masuda , Luciana Sonne
This work is licensed under a Creative Commons Attribution 4.0 International License.
This journal provides open access to all of its content on the principle that making research freely available to the public supports a greater global exchange of knowledge. Such access is associated with increased readership and increased citation of an author's work. For more information on this approach, see the Public Knowledge Project and Directory of Open Access Journals.
We define open access journals as journals that use a funding model that does not charge readers or their institutions for access. From the BOAI definition of "open access" we take the right of users to "read, download, copy, distribute, print, search, or link to the full texts of these articles" as mandatory for a journal to be included in the directory.
La Red y Portal Iberoamericano de Revistas Científicas de Veterinaria de Libre Acceso reúne a las principales publicaciones científicas editadas en España, Portugal, Latino América y otros países del ámbito latino