Bilateral Testicular Tumors in a Non-Cryptorchid Dog: Coexistence of Sertoli Cell and Interstitial Endocrine Cell Tumors
Abstract
Background: Testicular neoplasms in dogs are more frequent than in other animal species, representing the most common tumors in elderly subjects after skin neoplasms. In cryptorchid subjects, the risk of neoplastic degeneration is high. The cytological examination is essential to differentiate the type of neoplasia and to determinate the best diagnostic approach. Aim of this report was to describe clinical and histopathological features of a dog with coexistence of Sertoli cell and interstitial endocrine cell tumors in a non-cryptorchid dog.
Case: A 9-year-old non-neutered male dog, German Spitz breed, was presented to the  veterinary clinic.  On clinical examination, the dog had a body condition (BCS 6/9), pink mucous membranes, capillary refill time (CRT) < 2 sec, lymph nodes of normal size, afebrile, normal heart and respiratory rate. The abdomen was depressible to palpation, without pain, the skin appeared hyperpigmented, with generalized presence of comedones, pendular foreskin and absence of hair at the abdominal level, in the ventral portion of the trunk and neck, scant hair also at the level of the inner thighs and in perianal. At ultrasounds examinations, the right testicle presented a hypoechoic circular focal lesion, in the caudal pole, of 0.7 cm in diameter, well defined, echogenicity and a remnant of normal echostructure, smooth and regular margins; the left testicle showed an increase in size, irregular margins, with a heterogeneous echo structure, given by hypoechoic areas, referred to cysts, hemorrhagic or necrotic areas. The hemogram reported slightly microcytic and normochromic regenerative anemia. The leukogram showed monocytosis. The absence of the typical stress leukogram characterized by neutrophilia, lymphopenia and eosinopenia, and the reduction of ALP allows to rule out Cushing's disease. In order to rule out hypothyroidism due to the inhibitory effect of estrogens on the release of thyroid-stimulating hormone (TSH) the concentration of total thyroxine was analyzed, reporting normal values excluding hypothyroidism. Blood oestradiol 17-β (E2) concentration was increased, with a normal testosterone (T) concentration of 0.30 ng/mL. Given the suspicion of the presence of testicular tumors, castration was performed by the surgical excision of both gonads, after ruling out the presence of abdominal or pulmonary metastases by chest and abdominal radiography.
Discussion: The clinical, histopathological findings supported the diagnosis of testicular tumors. According to the pathological report, both gonads presented parenchymal nodular neoplastic nodular areas referring to the Sertoli sustentacular cells in the right testicle, to the proliferation of Leydig interstitial cells in the left one. The nodule in the left testicle was unencapsulated and showed a solid-diffuse pattern. Neoplastic cells were irregular polygonal, medium to large in size with moderate nucleus/cytoplasm ratio and moderate anisocytosis. In the right testicle, the nodule was heterogeneous in consistency and a diffuse pattern was present. Neoplastic cells were polygonal morphology, had a moderate nucleus/cytoplasm ratio and were organized tubules lined and obliterated the extensive cell growth. Bilateral orchiectomy allowed to improve the clinical signs, and 3 months after surgery, the animal was in good health, with evident improvement skin lesions. The E2 analysis was repeated, detecting normal values, demonstrating that testicular neoplasm in this patient were involved in E2 production; also T concentration decreased considerably from 0.30 to < 0.07 values.
Keywords: Sertoli cell tumor, testicular neoplasm, neoplastic cells, Leydig cell tumor, castration, canine.
Downloads
Download data is not yet available.
References
Abdel-Dayem M.M. & Elgendy M.S. 2009. Effects of chronic estradiol treatment on the thyroid gland structure and function of ovariectomized rats. BMC Research Notes. 2: 173.
Agnew D.W. & MacLachlan N.J. 2017. Tumors of the genital systems. In: Meuten D.J. (Ed). Tumors in Domestic Animals. 5th edn. Ames: John Wiley & Sons, pp.689-722.
Alvarez-Manriquez L. & Padilla-Arellanes S. 2010. Tumor de células de Leydig y seminoma en un perro. Veterinaria Mexico. 27(3): 174-179.
Ciaputa R., Nowak M., Kielbowicz M., Antończyk A., Błasiak K. & Madej J.A. 2012. Seminoma, sertolioma, and leydigoma in dogs: clinical and morphological correlations. Bulletin of the Veterinary Institute in Pulawy. 56(3): 361-367.
D'Angelo A.R., Vita S., Marruchella G. & Di Francesco G. 2012. Canine testicular tumours: a retrospective investigation in Abruzzo and Molise, Italy. Veterinaria Italiana. 48(3): 329-333.
Domingos T.C.S. & Salomão M.C. 2011. Meios de diagnóstico das principais afecções testiculares em cães: revisão de literatura. Revista Brasileira de Reprodução Animal. 35(4): 393-399.
Dreimanis U., Vargmar K., Falk T., Cigut M. & Toresson L. 2012. Evaluation of preputial cytology in diagnosing oestrogen producing testicular tumours in dogs. Journal of Small Animal Practice. 53(9): 536-541.
Eslava M.P. & Torres V.G. 2008. Neoplasias testiculares en caninos: un caso de tumor de células de sertoli. Revista MVZ Córdoba. 13(1): 1215-1225.
Feldman E.C. & Nelson R.W. 2007. Disorders of the Testes and Epididymis. In: Feldman E.C. & Nelson R.W. (Eds). Canine and Feline Endocrinology and Reproduction. 3rd edn. St. Louis: W.B. Saunders Co., pp.961-977.
Grieco V., Riccardi E., Greppi G.F., Teruzzi F., Iermano V. & Finazzi M. 2008. Canine testicular tumors: a study on 232 dogs. Journal of Comparative Pathology. 138(2/3): 86-89.
Harvey J.W. 2012. Veterinary Hematology: A Diagnostic Guide and Color Atlas. Amsterdam: Elsevier Health Sciences, pp.122-176. doi: 10.1016/B978-1-4377-0173-9.00006-3.
Junaidi A., Williamson P.E., Martin G.B., Stanton P.G., Blackberry M.A., Cummins J.M. & Trigg T.E. 2007. Pituitary and testicular endocrine responses to exogenous gonadotrophin-releasing hormone (GnRH) and luteinising hormone in male dogs treated with GnRH agonist implants. Reproduction, Fertility and Development. 19(8): 891-898.
Kaneko J., Harney J.W. & Bress M.L. 2008. Blood analyte reference values in small and same laboratory animals (Appendix IX). In: Kaneko J., Harney J.W. & Bress M.L. (Eds). Clinical Biochemistry of Domestic Animals. San Diego: Academic Press, pp.886-891.
Kennedy P.C., Cullen J.M., Edwards J.F., Goldschmidt M.H., Larsen S., Munson L. & Nielsen S. 1998. Histological classifications of tumors of the genital system of domestic animals. In: World Health Organization International Histological Classification of Tumors of Domestic Animals, Vol. IV. Washington DC: Armed Forces Institute of Pathology, pp.17-18.
Kim O. & Kim K.S. 2004. Seminoma with hyperestrogenism in a Yorkshire Terrier. The Journal of Veterinary Medical Science. 67(1): 121-123.
Kudo T., Kamiie J., Aihara N., Doi M., Sumi A., Omachi T. & Shirota K. 2019. Malignant Leydig cell tumor in dogs: two cases and a review of the literature. Journal of Veterinary Diagnostic Investigation. 31(4): 557-561.
Liao A.T., Chu P.Y., Yeh L.S., Lin C.T. & Liu C.H. 2009. A 12-year retrospective study of canine testicular tumors. The Journal of Veterinary Medical Science. 71(7): 919-923.
Lopate C. 2010. Clinical approach to conditions of the male. In: England G. & Von Heimendahl A. (Eds). BSAVA Manual of Canine and Feline Reproduction and Neonatology. 2nd edn. Gloucester: BSAVA, pp.191-196.
Mattheeuws D. & Comhaire F.H. 1989. Concentrations of oestradiol and testosterone in peripheral and spermatic venous blood of dogs with unilateral cryptorchidism. Domestic Animal Endocrinology. 6(3): 203-209.
Mineur P., De Cooman S., Hustin J., Verhoeven G. & De Hertogh R. 1987. Feminizing testicular Leydig cell tumor: hormonal profile before and after unilateral orchidectomy. The Journal of Clinical Endocrinology & Metabolism. 64(4): 686-691.
Mischke R., Meurer D., Hoppen H.O., Ueberschär S. & Hewicker-Trautwein M. 2002. Blood plasma concentrations of oestradiol-17beta, testosterone and testosterone/oestradiol ratio in dogs with neoplastic and degenerative testicular diseases. Research in Veterinary Science. 73(3): 267-272.
Outerbridge C.A., White S.D. & Affolter V.K. 2016. Alopecia universalis in a dog with testicular neoplasia. Veterinary Dermatology. 27(6): 513-e139.
Patnaik A.K. & Mostofi F.K. 1993. A clinicopathologic, histologic, and immunohistochemical study of mixed germ cell-stromal tumors of the testis in 16 dogs. Veterinary Pathology. 30(3): 287-295.
Raskin R. & Meyer D. 2010. Canine and Feline Cytology: A Color Atlas and Interpretation Guide. 2nd edn. St. Louis: Saunders, 450p.
Švara T., Gombač M., Pogorevc E., Plavec T., Zrimšek P. & Pogačnik M. 2014. A retrospective study of canine testicular tumours in Slovenia. Slovenian Veterinary Research. 51(2): 81-88.
Turek M.M. 2003. Cutaneous paraneoplastic syndromes in dogs and cats: a review of the literature. Veterinary Dermatology. 14(6): 279-296.
Valente P., Couto R., Gamba C., Vasconcelos A., Leme F., Ecco R. & Paes P. 2017. Bone marrow bi-hypoplasia in a dog with a sertoli cell tumor. Arquivo Brasileiro de Medicina Veterinária e Zootecnia. 69(1): 95-100.
Veronesi M.C., Riccardi E., Rota A. & Grieco V. 2009. Characteristics of cryptic/ectopic and contralateral scrotal testes in dogs between 1 and 2 years of age. Theriogenology. 72(7): 969-977.
Yu C.H., Hwang D.N., Yhee J.Y., Kim J.H., Im K.S., Nho W.G., Lyoo Y.S. & Sur J.H. 2009. Comparative immunohistochemically characterization of canine seminomas and Sertoli cell tumors. Journal of Veterinary Science. 10(1): 1-7.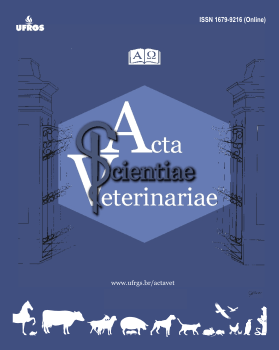 Additional Files
How to Cite
Chiti, E., Fazio, E., Cancedda, G., Medica, P., & Satué , K. (2022). Bilateral Testicular Tumors in a Non-Cryptorchid Dog: Coexistence of Sertoli Cell and Interstitial Endocrine Cell Tumors. Acta Scientiae Veterinariae, 50. https://doi.org/10.22456/1679-9216.123553
License
Copyright (c) 2022 Eleonora Chiti, Esterina Fazio, Giorgio Cancedda, Pietro Medica, Katiuska Satué
This work is licensed under a Creative Commons Attribution 4.0 International License.
This journal provides open access to all of its content on the principle that making research freely available to the public supports a greater global exchange of knowledge. Such access is associated with increased readership and increased citation of an author's work. For more information on this approach, see the Public Knowledge Project and Directory of Open Access Journals.
We define open access journals as journals that use a funding model that does not charge readers or their institutions for access. From the BOAI definition of "open access" we take the right of users to "read, download, copy, distribute, print, search, or link to the full texts of these articles" as mandatory for a journal to be included in the directory.
La Red y Portal Iberoamericano de Revistas Científicas de Veterinaria de Libre Acceso reúne a las principales publicaciones científicas editadas en España, Portugal, Latino América y otros países del ámbito latino