Canine Hypothyroidism with Neurological Disorders
Abstract
Background: Hypothyroidism is characterized by hypofunction of the thyroid gland. It results in deficient production of thyroid hormones. Neurological disorders resulting from hypothyroidism are rare, which highlights the importance of this study. This study reports a case of hypothyroidism in a dog with neurological clinical signs, that was treated at the Universidade Estadual de Santa Cruz's Veterinary Hospital (HV-UESC).
Case: A 4-year-old male intact Dogo Argentino breed dog, weighing 64 kg, presenting obesity, anorexia, prostration, walking in circles, and chronic dermatopathy was presented at HV-UESC. Upon physical examination, the animal presented a deficit of proprioception in the 4 limbs, with preserved superficial and deep pain. No alteration was observed in the ears, that could explained the clinical signs. In terms of dermatopathy, the animal presented symmetrical alopecia in the lateral region of the thighs and tail. Blood samples were collected for a complete blood count and biochemical tests of urea, creatinine, ALT, AST and cholesterol. Imaging radiography and ultrasonography were performed, which ruled out thoracic and abdominal changes that could be related to the case. Prior to receiving the blood test results, idiopathic encephalitis was suspected and enrofloxacin and prednisone were prescribed for 7 days. During the medication period, previous exams were provided, which indicated only increased cholesterol (500 mg/dL). The animal showed no improvement with the prescribed medication. In view of the clinical signs presented by the patient and the results of the additional tests, hormonal disease was suspected, compatible with hypothyroidism. Thus, hormonal tests of total T4, free T4, and TSH were requested, leading to verification of reduced total T4 (0.3 ng/dL) and free T4 (0.15 ng/dL) levels, and confirming the dysfunction of the thyroid gland. The previous treatment was suspended and thyroid hormone replacement was initiated. After 3 days of treatment, the neurological signs regressed and the animal became more active; after 30 days, the areas of alopecia decreased. Although the patient did not receive the recommended clinical follow-up for such cases, it was possible to establish the ideal levothyroxine dosage for the dog after appropriate adjustments, which permitted thyroid hormone levels to return to normal.
Discussion: This report refers to a case of hypothyroidism in a giant dog breed. The dog in the report showed clinical signs of a dermatological, metabolic, and neurological nature, which is consistent with a lack of thyroid hormone. The main signs presented by the animal were neurological, such as walking in circles and a deficit of proprioception in the four limbs. These clinical signs are rarely mentioned in the literature associated with hypothyroidism. Laboratory abnormalities are correlated with the severity and chronicity of the disease. The animal showed a decrease in total T4 and free T4, which is to be expected in a hypothyroid animal. As a result, levothyroxine replacement treatment was initiated. The dose used for the dog, which is the recommended dose in the literature, greatly increased its total T4 levels. As a result, the dose was readjusted after a new clinical evaluation. The rate of metabolism and absorption of levothyroxine varies widely and is independent of weight. The patient showed quickly improvement in neurological signs, activity level, and serum cholesterol rate. Regarding dermatological signs and body condition, there was a more gradual improvement. This corroborates what is mentioned in the literature, which indicates that improvements can take many months.
Keywords:  hormonal Disease, hypothyroidism, neuropathy.
Downloads
Download data is not yet available.
References
Annemarie M.W.Y.V, Peter A.J.L, Jenny J.C.W.M.B., Sylvie D. & Hans S.K. 2016. Central Hypothyroidism in Miniature Schnauzers. Journal of Veterinary Internal Medicine. 30: 85-91. DOI: 10.1111/jvim.13818
Bojanic A.E., Acke B. & Jones B.A. 2011. Congenital hypothyroidism of dogs and cats: A review. New Zealand Veterinary Journal. 59 (3): 115-122. DOI: 10.1080/00480169.2011.567964
Cruz F.G.B. & Manoel F.M.T. 2015. Hipotireoidismo Canino. In: Jerico M.M., Andrade Neto J.P. & Kogika M.M. (Eds). Tratado de Medicina Interna de Cães e Gatos. V.2. Rio de Janeiro: Roca, pp.1666-1676.
De Marco V., Roberta M.T., Silva R.M.T., Karamm M.A., Florio J.C. & Lorigrado C.A.C.L. 2012. Avaliação terapêutica e posológica da levotiroxina sódica em cães com hipotireoidismo primário adquirido. Pesquisa Veterinária Brasileira. 32 (10): 1030-1036. DOI: 10.1590/S0100-736X2012001000015
Dixon R.M. 2009. Hipotireoidismo canino. In: Mooney C.T. & Peterson M.E. (Eds). Manual de Endocrinologia Canina e Felina. 3.ed. Rio de Janeiro: Roca, pp.91-113.
Dixon R.M., Reid S.W. & Mooney C.T. 2002. Treatment and therapeutic monitoring of canine hypothyroidism. Journal of Small Animal Practice. 43(8): 334-340. DOI: 10.1111/j.1748-5827.2002.tb00082.x.
Finora K. & Greco D. 2007. Hypothyroidism and myxedema coma. The Compendium on Continuing Education for the Practicing Veterinarian. 29(1): 19-31.
Giza E.G., Plonek M., Nicpon J.M. & Wrzosek M.A. 2016. Electrodiagnostic studies in presumptive primary hypothyroidism and polyneuropathy in dogs with reevaluation during hormone replacement therapy. Acta Veterinaria Scandinavica. 58(32): 1-10. DOI: 10.1186/s13028-016-0212-9
Graham P.A. 2009. Canine hypothyroidism: diagnosis and therapy. Companion Animal Practice. 31: 77-82. DOI: 10.1136/inpract.31.2.77
Graham P.A., Refsal K.R. & Nachreiner R.F. 2007. Etiopathologic findings of canine hypothyroidism. Veterinary Clinics of North America: Small Animal Practice. 37(4): 617-631. DOI: 10.1016/j.cvsm.2007.05.002
Hrovat A., Keuster T., Kooistra H.S., Duchateau L., Oyama M.A., Peremans K. & Daminet S. 2019. Behavior in dogs with spontaneous hypothyroidism during treatment with levothyroxine. Journal of Veterinary Internal Medicine. 33: 64-71. DOI: 10.1111/jvim.15342
Lewis V.A., Morrow C.M.K., Jacobsen J.A. & Lioyd W.E. 2018. A Pivotal Field Study to Support the Registration of Levothyroxine Sodium Tablets for Canine Hypothyroidism. Journal of the American Animal Hospital Association. 54(4): 201-208. DOI: 10.5326/JAAHA-MS-6649
Momota Y., Yamamoto M., Yoshimatsu H., Satoshi N., Shigihara K., Yasuda A. & Sako T. 2016. Nodular cutaneous mucinosis in a hypothyroid dog - a severe form of myxoedema. Veterinary Dermatology. 27(1): 61-62. DOI: 10.1111/vde.12272
Mooney C.T. 2011. Canine hypothyroidism: A review of aetiology and diagnosis. New Zealand Veterinary Journal. 59(3): 105-114. DOI: 10.1080/00480169.2011.563729
Panciera D. 2013. Hypothyroidism in Dogs. Clinical Endocrinology of Companion Animals. Ames: Wiley-Blackwell, pp.263-272.
Powell R. 2009. Canine hypothyroidism - Can we diagnose it? Companion Animal. 14(2): 74-79. DOI: 10.1111/j.2044-3862.2009.tb00333.x
Rossmeisl J.H. 2010. Resistance of the peripheral nervous system to the effects of chronic canine hypothyroidism. Journal of Veterinary Internal Medicine. 24(4): 875-881. DOI: 10.1111/j.1939-1676.2010.0515.x
Rushton J.O., Leschnik M. & Nell B. 2013. Suspected hypothyroid associated neuropathy in a female rotweiler dog. Canadian Veterinary Journal. 54: 368-372.
Scott-Moncrieff J.C. 2007. Clinical signs and concurrent diseases of hypothyroidism in dogs and cats. The Veterinary Clinics of North America Small Animal Practice. 37(4): 709-722. DOI: 10.1016/j.cvsm.2007.03.003
Utsugi S., Saito M. & Shelton D. 2014. Resolution of Polyneuropathy in a Hypothyroid Dog Following Thyroid Supplementation. Journal of the American Animal Hospital Association. 50: 345-349. DOI: DOI: 10.5326/JAAHA-MS-6035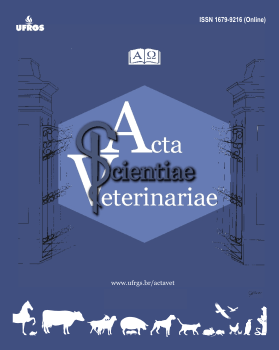 Additional Files
How to Cite
Santos de Oliveira, J. T. ., Arias Wenceslau, A., Barboza da Silva, E., Lima de Lavor, M. S. ., Brandão Guedes, P. E., & Santiago Alberto Carlos, R. . (2022). Canine Hypothyroidism with Neurological Disorders. Acta Scientiae Veterinariae, 50. https://doi.org/10.22456/1679-9216.123247
License
Copyright (c) 2022 Joana Thaisa Santos de Oliveira, Amauri Arias Wenceslau, Elisângela Barboza da Silva, Mário Sérgio Lima de Lavor, Paula Elisa Brandão Guedes, Renata Santiago Alberto Carlos
This work is licensed under a Creative Commons Attribution 4.0 International License.
This journal provides open access to all of its content on the principle that making research freely available to the public supports a greater global exchange of knowledge. Such access is associated with increased readership and increased citation of an author's work. For more information on this approach, see the Public Knowledge Project and Directory of Open Access Journals.
We define open access journals as journals that use a funding model that does not charge readers or their institutions for access. From the BOAI definition of "open access" we take the right of users to "read, download, copy, distribute, print, search, or link to the full texts of these articles" as mandatory for a journal to be included in the directory.
La Red y Portal Iberoamericano de Revistas Científicas de Veterinaria de Libre Acceso reúne a las principales publicaciones científicas editadas en España, Portugal, Latino América y otros países del ámbito latino