Hip Dislocation in a Calf - Treatment with Iliofemoral Suture
Abstract
Background: Coxofemoral dislocation is uncommon in large animals, due to anatomical particularities that provide greater stability to this joint. The most common causes of hip dislocation in large animals are related to hypocalcemia, mount trauma, sudden falls on hard surfaces or dystocia. Treatment can be performed by closed reduction, but the reported results are not satisfactory with complications. Several surgical techniques have already been described and successfully used in small animals in the treatment of hip dislocation. The present work aims to describe the technique and the result of the iliofemoral suture in the treatment of hip dislocation in a Girolando heifer.
Case: A heifer was attended with a history of difficulty in getting up. According to the owner, the clinical manifestation was sudden, after remaining in a paddock with other animals of different age groups. The calf had reduced skin sensitivity on the croup, and it was impossible to remain in the quadrupedal position, often remaining in sternal recumbency with the left pelvic limb in extension. From the clinical examination, spinal cord injury was suspected and clinical treatment was instituted with dexamethasone, vitamins B1, B12 and dimethylsulfoxide. At the end of the clinical treatment, the animal did not show a favorable evolution, so radiographic examination of the coxofemoral region was performed, revealing dislocation of the left femoral head, indicating surgical correction. Xylazine was administered as pre-anesthetic medication, followed by anesthetic induction with midazolam associated with ketamine, followed by orotracheal intubation. Anesthetic maintenance was instituted with isoflurane and monitoring was performed with a multiparameter monitor. An epidural block was performed with bupivacaine and morphine. A craniolateral approach to the left hip joint was performed. After the dislocation was reduced, sutures were used to better stabilize the joint in question. Following the evolution of the surgical procedure, it was possible to confirm that the femoral head remained in place. After 15 days, the skin stitches were removed and the animal was discharged from the hospital and returned to its original property. The calf was asked to remain in the stall for at least 60 days, gradually releasing it into larger spaces and only after 120 days could it remain in the paddock with other animals. During three months, the tutor was consulted about the evolution of the condition, reporting that the animal was clinically well, being able to get up and walk without difficulty and with a mild degree of lameness, thus suggesting the success of the surgical procedure.
Discussion: There are few studies of successful surgical treatments of hip dislocation in large animals, and that number is even smaller when considering cattle alone. It is believed that this is due to difficulties related to the surgical technique and to postoperative handling, given the animal's weight. The iliofemoral suture technique performed on the animal in the present study is commonly employed in small animals, and excellent results have been observed. However, reports on the use of this technique in large animals have not been found. The iliofemoral suture technique has advantages over other reported surgical techniques in cattle. When compared to the femoral head and neck resection, the iliofemoral suture has several advantages, as it allows preservation of the joint and achievement of superior biomechanical results. When compared to the technique of reinforcement of the joint capsule with synthetic material, also reported in cattle, the iliofemoral suture appears to be faster, simpler and more economic, and provides similar stability. We conclude that the iliofemoral suture proved to be a satisfactory alternative for the treatment of hip dislocations in young cattle.
Keywords: claudication, joint stabilization, ruminants, articulation, orthopedics.
Downloads
Download data is not yet available.
References
Garcia-López J.M. 2010. Coxofemoral luxations in the horse: Surgical options and challenges. Equine Veterinary Education. 22(11): 554-556. DOI: 10.1111/j.2042-3292.2010.00135.x
Jubb T.F., Malmo J., Brightling P. & Davis G.M. 1989. Prognostic factors for recovery from coxo-femoral dislocation in cattle. Australian Veterinary Journal. 66(11): 354-358. DOI: 10.1111/j.1751-0813.1989.tb09731.x
Keller A.M., Nuss K.M.R., Schimid T., Meyer S.W. & Nuss K. 2006. Operative Behandlung einer Luxatio ossis femoris bei zwei Rindern. Schweizer Archiv für Tierheilkunde. 148(12): 657-662. DOI:12.1024/0036-7281.148.12.657
Kuemmerle J.M. & Furst A.E. 2011. Treatment of a Coxofemoral Luxation in a Pony Using a Prosthetic Capsule Technique. Veterinary Surgery. 40(5): 631-635. DOI: 10.1111/j.1532-950X.2011.00837.x
Liebich H.G., Konig H.E. & Maierl J. 2011. Membros Pélvicos In: Konig H.E. & Liebich H.G. (Eds). Anatomia dos Animais Domésticos. 4.ed. Porto Alegre: Artmed, pp.235-296.
Riebold T.W. 2017. Ruminantes. In: Grimm K.A., Lamont L.A., Tranquilli W., Greene S.A. & Robertson A.A. (Eds). Lumb & Jones Anestesiologia e Analgesia em Veterinária. 5.ed. Rio de Janeiro: Roca, pp.906-922.
Sprick M. & Koch C. 2020. Successful Treatment of a Coxofemoral Luxation in a Shetland Pony by Closed Reduction and Prolonged Immobilization Using a Full-Body Animal Rescue Sling. Case Reports in Veterinary Medicine. 2020: 2424653. DOI: 10.1155/2020/2424653
Starke A., Herzog K., Sohrt J., Haist V., Höhling A., Baumgärtner W. & Rehage J. 2007. Diagnostic Procedures and Surgical Treatment of Craniodorsal Coxofemoral Luxation in Calves. Veterinary Surgery. 36(2): 99-106. DOI: 10.1111/j.1532-950X.2006.00224.x
Wells M. 2011. Closed reduction of dislocated hips: Getting the clunk. In: Proceedings of the 27th Annual Conference of the Society of Dairy Cattle Veterinarians NZVA (Hamilton, New Zealand). pp.751-757.
Willians L.L., Boudrieau R.J., Clark G., Court M.H., Dodmsn N.H., Rand W. & Agarwal R. 1993. Evaluation of epidural morphine in dogs for pain relief after hindlimb orthopedic surgery. Veterinary Surgery. 22(1): 89.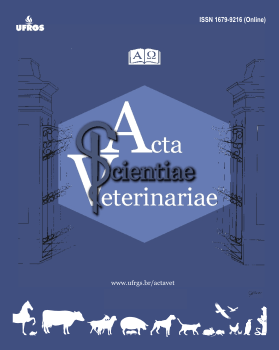 Additional Files
How to Cite
Silva, P. C., Aoyama, I. H. A. ., Teodoro, A. N. ., Sartori, V. C. ., Espinoza, M. de F. ., Picelli, J. P., Bertonha, C. M. ., & Alves, E. G. L. . (2022). Hip Dislocation in a Calf - Treatment with Iliofemoral Suture. Acta Scientiae Veterinariae, 50. https://doi.org/10.22456/1679-9216.123159
License
Copyright (c) 2022 Paloma Coutinho Silva, Igor Hideo Andrade Aoyama, Ananda Neves Teodoro, Vitor Cibiac Sartori, Marcio de Freitas Espinoza, Julia Perinotto Picelli, Cândice Mara Bertonha, Endrigo Gabellini Leonel Alves
This work is licensed under a Creative Commons Attribution 4.0 International License.
This journal provides open access to all of its content on the principle that making research freely available to the public supports a greater global exchange of knowledge. Such access is associated with increased readership and increased citation of an author's work. For more information on this approach, see the Public Knowledge Project and Directory of Open Access Journals.
We define open access journals as journals that use a funding model that does not charge readers or their institutions for access. From the BOAI definition of "open access" we take the right of users to "read, download, copy, distribute, print, search, or link to the full texts of these articles" as mandatory for a journal to be included in the directory.
La Red y Portal Iberoamericano de Revistas Científicas de Veterinaria de Libre Acceso reúne a las principales publicaciones científicas editadas en España, Portugal, Latino América y otros países del ámbito latino