Salmonella Pullorum in a Free-range Chicken Farm in Western Bahia, Brazil
Abstract
Background:Industrial poultry farming has developed progressively in Brazil, conferring the country a prominent position on the national and international scene. Likewise, alternative poultry farming is an important economic activity for small-scale family farmers. However, shortcomings related to sanitary management lead to increased occurrence of avian diseases, such as those caused by Salmonella spp. Despite salmonellosis has been described in industrial establishments, reports in alternative farms are less common, therefore the objective of this study was to describe the occurrence of salmonellosis in free-range chickens in the municipality of Barra, Western Bahia, Brazil.
Cases: The poultry farmer reported the occurrence of diarrhoea in his chicken flock since the acquisition of the batch of chicks. Initially, carrying out the medicinal treatment of the birds, there was clinical improvement, however, successive recurrences of clinical signs occurred, such as diarrhoea, apathy, anorexia, and death of some birds. Upon learning about the case, an epidemiological investigation of the flock was carried out, and it was noted that some of the birds were retracted, apathetic, anorexic, and a lot of diarrheic faeces of a yellowish-white appearance were also observed. The entire flock had a history of vaccination against diseases: newcastle disease, infectious bronchitis, gumboro disease, and fowlpox. For better evaluation, five birds were necropsied, enabling the observation that the animals had a good body score. However, the necropsy revealed lesions such as splenomegaly, hepatomegaly, and enteritis in the three birds initially analysed (Animals 1, 2, and 3). The other birds (Animals 4 and 5) were submitted to evaluation for Eimeria sp. oocysts by means of scrapings from the intestinal mucosa, and there were no structures compatible with oocysts. Faecal samples were collected from another six birds in the flock for coproparasitological examination, and the presence of oocysts was not detected. Finally, sera from 20 birds in the flock were collected for the Rapid Serum Agglutination Test (SAR) for the detection anti-Salmonella Pullorum antibodies.
Discussion: The diagnosis was based on clinical evaluation, post-mortem pathological findings of the necropsied birds, epidemiological data and confirmed with SAR testing, whereby 11 birds were seropositive for Salmonella enterica subspecies enterica serovar Pullorum. The prevalence of S. Pullorum is poorly described in alternative farming. Based on the farmer's report, it is believed that the chicks were purchased already infected, because birds from the same batch, also purchased by neighbouring producers, showed the same clinical signs. The unsatisfactory sanitation in the flock was another factor that may have favoured the persistence of the bacteria, since, the lack of removal of organic matter is a source of nutrients for microorganisms, and this may have favoured the multiplication and maintenance of the bacteria in the down feathers, feed, and water. The elimination of S. Pullorum through the faeces, in addition to the density of the birds, may have led to transmission to the other healthy birds. However, the knowledge and adoption of prophylactic measures in free-range chicken farms is a crucial factor in minimizing the occurrence of outbreaks and thus avoiding a future public Health Problem.
Keywords: poultry pathology, alternative poultry farming, salmonellosis.
Título: Samonella Pullorum em criação de galinhas caipiras no Oeste da Bahia, Brasil
Descritores: patologia aviária, avicultura alternativa, salmoneloses.
Downloads
Download data is not yet available.
References
Associação Brasileira de Proteína Animal (ABPA). 2021. Relatório Anual 2020. São Paulo, 29p. Disponível em: <https://abpa-br.org/wp-content/uploads/2020/05/abpa_relatorio_anual_2020_portugues_web.pdf>.
Barros I.M., Thais F.L. & Stella A.E. 2020. Salmonelose aviária e saúde pública: atualidades e o seu controle no Brasil. Revista Enciclopédia Biosfera: Centro Científico. 17(32): 459-468.
Borges K.A., Martelo E.B., Santos L.A., Furian T.Q., Cisco I.C., Manto L. & Luciana R.S. 2019. Detection and quantification of Salmonella spp. in poultry slaughterhouses of southern Brazil. The Journal of Infection in Developing Coutries. 13(5): 455-460.
Buchala F.G., Ishizuka M.M., Mathias L.A., Berchieri Jr. A., Castro A.G.M., Cardoso A.L.S.P., Tessari E.N.C. & Kanashiro A.M.I. 2006. Ocorrência de reação sorológica contra Salmonella pullorum em aves de "fundo de quintal" do estado de São Paulo, Brasil. Arquivos do Instituto Biológico. 73(1): 1-5.
Cardozo S.P., Nunes I.A., Andrade M.A. & Jayme V.S. 2021. Identificação de Salmonella sp. em amostras de carcaças e ovos de frangos caipiras comercializados em feiras de Goiânia, Goiás. Interação. 21(2): 49-60.
Costa D.R., Santana E.S. & Coelho K.O. 2016. Artrite infecciosa em frangos de corte. Enciclopédia biosfera. 13(24): 76-90.
Duarte S.C., Mota S.D.C.A, Barbieri F. & Gil D.F. 2018. Salmonelose em aves: estratégias básicas de prevenção. Embrapa Suínos e Aves. Disponível em: <https://www.infoteca.cnptia.embrapa.br/infoteca/handle/doc/1094447>.
Gama N.M.S.Q., Togashi C.K., Ferreira N.T., Buim M.R., Guastalli E.L. & Fiagá D.A.M. 2008. Conhecendo a água utilizada para as aves de produção. Arquivos do Instituto Biológico. 70(1): 43-49.
Kowalski L.H., Fernandes S.R., Silva A.P., Bredt R.C., Cruz T.A. & Berchiol M.G. 2011. Salmoneloses emergentes de origem aviária. Pubvet. 5(34): 1-4.
Mendonça P.E. 2016. Características de virulência, resistência e diversidade genética de sorovares de Salmonella com impacto na saúde pública, isolados de frangos de corte no Brasil. 131f. Uberlândia, MG. Tese (Doutorado em Ciências Veterinárias) - Programa de Pós-Graduação em Ciências Veterinárias, Universidade Federal de Uberlândia.
Miranda M.V., Ferreira N.L., Tomaz L.D., Silva V.S., Silva K.S. & Silva S.E.L. 2020. Isolamento e identificação bioquímica de Salmonella spp. em frangos de corte. Brazilian Journal of Development. 6(11): 89982-89993.
Perdoncini G. & Schimidt V. 2011. Presença de Salmonella spp. em pintos de um dia, comercializados para produção não industrial em Santa Catarina. Acta Scientiae Veterinariae. 1(39): 1-3.
Reis S.A., Calaça K.L., Nascente E.P., Damasceno A.D., Jayme V.S. & Andrade M.A. 2020. Identification and antimicrobial resistance of Salmonella enterica isolated from live birds at commercial resellers. Ciência Animal Brasileira. 21: 1-13.
Santos H.F. & Lovato. M. 2018. Salmoneloses. In: Doença das Aves. 3.ed. São Paulo: Kindle Direct Publishing. pp.102-108.
Santos M.B., Cunha F.S.A., Santos J.S., Albuquerque J.G.S.S. & Oliveira A.T. 2020. Análise econômica da produção de frango de corte caipira em dois municípios do médio sertão de Alagoas, Nordeste do Brasil. Diversitas Journal. 5(3): 2129-2139.
Santos M.W.C., Conceição M.S., Santos F., Almeida J.C., Souto E.P.F., Macêdo I.L., Galiza G.J.N. & Frade M.T.S. 2021. Surto de endoparasitose em galinhas caipiras (Gallus gallus domesticus) na Bahia, Brasil. Acta Scientiae Veterinariae. 49 (Suppl 1): 667.
Soncini R.A. 2002. Controle de Salmonella Enteritides na avicultura. Embrapa. Disponível em: <http://www.cnpsa.embrapa.br/sgc/sgc_publicacoes/anais0204_bsa_soncini.pdf/.>.
Stella A.E., Costa A.O., Ventura G.F., Schimmunec M.S., Lima D.A. & Paula E.M.N. 2021. Salmonelose aviária. Pesquisa, Sociedade e Desenvolvimento. 10(4): 1-17.
Torres A.C.D., Marin S.Y., Resende J.S. & Martins N.R.S. 2015. Salmoneloses. Cadernos Técnicos de Veterinária e Zootecnia da UFMG. 76: 108-115.
Xiong D., Song L., Pan Z. & Jiao X. 2018. Identification and Discrimination of Salmonella enterica Serovar Gallinarum Biovars Pullorum and Gallinarum Based on a One-Step Multiplex PCR Assay. Frontiers In Microbiology. 5(5): 1-8.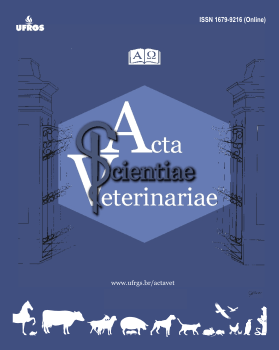 Additional Files
How to Cite
Larissa da Cruz Oliveira, H., Silva Pereira, Z. ., Wilker da Conceição Santos, M. ., José Parazzi, L. ., Muniz Barretto Fernandes, L., Bahiense Trevisan, A. ., & dos Santos, F. (2022). Salmonella Pullorum in a Free-range Chicken Farm in Western Bahia, Brazil . Acta Scientiae Veterinariae, 50. https://doi.org/10.22456/1679-9216.122629
License
Copyright (c) 2022 Flavia Santos
This work is licensed under a Creative Commons Attribution 4.0 International License.
This journal provides open access to all of its content on the principle that making research freely available to the public supports a greater global exchange of knowledge. Such access is associated with increased readership and increased citation of an author's work. For more information on this approach, see the Public Knowledge Project and Directory of Open Access Journals.
We define open access journals as journals that use a funding model that does not charge readers or their institutions for access. From the BOAI definition of "open access" we take the right of users to "read, download, copy, distribute, print, search, or link to the full texts of these articles" as mandatory for a journal to be included in the directory.
La Red y Portal Iberoamericano de Revistas Científicas de Veterinaria de Libre Acceso reúne a las principales publicaciones científicas editadas en España, Portugal, Latino América y otros países del ámbito latino