Myelodysplastic Syndrome Progression to Acute Myeloid Leukemia in a Cat FeLV Seroreactive
Abstract
Background: Acute myeloid leukemia (AML) is a group of non-lymphoid hematological tumors characterized by aberrant proliferation and/or decreased apoptosis of a clone of non-mature cells, resulting in the accumulation of immature blast cells in the bone marrow and peripheral blood. It is considered rare, as it represents 10% of neoplasms of hematopoietic origin. However, it is known that felines seroreactive for FIV and FeLV are more predisposed and reports of this type of leukemia in cats in the literature are scarce. Thus, the objective of this study was to evaluate the blood and bone marrow of a cat seroreactive for FeLV that presented with myelodysplastic syndrome that progressed to acute myeloid leukemia.
 Case: A 6-year-old male mixed-breed cat, neutered, seroreactive for FeLV, showed apathy, weight loss, and pale mucous membranes. Initial peripheral blood smear evaluation revealed hypochromic normocytic anemia, leukopenia, neutropenia, lymphopenia, and thrombocytosis with many macropackets and giant platelets. Based on this blood picture, a long-spectrum antimicrobial therapy with amoxicillin and clavulanate [Clavulin® BD - 25 mg/kg, every 12 h] was started. Granulocyte colony stimulating factor used filgrastim (rHu G-CSF) [Fiprina® - 5 µg/kg, SC, every 48 h] and appetite stimulant mirtazapine [Mirtz® - 2 mg/cat, orally, every 48 h] were used to correct leukopenia and nutritional status, respectively. Follow-up blood smear evaluation on the 30th day showed persistence of the hematological changes noticed earlier. A bone marrow puncture was performed, and immunosuppressive therapy with prednisolone [Predsim® - 4 mg/kg, orally, every 24 h] was initiated. The aspirated material showed increased cellularity for age, decreased myeloid:erythroid ratio, and 39.8% of blasts of myeloid origin. An average of 17.7 megakaryocytes were observed per field (10x magnification). Bone marrow cytological evaluation suggested acute myeloid leukemia with dysmegakaryocytopoiesis. After the diagnosis, the examinations were repeated monthly, and there was still intense leukopenia. However, in view of the stable clinical status and leukopenia with neutropenia, treatment for leukemia was not instituted and only supportive treatment was administered when necessary. Eight months after the diagnosis, clinical status had worsened, and unlike the earlier hemograms, global leukocyte count had increased with predominant lymphocytosis (95% of the total leukocytes) with atypical lymphocytes. The cat died a few days later.
 Discussion: Bone marrow evaluation is indicated when peripheral blood cell abnormalities are present and cannot be explained in the context of the clinical history. In the present report, the bone marrow aspirate was hypercellular (cellularity above 75%); however, intense leukopenia was observed in the peripheral blood. In myelodysplastic syndromes, it is common for the bone marrow to be normal to hypercellular, which occurs when there is a greater production of myeloid or erythroid cell lines in response to the loss, destruction, or consumption of cells. Despite this, cytopenias may be present in the peripheral blood, since the defective cells undergo apoptosis and die before being released into the circulation, characterizing inefficient hematopoiesis. The diagnosis of acute leukemia comprises a variety of hematopoietic neoplasms that are complex and unique. Each acute leukemia subtype has defining characteristics that affect the prognosis and treatment of each animal.
Keywords: tumours, myeloid neoplasm, SMD, LMA, bone marrow cytology, feline.
Downloads
Download data is not yet available.
References
Almeida T.M., Sousa Filho R.P., Rodrigues I.L., Cruz R.O., Rodrigues A.P.R. & Silva I.N.G. 2019. Linfoma leucemizado em felino coinfectado com os vírus da imunodeficiência felina e da leucemia felina: relato de caso. Arquivo Brasileiro de Medicina Veterinária e Zootecnia. 71(1): 219-224.
Antunes T.R., Franco P.A., Oliveira G.G., Ferraz M.C., Sartoretto M. C., Castilho M. O., Silva P.M.P., Donadeli J.P.P. & Souza A.I. 2018. Leucemia mieloide aguda subtipo m6b em felino doméstico sororreagente para FeLV - Relato de caso. In: Anais da XI Mostra Científica FAMEZ / UFMS (Campo Grande, Brasil). p.3.
Biezus G., Ferian P.E., Pereira L.H.H.S., Withoeft J. A., Antunes M.M., Xavier M.G.N., Volpato J., Cristo T.G., Fonteque J.H. & Casagrande R.A. 2019. Clinical and Haematological Disorders in Cats with Natural and Progressive Infection by Feline Leukemia Virus (FeLV). Acta Scientiae Veterinariae. 47: 1629. 9p.
Blackburn L.M., Bender S. & Brown S. 2019. Acute Leukemia: Diagnosis and Treatment. Seminars in Oncology Nursing. 35(6): 150950.
Bravo G.M., Lee E., Merchan B., Kantarjian H.M. & Manero G.G. 2014. Integrating genetics and epigenetics in myelodysplastic syndromes: advances in pathogenesis and disease evolution. British Journal of Haematology. 166(5): 646-659.
Breuer W., Hermanns W. & Thiele J. 1999. Myelodysplastic syndrome (MDS), acute myeloid leukaemia (AML) and chronic myeloproliferative disorder (CMPD) in cats. Journal of Comparative Pathology. 121(3): 203-216.
Cazzola M., Della Porta M.G. & Malcovati L. 2013. The genetic basis of myelodysplasia and its clinical relevance. Blood. 122(25): 4021-4034.
Cristo T.G., Biezus G., Noronha L.F., Gaspar T., Dal Pont P.T., Withoeft J.A., Furlan L.V., Costa L.S., Traverso S.D. & Casagrande R.A. 2019. Feline Leukaemia Virus Associated with Leukaemia in Cats in Santa Catarina, Brazil. Journal of Comparative Pathology.170: 10-21.
Cury P.M. 2003. Biópsia de medula óssea e sua interpretação: o papel do hematopatologista. Revista Brasileira de Hematologia e Hemoterapia. 25(2): 79-80.
Diebold J., Molina T., Camilleri B.S., Le A. & Audouin T.J. 2000. Bone marrow manifestations of infections and systemic diseases observed in bone marrow trephine biopsy review. Histopathology. 37(3): 199-211.
Hanson J.A., Papageorges M., Girard E., Menard M. & Hebert P. 2001. Ultrasonographic Appearance of Splenic Disease in 101 Cats. Veterinary Radiology & Ultrasound. 42(5): 441-445.
Hartmann K. 2012. Clinical aspects of feline retroviruses: a review. Viruses. 4(11): 2684-2710.
Hoff B., Lumsden J. H. & Valli V.E. 1991. An appraisal of bone marrow biopsy in assessment of sick dogs. Canadian Journal of Comparative Medicine. 49(1): 34-42.
Jain N.C., Blue J.T., Grindem C.B., HarveyJ.H., Kociba G.J., Krehbiel J., Latimer K.S., Thrall R.R.M.A. & Zinkl J.G. 1991. Proposed criteria for classification of acute myeloid leukemia in dogs and cats. Veterinary Clinical Pathology. 20(3): 63-82.
Levy J., Crawford C., Hartmann K., Hofmann-Lehmann R., Little S., Sundahl E. & Thayer V. 2008. American Association of Feline Practitioners' feline retrovirus management guidelines. Journal of Feline Medicine and Surgery. 10 (3): 300-316.
Lutz H., Addie D., Belák S., Baralon C.B., Egberink H., Frymus T., Jones T.G., Hartmann K., Hosie M.J., Lloret A., Marsilio F, Pennisi M.G., Radford A.D, Thiry E., Truyen U. & Horz M.C. 2009. Feline leukaemia. ABCD guidelines on prevention and management. Journal of Feline Medicine and Surgery. 11(7): 565-574.
Müller D.C.M., Pippi N.L., Basso P.C., Olsson D.C., Santos Júnior E.B. & Guerra A.C.O. 2009. Técnicas e sítios de coleta de medula óssea em cães e gatos. Ciência Rural. 39(7): 2243-2251.
Raza U., Mundle S., Iftikhar U., Gregory S., Marcus B., Khan Z., Alvi S., Shetty S., Dameron V. & Wright V. 1995. Simultaneous assessment of cell kinetics and programmed cell death in bone marrow biopsies of myelodysplastics reveals extensive apoptosis as the probable basis for ineffective hematopoiesis. American Journal of Hematology. 48(3): 143-154.
Rizzi T.E., Clinkenbeard K.D. & Meinkoth J.H. 2010. Normal Hematology of the Cat. In: Weiss D.J. & Wardrop K.J. (Eds). Schalm's Veterinary Hematology. Ames: Blackwell Publishing Ltda., pp.811-819.
Stacy N. I. & Harvey J.W. 2017. Bone Marrow Aspirate Evaluation. The Veterinary Clinics of North America. Small Animal Practice. 47(1): 31-52.
Suzuki S., Ogino N., Mitsui I., Ito H. & Kariya T. 2021. Anti-CD71 antibody immunohistochemistry in the diagnosis of acute myeloid leukemia, subtype acute erythroid leukemia with erythroid dominance (AML M6-Er), in a retrovirus-negative cat. Journal of Veterinary Diagnostic Investigation. 33(1): 87-94.
SwerdlowS.H., Campo E., Pileri S.A., Harris N.L., Stein H., Siebert R., Advani R., Ghielmini M., Salles G. A., Zelenetz A. & Jaffe E.S. 2016. The 2016 revision of the World Health Organization classification of lymphoid neoplasms. Blood. 127(20): 2375-2390.
Tagawa M., Shimbo G., Watanabe K., Horiuchi N., Kobayashi Y., Maezawa M., Matsumoto K. & Miyahara K. 2020. Acute monoblastic leukemia in a feline leukemia virus-negative cat. The Journal of Veterinary Medical Science. 82 (7): 1000-1005.
Takahira R.K. 2009. Leukemia, Diagnosis and treatment. In: Proceedings of the 34th World Small Animal Veterinary Congress (São Paulo, Brazil). pp.21-24.
Tarrant J.M., Stokol T.S., Blue J. T., McDonough S.M. & Farrell P. 2001. Diagnosis of chronic myelogenous leukemia in a dog using morphologic, cytochemical, and flow cytometric techniques. Veterinary Clinical Pathology. 30 (1): 19-24.
Tochetto C., Souza T.M., Barros C.S.L., Rafael A. & Fighera R.A. 2011. Aspectos epidemiológicos, clínicos, hematológicos e anatomopatológicos da leucemia eritroide aguda (LMA M6) em gatos. Pesquisa Veterinária Brasileira. 31(7): 610-619
Walter M.J., Shen D., Larson D.E., Shao J., Koboldt D.C., Chen K., McLellan M.D., Dooling D., Abbott R., Fulton R., Magrini V., Schmidt H., Kalicki-Veizer J., O'Laughlin M., Fan X., Grillot M., Witowski S., Heath S., Frater J.L., Tomasson W.E.M., Westervelt P., DiPersio J.F., Link D.C., Mardis E.R., Ley T.J., Richard K. Wilson R.K. & Graubert T.A. 2012. Clonal Architecture of Secondary Acute Myeloid Leukemia. New England Journal of Medicine. 366(12): 1090-1098.
Wood B.L. 2007. Myeloid Malignancies: Myelodysplastic Syndromes, Myeloproliferative Disorders, and Acute Myeloid Leukemia. Clinics in Laboratory Medicine. 27(3): 551-575.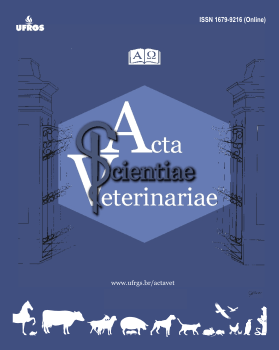 Additional Files
How to Cite
Silva, T. de P., Zanfagnini, L. G., de Oliveira, A. C., Ribeiro, D. C., de Oliveira, L. G., Silva, P. R. R., Messias, C. T., & Pacheco, A. D. (2022). Myelodysplastic Syndrome Progression to Acute Myeloid Leukemia in a Cat FeLV Seroreactive . Acta Scientiae Veterinariae, 50. https://doi.org/10.22456/1679-9216.122458
License
Copyright (c) 2022 Tatiane de Paula Silva, Leticia Gomes Zanfagnini, Alana Cristina de Oliveira, Diefrey Campos Ribeiro, Leticia Gonçalves de Oliveira, Paulo Ricardo Rosa Silva, Cassio Toledo Messias, Acácio Duarte Pacheco
This work is licensed under a Creative Commons Attribution 4.0 International License.
This journal provides open access to all of its content on the principle that making research freely available to the public supports a greater global exchange of knowledge. Such access is associated with increased readership and increased citation of an author's work. For more information on this approach, see the Public Knowledge Project and Directory of Open Access Journals.
We define open access journals as journals that use a funding model that does not charge readers or their institutions for access. From the BOAI definition of "open access" we take the right of users to "read, download, copy, distribute, print, search, or link to the full texts of these articles" as mandatory for a journal to be included in the directory.
La Red y Portal Iberoamericano de Revistas Científicas de Veterinaria de Libre Acceso reúne a las principales publicaciones científicas editadas en España, Portugal, Latino América y otros países del ámbito latino