Equine Colic Syndrome Induced by the Ingestion of Sugarcane
Abstract
Background: Equine colic syndrome comprises numerous conditions associated with abdominal pain in horses. Impaction, a common cause of this manifestation, is strongly related to these animals' diet. Highly fibrous diets such as sugarcane can predispose horses to colic. The clinical condition can be worsened by fermentative processes, which lead to dysbiosis, circulatory disorders and even endotoxemia. The aim of this study was to report 4 cases of colic syndrome among 8 horses that underwent an experiment to adapt them to a sugarcane-based diet, and to correlate the animals' clinical conditions to the forage they ingested.
Cases: Eight male castrated Mangalarga Marchador horses, between 5.5 and 7 years old, were subjected to an experiment to test the feasibility of sugarcane as forage. Four of these horses were taken to the Large Animal Veterinary Hospital (HVGA) of the Federal Rural University of Rio de Janeiro for treatment of abdominal signs of discomfort a few days after the exclusive consumption of sugarcane, in a proportion of 1.75% of live weight in dry matter. The animals' symptoms ranged from behavioral signs indicative of pain to changes in vital parameters and structure of the feces, as well as changes revealed by transrectal palpation. Three of the 4 cases presented impaction in the small colon, and 1 of the horses also presented impaction in the right dorsal colon and rostral displacement of the pelvic flexure, with accumulation of contents in the right ventral colon and sternal flexure. Two of the cases were treated medically, while the other 2 required surgical intervention. The clinical condition of all the patients evolved favorably and they were discharged between 2 and 18 days.
Discussion: Colic originating in the digestive system is a syndrome strongly associated with management, especially with respect to confinement, nutrition, and parasite control. During the experiment, 4 of the 8 horses fed with sugarcane presented with colic syndrome. The low quality of sugarcane fiber is due to the high degree of lignification of the plant cell wall, which favors accumulation of ingesta. The poor digestibility and sweet taste of this roughage favor increased consumption. Furthermore, its high sucrose content, associated with an increased rate of passage in the small intestine, alters the intestinal microbiome, and hence, the fermentation byproducts and pH of the ingesta. High intestinal content, allied to longer retention times in the colon and activation of the renin-angiotensin-aldosterone system, promote greater dryness of the ingesta, predisposing the occurrence of impactions in the most distal portion of the large intestine. Intestinal distension and mesenteric traction caused by the accumulation of contents and gases trigger pain, which can worsen due to displacement of the large colon. Small colon impaction, which is easily identified by transrectal palpation, evolves gradually and its treatment, both clinical and surgical, tends to have a favorable prognosis. The need for alternative food sources for horses is a growing demand; however, sugarcane as an exclusive roughage has been shown to be unsafe for horses. The low quality of the fiber and the high sucrose content of this forage can alter the digestive physiology of horses through changes in the passage rate, microbiome and motility of digesta, predisposing them to intestinal dysfunction, ingesta compaction and displacement of the large colon.
Keywords: horse, acute abdomen, nutrition, diet, forage, digestibility, gastrointestinal disease.
Título: Síndrome cólica em equinos induzida por ingestão de cana de açúcar.
Descritores: cavalo, abdômen agudo, nutrição, dieta, foragem, digestibilidade, doença gastrointestinal.
Downloads
Download data is not yet available.
References
Blikslager A.T. 2019. Colic prevention to avoid colic surgery: a surgeon's perspective. Journal of Equine Veterinary Science. 76: 1-5.
Blikslager A.T. 2017. Pathophysiology of gastrointestinal obstruction and strangulation. In: Blikslager A.T., White II N.A., Moore J.N. & Mair T.S. (Eds). The Equine Acute Abdomen. 3rd edn. Hoboken: John Wiley & Sons, pp.102-118.
Carvalho M.V., Rodrigues P.H.M., Lima M.L.P., Anjos I.A., Landell M.G.A., Santos M.V. & Prada e Silva L.F. 2010. Chemical composition and digestibility of sugarcane harvested at two periods of the year. Brazilian Journal of Veterinary Research and Animal Science. 47(4): 298-306. DOI: 10.11606/issn.1678-4456.bjvras.2010.26829.
Clarke L.L., Roberts M.C. & Argenzio R.A. 1990. Feeding and digestive problems in horses. Physiologic responses to a concentrated meal. Veterinary Clinics of North America: Equine Practice. 6(2): 433-450. DOI: 10.1016/s0749-0739(17)30550-3.
Clauss M., Schiele K., Ortmann S., Fritz J., Codron D., Hummel J. & Kienzle E. 2014. The effect of very low food intake on digestive physiology and forage digestibility in horses. Journal of Animal Physiology and Animal Nutrition. 98(1): 107-118. DOI: 10.1111/jpn.12053.
Cook V.L. & Hassel D.M. 2014. Evaluation of the colic in horses: decision for referral. Veterinary Clinics: Equine Practice. 30(2): 383-398. DOI: 10.1016/j.cveq.2014.04.001.
Cruz V.A. 2020. Inclusão de diferentes materiais genéticos de Cana de-açúcar (Saccharum officinarum) na alimentação de equinos. 118f. Seropédica, RJ. Dissertação (Mestrado em Zootecnia) - Programa de Pós-Graduação em Zootecnia, Universidade Federal Rural do Rio de Janeiro.
Dabareiner R.M., White N.A. & Donaldson L.L. 2001. Effects of intraluminal distention and decompression on microvascular permeability and hemodynamics of the equine jejunum. American Journal of Veterinary Research. 62(2): 225-236. DOI: 10.2460/ajvr.2001.62.225.
Daly K., Proudman C.J., Duncan S.H., Flint H.J., Dyer J. & Shirazi-Beechey S.P. 2012. Alterations in microbiota and fermentation products in equine large intestine in response to dietary variation and intestinal disease. British Journal of Nutrition. 107: 989-995. DOI: 10.1017/S0007114511003825.
Desrochers A. & White N.A. 2017. Diagnostic approach to colic. In: Blikslager A.T., White II N.A., Moore J.N. & Mair T.S. (Eds). The Equine Acute Abdomen. 3rd edn. Hoboken: John Wiley & Sons, pp.223-262.
Dural N.H. & Hines A.L. 1993. Adsorption of water on cereal-bread type dietary fibers. Journal of Food Engineering. 20(1): 17-43. DOI: 10.1016/0260-8774(93)90017-E.
Dyer J., Fernandez-Castaño Merediz E., Salmon K.S., Proudman C.J., Edwards G.B. & Shirazi-Beechey S.P. 2002. Molecular characterisation of carbohydrate digestion and absorption in equine small intestine. Equine Veterinary Journal. 34(4): 349-358. DOI: 10.2746/042516402776249209.
Edouard N., Fleurance G., Martin-Rosset W., Duncan P., Dulphy J.P., Grange S., Baumont R., Dubroeucq H., Pérez-Barbería F.J. & Gordon I.J. 2008. Voluntary intake and digestibility in horses: effect of forage quality with emphasis on individual variability. Animal: An International Journal of Animal Bioscience. 2(10): 1526-1533. DOI: 10.1017/S1751731108002760.
Frederico L.M., Jones S.L. & Blikslager A.T. 2006. Predisposing factors for small colon impaction in horses and outcome of medical and surgical treatment: 44 cases (1999-2004). Journal of the American Veterinary Medical Association. 229(10): 1612-1616. DOI: 10.2460/javma.229.10.1612.
Hansen T.L., Chizek E.L., Zugay O.K., Miller J.M., Bobel J.M., Chouinard J.W., Adkin A.M., Skurupey L.A. & Warren L.K. 2019. Digestibility and retention time of coastal bermudagrass (Cynodon dactylon) hay by horses. Animals. 9(12): 1148. DOI: 10.3390/ani9121148.
Hardy J. 2017. Specific diseases of the ascending colon. In: Blikslager A.T., White II N.A., Moore J.N. & Mair T.S. (Eds). The Equine Acute Abdomen. 3rd edn. Hoboken: John Wiley & Sons, pp.748-774.
Hatfield R. & Fukushima R.S. 2005. Can lignin be accurately measured? Crop Science. 3(45): 832-839. DOI: 10.2135/cropsci2004.0238.
Lewis L.D. 2005. Water, energy, protein, carbohydrates, and fats for horses. In: Lewis L.D. (Ed). Feeding and Care of the Horse. 2nd edn. Ames: Blackwell, pp.3-18.
Lopes M.A.F. & Johnson P.J. 2017. Effects of feeding on equine gastrointestinal function or physiology. In: Blikslager A.T., White II N.A., Moore J.N. & Mair T.S. (Eds). The Equine Acute Abdomen. 3rd edn. Hoboken: John Wiley & Sons, pp.66-77.
Mair T.S. 2017. Medical management of gastrointestinal diseases. In: Blikslager A.T., White II N.A., Moore J.N. & Mair T.S. (Eds). The Equine Acute Abdomen. 3rd edn. Hoboken: John Wiley & Sons, pp.313-330.
Mello S.Q.S., França A.F.S., Lima M.L.M., Ribeiro D.S., Miyagi E.S. & Reis J.G. 2006. Parâmetros do valor nutritivo de nove variedades de cana-de-açúcar cultivadas sob irrigação. Ciência Animal Brasileira. 7(4): 373-380.
Pagan J.D. 2009. Forages: the foundation for equine gastrointestinal health. In: Pagan J.D. (Ed). Advances in Equine Nutrition IV. Nottingham: Nottingham University Press, pp.17-24.
Pereira R.V.G. 2014. Cana-de-açúcar in natura ou hidrolisada com óxido de cálcio para equinos adultos estabulados. 2014. 183f. Beli Horizonte, MG. Tese (Doutorado em Zootecnia) - Programa de Pós-Graduação em Zootecnia da Escola de Veterinária da Universidade Federal de Minas Gerais.
Peroni J.F. 2017. Diseases of the Descending Colon. In: Blikslager A.T., White II N.A., Moore J.N. & Mair T.S. (Eds). The Equine Acute Abdomen. 3rd edn. Hoboken: John Wiley & Sons, pp.775-782.
Plummer A.E. 2009. Impactions of the small and large intestines. The Veterinary Clinics of North America: Equine Practice. 25(2): 317-327. DOI: 10.1016/j.cveq.2009.04.002.
Rodrigues A.A. & Esteves S.N. 1992. Cana-de-açúcar e uréia para alimentação de bovinos na época da seca. Empresa Brasileira de Pesquisa Agropecuária - Unidade de Execução de Pesquisa de Âmbito Estadual de São Carlos. São Carlos. (Embrapa-UEPAE - Circular Técnica, 6). 30p.
Sanchez L.C. 2018. Disorders of the gastrointestinal system. In: Reed S.M., Bayly W.M. & Sellon D.C. (Eds.). Equine Internal Medicine. 4th edn. St. Louis: Elsevier, pp.709-842.
Schumacher J. & Mair T.S. 2002. Small colon obstructions in the mature horse. Equine Veterinary Education. 14(1): 19-28. DOI: 10.1111/j.2042-3292.2002.tb00132.x.
Shirazi-Beechey S.P. 2008. Molecular insights into dietary induced colic in the horse. Equine Veterinary Journal. 40(4): 414-421. DOI: 10.2746/042516408X314075.
Warzecha C.M., Coverdale J.A., Janecka J.E., Leatherwood J.L., Pinchak W.E, Wickersham T.A. & McCann J.C. 2017. Influence of short-term dietary starch inclusion on the equine cecal microbiome. Journal of Animal Science. 95(11): 5077-5090. DOI: 10.2527/jas2017.1754.
White II N.A. & Dabareiner R.M. 1997. Treatment of impaction colics. Veterinary Clinics of North America: Equine Practice. 13(2): 243-259. DOI: 10.1016/S0749-0739(17)30239-0.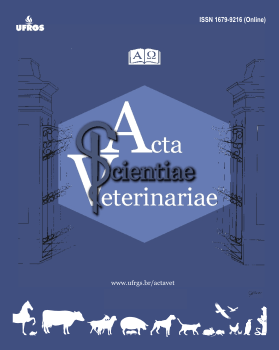 Additional Files
How to Cite
Albuquerque, C. V. de, Lima, L. R. de, Cruz, V. A., Silva, V. P., Coelho, C. M. M., Souza, B. G. de, Freitas, M. S. de, & Botteon, P. de T. L. (2022). Equine Colic Syndrome Induced by the Ingestion of Sugarcane. Acta Scientiae Veterinariae, 50. https://doi.org/10.22456/1679-9216.122289
License
Copyright (c) 2022 Celina Vieira de Albuquerque, Leonardo Rodrigues de Lima, Vinicius Alves Cruz, Vinicius Pimentel Silva, Cássia Maria Molinaro Coelho, Bruno Gonçalves de Souza, Marina Sereno de Freitas, Paulo de Tarso Landgraf Botteon
This work is licensed under a Creative Commons Attribution 4.0 International License.
This journal provides open access to all of its content on the principle that making research freely available to the public supports a greater global exchange of knowledge. Such access is associated with increased readership and increased citation of an author's work. For more information on this approach, see the Public Knowledge Project and Directory of Open Access Journals.
We define open access journals as journals that use a funding model that does not charge readers or their institutions for access. From the BOAI definition of "open access" we take the right of users to "read, download, copy, distribute, print, search, or link to the full texts of these articles" as mandatory for a journal to be included in the directory.
La Red y Portal Iberoamericano de Revistas Científicas de Veterinaria de Libre Acceso reúne a las principales publicaciones científicas editadas en España, Portugal, Latino América y otros países del ámbito latino