Equine Sarcoids - Treatment with a Combination of Acyclovir and Surgical Excision
Abstract
Background: Sarcoids are the most frequent skin tumors among horses, causing serious lesions due to their different shapes, sizes, degree of invasiveness and distribution on the body. The pathogenesis of sarcoids is multifactorial, with genetic, viral and environmental involvement, making their treatment complex. The aggressiveness and high rate of recurrence of sarcoids makes it difficult to use an effective treatment, which is why there are several therapeutic routes described in the literature. Aiming to describe and expand sarcoid treatments, this paper reports on the use of acyclovir in the treatment of this type of tumor.
Cases: Four horses sent to the Large Animal Veterinary Hospital of the Federal University of Lavras - UFLA were diagnosed and treated for sarcoids. Case 1. Lesions on the right ear, region of the masseter muscle of the right side of the face, neck, vulva and medial aspect of the left pelvic limb. Case 2. Lesion in the left groin region. Case 3. Lesions on the face, masseter muscle region on the left side, mandibular region and right ear pinna. Case 4. Lesion in the lateral region of the left pelvic limb, close to the tarsometatarsal joint. All horses had a diagnosis of sarcoid, which was confirmed by histopathological examination of material collected after surgical excision. Macroscopically, the neoplastic lesions were classified as fibroblastic, verrucous and nodular. The tumors exhibited irregular surfaces, keratinization, and a firm consistency. Their surfaces were alopecic, slightly rough, some of them were ulcerated, and their color ranged from greyish to rosy and reddish. All the tumor masses were surgically excised from the 4 horses, and one sarcoid was treated by thermal cauterization with liquid nitrogen due to the lesion's depth and size.  In most cases, the sarcoid removal sites were closed with sutures. Only 2 lesions were not sutured due to the impossibility of bringing the edges of tissue close together, or due to proximity to the tarsometatarsal joint. The surgical wounds were cleaned twice a day with sterile saline solution followed by the topical application of Acyclovir. One of the animals received complementary therapy with Cimetidine.
Discussion: The equines recovered completely from their sarcoid treatment, and no recurrences were reported a year later. Thus, the combination of treatments employed for the extirpation of sarcoids proved to have greater chances of success. First, all the tumors were surgically removed with the largest possible margins of safety in order to ensure the elimination of neoplastic cells. In the postoperative period, all the animals received topical treatment of the lesions with acyclovir after surgical resection of the tumors. The drug aided the complete healing of post-surgical wounds, and healing time varied according to the size and depth of the lesion. One tumor was treated with liquid nitrogen after surgical excision of the sarcoid. Another horse was treated with cimetidine over a 3-month period after surgical excision of the neoplasm in order to reduce the sarcoid and prevent its evolution. Surgical excision of the sarcoid associated with topical application of acyclovir ointment showed satisfactory results. Moreover, the combination of surgical excision and administration of liquid nitrogen on the lesion and topical application of acyclovir ointment in the postoperative period also provided good results. Given the complexity of sarcoid treatment and the high recurrence rate of these tumors, the use of combined treatments should be taken into account.
Keywords: horses, skin tumor, cutaneous neoplasm, therapy.
Título: Sarcoide em equinos - tratamento com associação de Aciclovir e excição cirúrgica
Descritores: equinos, tumor de pele, neoplasia cutânea, terapia.
Downloads
Download data is not yet available.
References
Alberton L.R., Belletini S.T., Pachaly J.R. & Silva Jr. J.D.A. 2012. Uso perilesional de clorobutanol no tratamento de sarcóide equino: relato de 11 casos. Revista Acadêmica: Ciências Agrárias e Ambientais. 10(10): 147-152.
Alcântara B.K., Alfieri A.A., Headley S.A., Rodrigues W.B., Otonel R.A.A., Lunardi M. & Alfieri A.F. 2015. Molecular characterization of bovine Deltapapillomavirus (BPV1, 2, and 13) DNA in equine sarcoids. Pesquisa Veterinária Brasileira. 35(4): 431-436.
Bergvall K.E. 2013. Sarcoids. Veterinary Clinics Equine. 29(3): 657-671.
Bogaert L., Martens A., Depoorter P. & Gasthuys F. 2008. Equine sarcoids - Part 2: Current treatment modalities. Vlaams Diergeneeskundig Tijdschrift. 77(2): 62-67.
Brostrom H., Fahlbrink E., Dubath M.L. & Lazary S. 1988. Association Between Equine Leucocyte Antigens (ELA) and Equine Sarcoid Tumors in the Population of Swedish Halfbreds and Some of Their Families. Veterinary Immunology and Immunopathology. 19(3-4): 215-223.
Carmona J.M., Aguilar F.G. & Manso N.L. 2001. Tratamiento cirioquirúrgico Del sarcóide equino. Revista Científica de Produção Animal. 13(2): 65-66.
Carntanjen B., Jordan P. & Lepage O.M. 1997. Carbon dioxide laser as a surgical instrument for sarcoid therapy – A retrospective study on 60 cases. Canadian Veterinary Journal. 38(12): 773-776.
Fernandes M.A.R., Andrade A.L., Luvizoto M.C.R., Pierô J.R. & Ciarlini L.D.R.P. 2010. Radioterapia em Medicina Veterinária: Princípios e perspectivas. Revista Brasileira de Física Médica. 4(2): 11-14.
Foy J.M., Rashmir-Raven A.M. & Brashier M.K. 2002. Common equine skin tumors. Compendium on Continuing Education for the Practicing Veterinarian. 24(3): 242-254.
Fretz P.B. & Barber S.M. 1980. Prospective analysis of cryosurgery as the sole treatment for equine sarcoids. Veterinary Clinics of North America. 10(4): 847-859.
Goetz T.E., Ogilvie G.K., Keegan K.G. & Johnson P.J. 1990. Cimetidine for treatment of melanomas in three horses. Journal of American Veterinary Medical Association. 1996(3): 449-452.
Haspeslagh M., Garcia M.J., Vlaminck L.E.M. & Martens A.M. 2017. Topical use of 5% acyclovir cream for the treatment of occult and verrucous equine sarcoids: a double-blinded placebo-controlled study. BMC Veterinary Research. 13(1): 296.
Haspeslagh M., Vlaminck L.E.M. & Martens A.M. 2016. Treatment of sarcoids in equids: 230 cases (2008-2013). Journal of the American Veterinary Medical Association. 249(3): 311-318.
Klein W.R., Bras G.E., Misdorp W., Steerenberg P.A., De Jong W.H., Tiesjema R.H. & Ruitenberg E.J. 1986. Equine sarcoid: BCG immunotherapy compared to cryosurgery in a prospective randomised clinical trial. Cancer Immunology, Immunotherapy. 21(2): 133-140.
Knottenbelt D.C. 2005. A suggested clinical classification for the equine sarcoid. Clinical Techniques in Equine Practice. 4(4): 278-295.
Knottenbelt D.C. 2019. The Equine Sarcoid Why Are There so Many Treatment Options? Veterinary Clinics of North America: Equine Practice. 35(2): 243-262.
Knottenbelt D.C. & Kelly D.F. 2000. The diagnosis and treatment of periorbital sarcoid in the horse: 445 cases from 1974 to 1999. Veterinary Ophthalmology. 3(2-3): 169-191.
Laus F., Cerquetella M., Paggi E., Ippedico G., Argentieri M., Castellano G., Spaterna A. & Tesei B. 2010. Evaluation of cimetidine as a therapy for dermal melanomatosis in grey horse. Israel Journal of Veterinary Medicine. 65(2): 48-52.
Martens A., De Moor A., Demeulemeester J. & Peelman L. 2001. Polymerase chain reaction analysis of the surgical margins of equine sarcoids for bovine papilloma virus DNA. Veterinary Surgery. 30(5): 460-467.
Nasir L. & Campo M.S. 2008. Papilomavírus bovino: seu papel na etiologia dos tumores cutâneos de bovinos e equídeos. Veterinary Dermatology. 19(5): 243-254.
Stadler S., Kainzbauer C., Haralambus R., Brehm W., Hainisch E. & Brandt S. 2011. Successful treatment of equine sarcoids by topical acyclovir application. Veterinary Record. 168(7): 187.
Tamzali Y., Teissie J. & Rols M.P. 2003. First horse sarcoid treatment by electrochemotherapy: preliminary experimental results. In: 49th Annual Convention of the American Association of Equine Practitioners (New Orleans, USA). pp.381-384.
Théon A.P., Pusterla N., Magdesian K.G., Wittenburg L., Marmulak T. & Wilson W.D. 2013. A pilot phase II study of the efficacy and biosafety of doxorubicin chemotherapy in tumor-bearing equidae. Journal of Veterinary Internal Medicine. 27 (6): 1581-1588.
Weyers W. 1997. Excision of melanoma in historical perspective: triumph of irrationality for nearly a century. Dermatopathology Practical & Conceptual. 3(3): 238-246.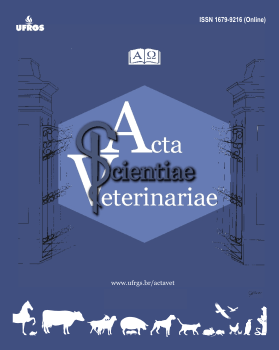 Additional Files
How to Cite
Rosa, M. C. de B., Campos, M. E. de S. T., Goulart, R. L. L., Toma, H. S., Pereira, R. N., & Raymundo, D. L. (2022). Equine Sarcoids - Treatment with a Combination of Acyclovir and Surgical Excision. Acta Scientiae Veterinariae, 50. https://doi.org/10.22456/1679-9216.122200
License
Copyright (c) 2022 Matheus Camargos de Britto Rosa, Maria Eduarda de Sousa Teixeira Campos, Hugo Shisei Toma, Rodrigo Norberto Pereira, Djeison Lutier Raymundo
This work is licensed under a Creative Commons Attribution 4.0 International License.
This journal provides open access to all of its content on the principle that making research freely available to the public supports a greater global exchange of knowledge. Such access is associated with increased readership and increased citation of an author's work. For more information on this approach, see the Public Knowledge Project and Directory of Open Access Journals.
We define open access journals as journals that use a funding model that does not charge readers or their institutions for access. From the BOAI definition of "open access" we take the right of users to "read, download, copy, distribute, print, search, or link to the full texts of these articles" as mandatory for a journal to be included in the directory.
La Red y Portal Iberoamericano de Revistas Científicas de Veterinaria de Libre Acceso reúne a las principales publicaciones científicas editadas en España, Portugal, Latino América y otros países del ámbito latino