Juvenile Panhypopituitarism in a Dog – What are the Therapeutic Challenges?
Abstract
Background: Juvenile panhypopituitarism is an endocrinopathy that affects young dogs and must be differentiated from other causes of height disorders, as one could have a deficiency of one or more adenohypophysis hormones, besides growth hormone. Diagnosis consists of excluding endocrine and non-endocrine causes. Treatment requires administration of heterologous porcine growth hormone or progestins, as well as supplementing other hormones that are deficient in the circulation. The prognosis for these patients tends to be unfavorable and they have a shorter life expectancy. The present case aimed to report the therapeutic challenges in a dog diagnosed with juvenile panhypopituitarism.
Case: This study presents the case of a 6-month-old crossbred Labrador/Brazilian Fila dog, not neutered, 6.7 kg of body weight (body condition score 5/9), with a growth disorder and persistence of the puppy coat, when compared to other members of the same litter. During inspection, it was possible to observe an undersized dog and soft puppy coat, besides no bone irregularities or joint tenderness was noted. The other physical examination parameters were within the normal range for the species. No changes in complete blood count and only increases in urea, cholesterol and alkaline phosphatase activity were observed. Thyroid and abdominal ultrasound (US) examination did not reveal any remarkable changes. After serum dosage of insulin-like growth factor, thyroxine, thyrostimulating hormone, and cortisol, the patient was diagnosed with juvenile panhypopituitarism and underwent therapy with medroxyprogesterone and thyroid hormone supplementation. Monitoring was instituted at intervals of 3, 6, and 12 weeks, and currently every 3 or 4 months and the IGF-1 values normalized after 6 months with. After 8 months of therapy, the patient had good body growth and bone mineralization compared to the time of diagnosis. However, skeletal development was completed only 12 months after hormone replacement, accompanied by the presence of vertebral osteophytes and coxofemoral osteoarticular alterations. Considering chronic use of progestins, ovariosalpingohysterectomy (OSH) was recommended, but for personal reasons, the owners chose to do not submit her to surgery. After 18 months of treatment, the dog starts to exhibit prostration, selective appetite, and increased abdominal volume. After imaging exam, she was forwarded for OSH, due to consistent findings of pyometra. Subsequently, even the supervision of possible comorbidities involved in the chronic use of progestins was maintained at half-yearly intervals, the bitch returned to the service with skin thickening, increased limb volume, and macroglossia after 60 months of therapy. At this point IGF-1 values were higher when compared to the previous measurements and the application of medroxyprogesterone was suspended. Its supplementation was reintroduced only after 8 months when IGF-1 was significantly reduced. To date, the patient is close to 6 years of age and with a good quality of life.
Discussion: The greatest therapeutic challenge for these patients involves dealing with the adverse effects of progestins, mainly related to reproductive disorders and alopecia at the application site, as well as maintaining adequate hormone replacement in order to avoid hypersomatotropism. Although longevity is lower in these individuals, the patient in this report has achieved six years of age and has had an excellent quality of life so far.
Keywords: adenohypophysis, growth hormone, pituitary dwarfism, thyrostimulating hormone.
Downloads
Download data is not yet available.
References
Ascacio-Martínez J.A. & Barrera-Saldaña H.A. 1994. A dog growth hormone cDNA codes for a mature protein identical to pig growth hormone. Gene. 143(2): 277-280. DOI: 10.1016/0378-1119(94)90110-4
Behrend E.N. 2006. Update on drugs used to treat endocrine diseases in small animals. Veterinary Clinics of North America: Small Animal Practice. 36(5): 1087-1105. DOI: 10.1016/j.cvsm.2006.05.007
Behrend E.N., Kooistra H.S., Nelson R., Reusch C.E. & Scott-Moncrieff J.C. 2013. Diagnosis of spontaneous canine hyperadrenocorticism: 2012 ACVIM Consensus Statement (Small Animal). Journal of Veterinary Internal Medicine. 27(6): 1292-1304. DOI: 10.1111/jvim.12192
Bojanić K., Acke E. & Jones B.R. 2011. Congenital hypothyroidism of dogs and cats: A review. New Zealand Veterinary Journal. 59(3): 115-122. DOI: 10.1080/00480169.2011.567964
Cañete M.D., Valle-Martos R., Martos R., Cañete R., Valle M. & Jiménez-Reina L. 2019. Effects of growth hormone therapy on metabolic parameters, adipokine and endothelial dysfunction in prepuberal children. Acta Paediatrica, International Journal of Paediatrics. 108(11): 2027-2033. DOI: 10.1111/apa.14849
Cho K.D., Kang J.H., Noh S.J., Chang D., Na K.J., Jeung E.B. & Yang M.P. 2013. GH deficiency in a Dalmatian puppy with megaesophagus. Journal of the American Animal Hospital Association. 49(6): 407-411. DOI: 10.5326/JAAHA-MS-5935
Feld S. & Hirschberg R. 1996. Growth hormone, the insulin-like growth factor system, and the kidney. Endocrine Reviews. 17(5): 423-480. DOI: 10.1210/edrv-17-5-423
Fukunaga K., Imachi H., Lyu J., Dong T., Sato S., Ibata T., Kobayashi T., Yoshimoto T., Yonezaki K., Matsunaga T. & Murao K. 2018. IGF-1 suppresses cholesterol accumulation in the liver of growth hormone-deficient mice via the activation of ABCA1. American Journal of Physiology-Endocrinology and Metabolism. 315(6): E1232-1241. DOI: 10.1152/ajpendo.00134.2018
Greco D.S. 2001. Diagnosis and treatment of juvenile endocrine disorders in puppies and kittens. Veterinary Clinics of North America: Small Animal Practice. 31(2): 401-409. DOI: 10.1016/S0195-5616(01)50212-0
Greco D.S. 2006. Pediatric endocrinology. Veterinary Clinics of North America: Small Animal Practice. 36(3): 549-556. DOI: 10.1016/j.cvsm.2005.12.005
Greco D.S. 2012. Pituitary deficiencies. Topics in Companion Animal Medicine. 27(1): 2-7. DOI: 10.1053/j.tcam.2012.04.002
Greco D.S., Feldman E.C., Peterson M.E., Turner J.L., Hodges C.M. & Shipman L.W. 1991. Congenital hypothyroid dwarfism in a family of Giant Schnauzers. Journal of Veterinary Internal Medicine. 5(2): 57-65. DOI: 10.1111/j.1939-1676.1991.tb00932.x
Greer K.A., Hughes L.M. & Masternak M.M. 2011. Connecting serum IGF-1, body size, and age in the domestic dog. Age (Dordr). 33(3): 475-483. DOI: 10.1007/s11357-010-9182-4
Hamann F., Kooistra H.S., Mol J.A., Gottschalk S., Bartels T. & Rijnberk A. 1999. Pituitary function and morphology in two German Shepherd dogs with congenital dwarfism. Veterinary Record. 144(23): 644-666. DOI: 10.1136/vr.144.23.644
Hanson J.M., Mol J.A., Leegwater P.A.J., Kooistra H.S. & Meij B.P. 2006. The leukemia inhibitory factor receptor gene is not involved in the etiology of pituitary dwarfism in German Shepherd dogs. Research in Veterinary Science. 81(3): 316-320. DOI: 10.1016/j.rvsc.2006.03.001
Knottenbelt C.M. & Herrtage M.E. 2002. Use of proligestone in the management of three German Shepherd dogs with pituitary dwarfism. Journal of Small Animal Practice. 43(4): 164-170. DOI: 10.1111/j.1748-5827.2002.tb00051.x
Kooistra H.S. 2017. Canine Growth Hormone Disorders. In: Ettinger S.J., Feldman E.C. & Côté E. (Eds). Textbook of Veterinary Internal Medicine. 8th edn. St. Louis: Elsevier, pp.4146-4156.
Kooistra H.S., Voorhout G., Mol J.A. & Rijnberk A. 2000. Combined pituitary hormone deficiency in German Shepherd dogs with dwarfism. Domestic Animal Endocrinology. 19(3): 177-190. DOI: 10.1016/s0739-7240(00)00074-6
Kooistra H.S., Voorhout G., Selman P.J. & Rijnberk A. 1998. Progestin-induced growth hormone (GH) production in the treatment of dogs with congenital GH deficiency. Domestic Animal Endocrinology. 15(2): 93-102. DOI: 10.1016/s0739-7240(97)00081-7
Mol J.A., van-Garderen E., Rutteman G.R. & Rijnberk A. 1996. New insights in the molecular mechanism of progestin-induced proliferation of mammary epithelium: Induction of the local biosynthesis of growth hormone (GH) in the mammary glands of dogs, cats and humans. The Journal of Steroid Biochemistry and Molecular Biology. 57(1-2): 67-71. DOI: 10.1016/0960-0760(95)00251-0
Muller GH. 1979. Pituitary dwarfism. Veterinary Clinics of North America: Small Animal Practice. 9(1): 41-48.
Ramsey I., Dennis R. & Herrtage M.E. 1999. Concurrent central diabetes insipidus and panhypopituitarism in a German shepherd dog. Journal of Small Animal Practice. 40(6): 271-274. DOI: 10.1111/j.1748-5827.1999.tb03078.x
Sande R.D., Alexander J.E., Spencer G.R., Padgett G.A. & Davis W.C. 1982. Dwarfism in Alaskan Malamutes. A disease resembling metaphyseal dysplasia in human beings. The American Journal of Pathology. 106(2): 224-236.
Voorbij A.M.W.Y., Meij B.P., van-Bruggen L.W.L., Grinwis G.C.M., Stassen Q.E.M. & Kooistra H.S. 2015. Atlanto-axial malformation and instability in dogs with pituitary dwarfism due to an LHX3 mutation. Journal of Veterinary Internal Medicine. 29(1): 207-213. DOI: 10.1111/jvim.12523
Yeliosof O. & M. Gangat. 2019. Diagnosis and management of hypopituitarism. Current Opinion in Pediatrics. 31(4): 531-536. DOI: 10.1097/MOP.0000000000000779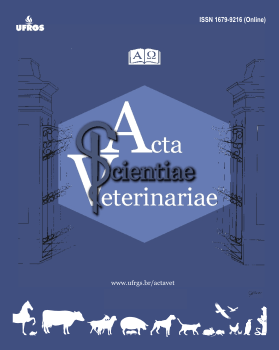 Additional Files
How to Cite
Vargas, A. M., Santos, A. L. S. dos, Gouvêa, F. N., Pennacchi, C. S., Crivellenti, L. Z., & Borin-Crivellenti, S. (2022). Juvenile Panhypopituitarism in a Dog – What are the Therapeutic Challenges?. Acta Scientiae Veterinariae, 50. https://doi.org/10.22456/1679-9216.122045
License
Copyright (c) 2022 Alessandra Martins Vargas, André Luís Soares dos Santos, Fernanda Nastri Gouvêa, Caio Santos Pennacchi, Leandro Zuccolotto Crivellenti, Sofia Borin-Crivellenti
This work is licensed under a Creative Commons Attribution 4.0 International License.
This journal provides open access to all of its content on the principle that making research freely available to the public supports a greater global exchange of knowledge. Such access is associated with increased readership and increased citation of an author's work. For more information on this approach, see the Public Knowledge Project and Directory of Open Access Journals.
We define open access journals as journals that use a funding model that does not charge readers or their institutions for access. From the BOAI definition of "open access" we take the right of users to "read, download, copy, distribute, print, search, or link to the full texts of these articles" as mandatory for a journal to be included in the directory.
La Red y Portal Iberoamericano de Revistas Científicas de Veterinaria de Libre Acceso reúne a las principales publicaciones científicas editadas en España, Portugal, Latino América y otros países del ámbito latino