Toxic Systemic Reaction after Bee Stings in a Bitch
Abstract
Background: Bee sting poisonings are common in dogs, and toxic systemic presentation may represent a life-threatening condition. Apis mellifera venom is a complex mixture of melitin, apamine, phospholipase, hyaluronidase and degranulating peptides, that causes local injury at the site of inoculation and multiple organ complications, including hemolysis, kidney injury, muscular damage, cardiovascular and respiratory complications. The present work reports a complete and detailed description of a dog's systemic toxic reaction to bee stings, including history, clinical signs, laboratory findings, emergency care and development, as well as possible association with later immunomediated arthritis.
Case: A 6-year-old female German Shepperd suffered multiple bee stings. First care was conducted by a veterinary at the site, where he only received promethazine, meloxicam and dexamethasone. After 24 h and significant progression of symptoms, the animal was forwarded to a specialized veterinary hospital. The patient was evaluated throughout 9 days, and presented intense edema, respiratory distress, tongue necrosis and grade II of acute kidney injury. Extensive laboratory exams were conducted throughout the hospitalization. Main laboratory findings included polycythemia, leukocytosis by neutrophilia and monocytosis, thrombocytopenia and azotemia. Urinalysis evidenced turbid aspect, dark yellow color and intense proteinuria, reinforcing kidney damage. Abdominal ultrasound examination identified blood clots in the bladder, and liver with reduced echogenicity and echotexture, suggesting acute inflammation. Therapy aimed to stabilize the patient, control kidney damage and avoid anaphylaxis. Treatment included intensive care support, promethazine, hydrocortisone, dexamethasone, dipyrone, methadone, metronidazole, ampicillin, clindamycin and tramadol. Following successful treatment, the animal presented immunomediated polyarthritis, possibly associated to both the poisoning and later diagnosed hemoparasitosis (both Erlichia and Babesia).
Discussion: Massive bee attacks can cause severe complications, however, data regarding emergency care records are scarce. Based on clinical signs and laboratory findings, the patient presented toxic systemic reaction, including grade II of acute kidney injury and significant cardiorespiratory distress. Another important complication was tongue necrosis, that demanded attention and special supportive care, including feeding tube and specific feed. Treatment also focused in reducing edema and control possible anaphylaxis, providing analgesia and antibiotic therapy. Laboratory findings have been previously described, with evidence of immune-mediated reaction. Follow-up consultations revealed normal parameters, and an unusual presentation of claudication. Investigation concluded that polyarthritis could be responsible for such finding and may be a result of the deposition of immunomediated complexes in the joints, due in this case to the bee poisoning and later positive diagnosis for both Erlichia and Babesia. Systemic reactions to bee stings are complex, and full clinical and laboratory profile aid in both the prognosis and treatment options. Special attention must be given to tongue damage and supportive care is essential for maintaining feeding conditions. Arthritis should be considered as possible complication, reinforcing the importance of follow-up consultations.
Keywords: bee attack, dog, envenomation, melittin; poisoning, phospholipase A2.
Downloads
Download data is not yet available.
References
Almeida R.A., Olivo T.E., Mendes R.P., Barraviera S.R., Souza L.R., Martins J.G., Hashimoto M., Fabris V.E., Ferreira Jr. R.S. & Barraviera B. 2011. Africanized honeybee stings: how to treat them. Revista da Sociedade Brasileira Medicina Tropical. 44(6): 755-761. DOI:10.1590/s0037-86822011000600020
Barbosa A.N., Ferreira Jr. R.S., Carvalho F.C.T., Schuelter-Trevisol F., Mendes M.B., Mendonça B.C., Batista J.N., Trevisol D.J., Boyer L., Chippaux J.P., Medolago M.B., Cassaro C.V., Carneiro M.T.R., Oliveira A.P.P., Pimenta D.C., Cunha L.E.R., Santos L.D. & Barraviera B. 2021. Single-arm, multicenter phase I/II clinical trial for the treatment of envenomings by massive africanized honey bee stings using the unique apilic antivenom. Frontiers in Immunology. 12: 860. DOI: 10.3389/fimmu.2021.653151
Calixto M.C., Triches K.M. & Calixto J.B. 2003. Analysis of the inflammatory response in the rat paw caused by the venom of Apis mellifera bee. Inflammation Research. 52(3): 132-139. DOI: 10.1007/s000110300026
Cowgill L. 2016. International Renal Interest Society, Grading of Acute Kidney Injury 1-9.[Fonte: http://www.iris-kidney.com/pdf/4_ldc-revised-grading-of-acute-kidney-injury.pdf.]
Cowell A.K., Cowell R.L., Tyler R.D. & Nieves M.A. 1991. Severe systemic reactions to Hymenoptera stings in three dogs. Journal of the American Veterinary Medical Association. 198(6): 1014-1016.
Ferreira Jr. R.S., Almeida R., Barraviera S.R.S. & Barraviera B. 2012. Historical perspective and human consequences of Africanized bee stings in the Americas. Journal of Toxicology and Environmental Health Part B. 15(2): 97-108. DOI: 10.1080/10937404.2012.645141
Ferreira Jr. R.S., Anderlini R.P., Sant'Anna O.A.B.E., Pimenta D.C., Orsi R.O. & Barraviera B. 2010. New nanostructured silica adjuvant (SBA-15) employed to produce antivenom in young sheep using Crotalus durissus terrificus and Apis mellifera venoms detoxified by cobalt-60. Journal of Toxicology and Environmental Health Part A. 73(13-14): 926-933. DOI: 10.1080/15287391003745069.
Ferreira Jr. R.S., Sciani J.M., Marques-Porto R., Lourenço Jr. A., Orsi R.O., Barraviera B. & Pimenta D.C. 2010. Africanized honey bee (Apis mellifera) venom profiling: Seasonal variation of melittin and phospholipase A2 levels. Toxicon. 56(3): 355-362. DOI: 10.1016/j.toxicon.2010.03.023
Fonteque J.H., Mendes R.P., Souza A.F., Granella M.C.S., Schade J., Casa M.S., Yonezawa L.A. & Volpato J. 2018. Systemic toxic reaction due to multiple honeybee stings in equine: Case report. Arquivo Brasileiro de Medicina Veterinária e Zootecnia. 70(3): 767-772. DOI: 10.1590/1678-4162-10012
Grisotto L.S.D., Mendes G.E., Castro I., Baptista M.A.S.F., Alves V.S. & Burdmann E.A. 2006. Mechanisms of bee venom-induced acute renal failure. Toxicon. 48(1): 44-54. DOI:10.1016/j.toxicon.2006.04.016
Habermann E. 1972. Bee and Wasp Venoms: The biochemistry and pharmacology of their peptides and enzymes are reviewed. Science. 77(4046): 314-322. DOI:10.1126/science.177.4046.314
Johnson K.C. & Mackin A. 2012. Canine immune-mediated polyarthritis: part 1: pathophysiology. Journal of the American Animal Hospital Association. 48(1): 12-17. DOI: 10.5326/JAAHA-MS-5744.
Mingomataj E.Ç., Bakiri A.H., Ibranji A. & Sturm G.J. 2014. Unusual Reactions to Hymenoptera Stings: What Should we Keep in Mind? Clinical Reviews in Allergy and Immunology. 47(1): 91-99. DOI: 10.1007/s12016-014-8434-y
Muraro A., Roberts G., Worm M., Bilò M.B., Brockow K., Rivas M.F., Santos A.F., Zolkipli Z.Q., Bellou A., Beyer K., Bindslev-Jensen C., Cardona V., Clark A.T., Demoly P., Dubois A.E.J., Dunn Galvin A., Eigenmann P., Halken S., Harada L., Lack G., Jutel M., Niggemann B., Rueff F., Timmermans F., Vlieg-Boerstra B.J., Werfel Dhami T.S., Panesar S., Akdis C.A. & Sheikh A. 2014. Anaphylaxis: guidelines from the European Academy of Allergy and Clinical Immunology. Allergy. 69: 1026-1045. DOI: 10.1111/all.12437
Nakamura R.K., Fenty R.K. & Bianco D. 2013. Presumptive immune-mediated thrombocytopenia secondary to massive Africanized bee envenomation in a dog. Journal of Veterinary Emergency and Critical Care. 23(6): 652-656. DOI: 10.1111/vec.12120
Namdev R., Dutta S.R. & Singh H. 2009. Acute immune thrombocytopenic purpura triggered by insect bite. Journal of Indian Society of Pedodontics and Preventive Dentistry. 27(1): 58-61. DOI: 10.4103/0970-4388.50821.
Oliveira E.C., Pedroso P.M.O., Meirelles A.E.W.B., Pescador C.A., Gouvêa A.S. & Driemeier D. 2007. Pathological findings in dogs after multiple Africanized bee stings. Toxicon. 49(8): 1214-1218. DOI:10.1016/j.toxicon.2007.01.020
Prado M., Solano-Trejos G. & Lomonte B. 2010. Acute physiopathological effects of honeybee (Apis mellifera) envenoming by subcutaneous route in a mouse model. Toxicon. 56(6): 1007-1017. DOI:10.1016/j.toxicon.2010.07.005
Pucca M.B., Cerni F.A., Oliveira I.S., Jenkins T.P., Argemí L., Sørensen C.V., Ahmadi S., Barbosa J.E. & Laustsen A.H. 2019. Bee Updated: Current Knowledge on Bee Venom and Bee Envenoming Therapy. Frontiers in Immunology. 6(10): 2090. DOI: 10.3389/fimmu.2019.02090.
Reisman R.E. 2005. Unusual reactions to insect stings. Current Opinion in Allergy and Clinical Immunology. 5(4): 355-358.
Sciani J.M., Marques-Porto R., Lourenço A., Orsi R.O., Ferreira Jr. R.S., Barraviera B. & Pimenta D.C. 2010. Identification of a novel melittin isoform from Africanized Apis mellifera venom. Peptides. 31(8): 1473-1479. DOI: 10.1016/j.peptides.2010.05.001
Sherman R.A. 1995. What physicians should know about Africanized honeybees. Western Journal of Medicine. 163(6): 541-546.
Vetter R.S., Visscher P.K. & Camazine S. 1999. Mass envenomations by honey bees and wasps. Western Journal of Medicine. 170(4): 223-227.
Vetter R.S. & Visscher P.K. 1998. Bites and stings of medically important venomous arthropods. International Journal of Dermatology. 37: 481-496. DOI:10.1046/j.1365-4362.1998.00455.x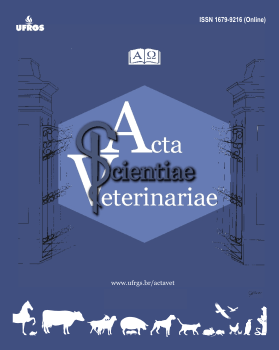 Additional Files
How to Cite
Silva, F. L. A., Botelho, A. F. M., Wagatsuma, M. M., e Paiva, H. P., Bicalho, A. L. F., & Melo, M. M. (2022). Toxic Systemic Reaction after Bee Stings in a Bitch. Acta Scientiae Veterinariae, 50. https://doi.org/10.22456/1679-9216.121867
License
Copyright (c) 2022 Françoise L. A. Silva, Ana Flávia Machado Botelho, Mariane Martins Wagatsuma, Heloisa Penedo e Paiva, Ana Leticia Ferreira Bicalho, Marília Martins Melo
This work is licensed under a Creative Commons Attribution 4.0 International License.
This journal provides open access to all of its content on the principle that making research freely available to the public supports a greater global exchange of knowledge. Such access is associated with increased readership and increased citation of an author's work. For more information on this approach, see the Public Knowledge Project and Directory of Open Access Journals.
We define open access journals as journals that use a funding model that does not charge readers or their institutions for access. From the BOAI definition of "open access" we take the right of users to "read, download, copy, distribute, print, search, or link to the full texts of these articles" as mandatory for a journal to be included in the directory.
La Red y Portal Iberoamericano de Revistas Científicas de Veterinaria de Libre Acceso reúne a las principales publicaciones científicas editadas en España, Portugal, Latino América y otros países del ámbito latino